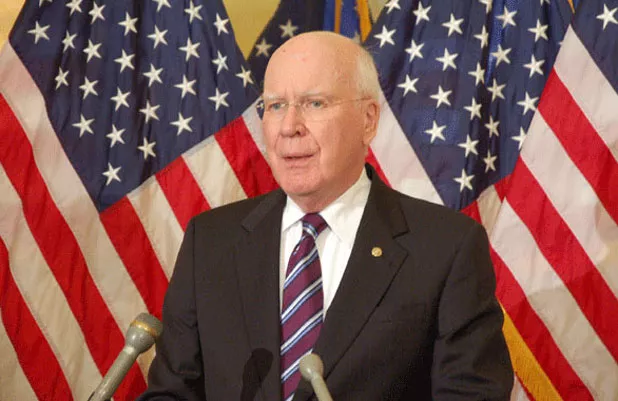 Is Sen. Patrick Leahy losing his sense of political timing? For most of his 37 years in the U.S. Senate, Leahy, 71, has been a defender of civil liberties, earning praise from First Amendment advocates and right-to-privacy groups.
But lately, Leahy has ignited outrage across the nation — and among Vermonters — for supporting two bills that critics say give the government too much power.
Leahy is catching heat for voting yes on the National Defense Authorization Act, a Pentagon spending bill that permits indefinite detention of suspected terrorists, even if they're U.S. citizens. Recently, Occupy Vermont activists confronted Leahy staffers in the senator's Burlington office over the legislation, an altercation posted on YouTube. Numerous listeners meanwhile lambasted Leahy on Vermont Public Radio's call-in show, "Vermont Edition."
"You have sold out the republic; you have sold out the constitution," one caller, who identified himself as "Robert from Burlington," told Leahy.
But most of the outrage from civil libertarians relates to Leahy's sponsorship of the antipiracy legislation known as PIPA, or the Protect Intellectual Property Act. Supporters of PIPA frame the bill as a reasonable response to the systematic theft of copyrighted material by online pirates based in autocratic countries, such as China, that do not respect the ownership rights of content creators. The entertainment industry group Creative America claims that online piracy costs the U.S. economy $100 billion and thousands of jobs every year, figures that are difficult to verify.
In addition to bootlegged music, movies and software, PIPA's defenders maintain that overseas criminal rings threaten the health of cash-strapped patients gulled into buying counterfeit drugs from rogue websites.
"I always thought stealing should be against the law," Leahy says in explaining his backing for PIPA.
Opponents argue that PIPA — and its companion bill in the House, the Stop Online Piracy Act (SOPA) — would force internet service providers to block access to foreign websites the feds charge with pirating content in violation of U.S. copyright law. Online powerhouses such as Google and Wikipedia dramatized their fear of PIPA's potential for censorship by shutting down their sites for a day and urging their users to mobilize against the bills.
The netizen uprising succeeded in spooking PIPA's shepherds, who pulled the bill from the Senate agenda. Leahy's Vermont congressional colleagues — Sen. Bernie Sanders and Rep. Peter Welch — both quickly denounced PIPA and SOPA after staying silent prior to the e-revolt.
Leahy himself backed away from the site-blocking provision but doubled down on support of the bill's overall aims. In a statement, he said, "Somewhere in China today, in Russia today, and in many other countries that do not respect American intellectual property, criminals who do nothing but peddle in counterfeit products and stolen American content are smugly watching how the United States Senate decided it was not even worth debating how to stop the overseas criminals from draining our economy."
Allen Gilbert, executive director of the American Civil Liberties Union of Vermont, agrees that Hollywood studios and other commercial content providers have a legitimate interest in guarding their intellectual property from online thieves. But PIPA "takes a proverbial sledgehammer to a problem that needs a much more tailored solution," Gilbert argues. "We do worry about government having such broad power over potentially large segments of the internet."
Analysts such as David Hawkings, editor of CQ Roll Call Daily Briefing, have suggested that Leahy and other PIPA backers in Congress misjudged the political potency of Wikipedia, Google and their legions of loyalists. Leahy, a Deadhead and Batman fan, insists he's long been hip to the web, but he backed up that claim by noting on VPR that he was one of the first senators to develop a "Face page."
Leahy likewise maintains that the web-led backlash against PIPA did not surprise him. On VPR, he pointed to Google having spent "tens of millions of dollars on K Street lobbyists," even though PIPA "cannot be used against Google" or other legitimate websites. In a telephone interview with Seven Days, Leahy adds that opposition was to be expected when some "companies [are] making hundreds of millions or billions of dollars by running sites that sell counterfeit goods or that engage in piracy."
Leahy is not without grassroots allies. Erik Nielsen, a classical music composer in Brookfield, called in to VPR in support of PIPA. And in an interview with Seven Days, he describes the legislation as "much less draconian than is being portrayed." Nielsen says he appreciates Leahy's efforts to ensure that "people like me are compensated by those who download songs." Coded in the internet's DNA is an "assumption that everything online ought to be free," Nielsen adds, whereas 20 years ago "the only way to get creative content was by buying something."
Eric Davis, a retired Middlebury College political science professor, points out the big bucks that Hollywood and other content generators have contributed to Leahy's campaigns. "I'm not saying there's anything nefarious here," Davis cautions — only that it's always enlightening to follow the money.
But the money trail doesn't lead to a simple conclusion about interest groups' influence on Leahy's legislation. TechNet, which describes itself as a bipartisan consortium of CEOs promoting technology-led innovation, ranks as Leahy's largest donor since 2007, having contributed nearly $82,000 during that period. And TechNet opposes PIPA, saying it's "so broadly written that [it] will undermine the environment for innovation and job creation in the digital economy."
Leahy has also gotten substantial amounts of campaign cash from Google and other PIPA critics. But many funders among Leahy's top 10 — content kingpins Time Warner, Disney and Vivendi, for example — do support PIPA. In fact, MapLight, a nonpartisan research group that tracks the influence of campaign donations, calculates that PIPA supporters contributed far more to Leahy than did the bill's opponents: $611,381 between 2005 and 2011 versus $159,675 from anti-PIPA sources during the same period.
Regarding the Pentagon bill that allows U.S. military to detain Americans without charges, Leahy pointed to the signing statement in which President Obama promised not to make use of that power. Leahy says he's sure no future president will ever use it, either. The senator also notes that he had opposed the detention provision in Senate debate. "Sometimes you lose" such fights, Leahy explains, vowing to seek repeal of a measure he considers "anathema" to his principles.
Leahy says he supported the overall Pentagon spending bill because it included provisions he authored to protect U.S. soldiers from sexual harassment, raise the pay of American service members and give the National Guard a seat at the Joint Chiefs of Staff table. Sanders and Welch both voted against the legislation due to its detention provision.
Gilbert of the Vermont ACLU counters that Leahy cannot credibly guarantee that an arbitrary detention law will never be used. "Police do things all the time that they're not supposed to do," Gilbert remarks. While regarding the detention provision as clearly unconstitutional, he notes that the current Supreme Court may not share that view. And while critical of Leahy's vote, the ACLU leader refrains from blasting the senator's stand.
"Because of the politics behind the bill," Gilbert says, "Leahy was not able to get what he wanted." Gilbert sees Leahy as attempting an awkward straddle of his sometimes-contradictory roles as Capitol Hill tactician and tolerant Vermonter. On this issue, Leahy stands as "an example of somebody who over many years has been deeply committed to protecting civil liberties and who faces political decisions that make him uncomfortable." Leahy, Gilbert adds, is a politician "who has become more and more powerful on more and more issues that at times compete with one another."
Davis adds that as one of the Senate's old bulls, Leahy is "more well connected to D.C. interest groups today than he was 15 or 20 years ago, when he was in the minority or more of a junior senator."
With that clout comes cash for Vermont — and lots of it. David Carle, a spokesman for Leahy, estimates the senator is responsible for funneling $800 million in federal funds into the state during the past six years alone. That includes the $21.6 million in Irene relief that Leahy helped pry loose from the U.S. Department of Housing and Urban Development due to his power perch on the Senate Appropriations Committee. The Leahy Center for Lake Champlain on the Burlington waterfront, the Leahy Center for Rural Students at Lyndon State College and the Leahy Center for Digital Investigation at Champlain College are among the Vermont monuments attesting to the senator's pork procurement prowess.
The goodwill and gratitude that he's accrued among many Vermonters since first winning election to the Senate during the Ford presidency will almost certainly outweigh the current umbrage over PIPA and the Pentagon legislation, Davis suggests. Should Leahy choose to seek an eighth term, "no one's going to remember in 2016 how he voted on these issues," Davis predicts.