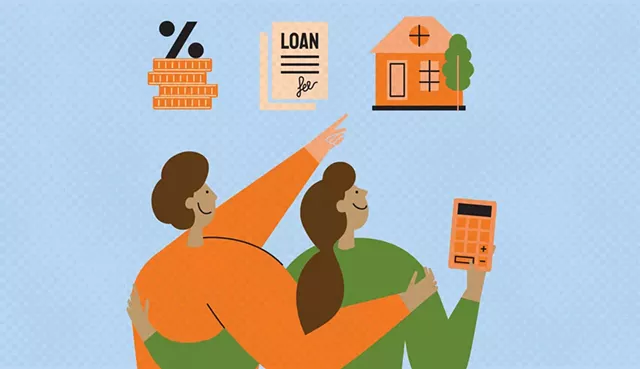 Olga Strelnikova | © Dreamstime
In February, the phone rang in Erin McCormick Torres' Colchester home. The caller was Kim Negron, a mortgage broker with whom Torres had worked before.
"Hey, Erin. I think I can save you about $250 a month if you refinance now," Negron said. Torres was surprised. "I'm a Realtor, so I live and breathe this stuff every day," she told Nest. "But I honestly hadn't thought about it for myself."
Negron said she could get an interest rate of 3.25 percent, significantly lower than what Torres was paying on her current loan.
In the end, Torres cut her monthly mortgage payment by $410 a month. After she posted news of her windfall on social media, she got a dozen requests from Vermonters wanting to connect with a lender.
"Mortgage refinancing" is a phrase destined to bounce off the ears, but "free money" gets through the thickest of skulls. And that is how Negron, a senior executive with Homebridge Financial Services, described the historically minuscule cost of borrowing money right now. An economy weakened by COVID-19 has triggered a free fall in interest rates and a strong demand to refinance — that is, restructure — the deal you made when you bought your home.
"Basically, you take the current loan you have from when you bought your home," Negron explained, "and we replace it with a new loan that has a lower interest rate and saves you money on a monthly basis."
Refis, as they are known in the trade, are the wild cards of the mortgage deck. To be effective, you have to play them at the right time. If you're planning to stay in your house for a while, play the card. If you're thinking of selling, then a refi is a poor choice. Why? Because, just as when you bought your home, there are closing costs associated with refinancing. To make financial sense, your savings should exceed your closing costs.
In Torres' case, she needed to remain in the house with the newly reworked mortgage for 11 months. That would cover her closing costs of $7,600; from then on, it's all savings.
That's the first box to tick. "Another question to ask yourself is, what is your goal?" said mortgage lender David Hogan, also with Homebridge.
Some homeowners want to refinance to bring down their monthly cost, he explained, while others would prefer to pay more each month and finish paying off their home sooner.
Hogan offered this hypothetical example: Five years ago, Betty Boop took a 30-year, $325,000 mortgage; her monthly payment was $1,600. Refinancing now, with 25 years remaining, the low rates would save her $356 a month, or more than $4,200 annually.
Wowee, right? But let's say Ms. Boop took the long view. "If she refinanced with the lower rate and shortened the term to a 15-year loan, her monthly payment would increase to $2,000," Hogan said. "But by cutting 10 years off, her total interest over the course of the loan would be $85,000 less."
Still, as Hogan noted, most homeowners take the bird in hand — the lower monthly payments — instead of the golden goose in the future.
Vermont is experiencing an unprecedented flare-up of refinancing and home buying. Call it "freak-out economics." As Negron explained: "When bad things happen, nervous investors take money out of the stock market and put it in bonds, which are safer. That causes interest rates for mortgages to drop, because their rates are based on bonds. When COVID hit, the market got a shock, and interest rates plummeted to numbers we never thought we'd see — they were in the twos.
"It feels like free money," she continued, "because essentially it is!"
Her numbers tell the tale. In 2019, Negron handled 53 refis. "Through mid-November this year I have 93," she marveled, "with probably six more to close by the end of December. So, double last year. Crazy!"
The other side of crazy is how the refi binge is affecting the housing market. It's gone bonkers since March, with bidding wars for homes and out-of-staters buying Vermont properties, in some cases, sight unseen.
"The boom in refinance hasn't really been seen before like this, so there is a lot to play out," said Claire Kavanagh of the Malley Group at KW Vermont. During her scant downtime between showing houses to eager buyers, she's analyzed the trends.
The boom in refis, Kavanagh explained, means that homeowners are staying put instead of selling. This reduces what Realtors call "inventory" — the number of houses available for sale. With the current buying frenzy, demand for the reduced supply of homes ratchets up, which explains why houses for sale are drawing as many as a dozen offers.
Moreover, the reduced supply of homes, said Kavanagh, "very likely at least delays the market from swinging to a market favorable to buyers," which typically happens in slow winter months when demand decreases.
Kavanagh's colleague Andrew Mannix added: "From a purchaser's perspective, though, and for that matter sellers', low rates are very beneficial to the market." The downside is that when interest rates rise significantly in, say, five to 10 years, anyone buying a home now at these historically low interest rates would feel they can't afford to move because the mortgage cost would be much greater.
So, to refi or not to refi? That is the question. As long as we're all wearing masks and giving others a wide berth, COVID-19 will keep interest rates low and the advantages of refinancing high. That sort of fever will break only when a vaccine is generally available.