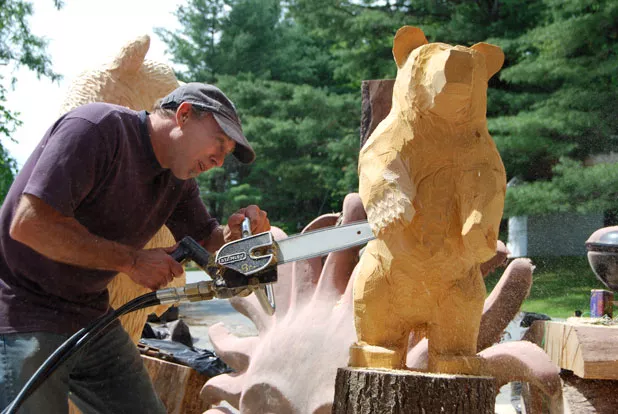 "We all have our dreams," says Barre Pinske, squinting under the midmorning sun in front of his home and art gallery off Route 103 in Chester. "And with art, you want to become recognized and successful. But in reality, you've got to pay the bills."
For a lot of artists, paying the bills means working a stultifying day job while your soul pines for creative expression. Pinske's regular gig isn't that bad — he gets to wield a custom chainsaw and carve big, friendly bears out of tree trunks for $500 apiece.
But when he isn't doing that, Pinkse, an affable 46-year-old with a compact, muscular build, intense blue eyes and a golden tuft of hair sprouting from his lower lip, revels in the creation of abstract sculptures and modernist furniture.
Working with wood is practically in Pinske's genes: His great grandfather began building barns and homes from it in tiny Plato, Minnesota, in 1893. A man of tough German stock, Theodore Pinske would accompany loggers into the woods and point out which trees he needed. The business expanded into a lumberyard and a millwork shop, both of which have been passed down through the generations. Pinske describes the town of his forebears as the real-life manifestation of Garrison Keillor's Lake Wobegon, where all the garage doors are closed and not a blade of grass is out of place. Today, about half the town's 350 residents are on the Pinske payroll.
Barre Pinske, however, was the first in his family to make art from wood. He started carving with knives at age 5 and was introduced to the power of chainsaws on trips with his father to the Lumberjack Olympics. By the age of 20, after he graduated from Golden Valley Lutheran College, all Pinske wanted to do was reveal the bears and abstract wonders hidden deep inside tree trunks.
This artistic awakening coincided with the spread of Dutch elm disease through Minnesota during the 1970s and '80s. While arborists were busy removing dead elms from residential yards, Pinske cut into their bottom line by offering homeowners an attractive alternative. "I'd show up and say, 'I'll carve you a bear for the same amount of money it will cost to have the tree cut down and the stump ground out,'" he recalls. "From then, I've never been without work."
Pinske's aspirations haven't changed since those days; he wants nothing more than to make art, stay healthy and enjoy life. But after three years of gripping a gas-powered chainsaw for hours each day, Pinske began to lose sensation in his fingertips. The vibrations of the machine affected his circulation, and he didn't want to end up like a prolific carver he knows in Oregon, with black, dead fingers. Moreover, the noise and smell of the chainsaw were driving his neighbors crazy, "and wherever I went," he says, "I was making enemies."
Pinske hunted for a solution, and it came to him while he was driving through the Midwest in the aftermath of a windstorm. He saw arborists in bucket trucks slicing through tree limbs with hardly a sound. He screeched to a halt and inquired about the amazingly quiet machines — hydraulic chainsaws. Long hoses connect the saws to a main power unit on the bucket truck, effectively separating the motor from the chainsaw and removing nearly all the vibrations.
Shortly thereafter, Pinske moved to Cape Cod, got himself a used hydraulic saw in exchange for a bear carving and designed a small power unit for home use. For the past 18 years, he's refined the system with his father, and now he sells it to chainsaw carvers around the United States.
Pinske's personal hydraulic unit sits on the floor of his open garage. Piles of sawdust are everywhere outside, and bears in various stages of development stand in a rustic, catatonic state. Pinske flips on the power unit, which is labeled "Pinske Power," and the machine comes to life with a high-pitched hum that, while not exactly soothing, is much less abrasive than a regular chainsaw. (This one can be operated indoors.) The unit looks like a midsized air compressor and is composed of three main parts: an oil tank, a motor and a pump.
The motor creates a vacuum that sucks the oil to the pump, and the pump shoots it through twin rubber hoses to the chainsaw, which resembles a gas chainsaw minus the engine and muffler. The oil spins two gears housed in the saw, and those gears turn the chain. It's a simple, robust tool; little can go wrong but a blown O-ring now and then. Pinske also invented a variable sprocket for the machine, which allows him to attach chains of numerous widths for different applications.
Taking up the 18-year-old Stanley saw in his hands, Pinske goes to work on a bear, zinging through the white pine with surgical precision. With little strokes he carves claws into the bear's paw, then fluffs its fur with diagonal cuts. Wood shavings flit about like Edward Scissorhands' hedge clippings, and when Pinske stands back to review what he's done, the Ursos arctos, with its round ears and stout snout, is one step closer to completion. Pinske finishes his bears with a blowtorch, charring the outer surface from blond to black.
Stepping from the garage to the art gallery, a barn-like space with generous six-over-six windows that face the road, Pinske riffs for a moment on the more serious work he has on display. "Having talent is like having a warehouse that's got no lights, and it's huge," he says. "A lot of times, when people commission me to do something, we can go in the warehouse with a flashlight and get something out and make this cool thing."
For instance, he just made a wooden bathroom sink whose pedestal looks like a tree trunk and whose basin is concave, colored like a maple leaf in warm reds and greens. To make the sink sufficiently waterproof, he had to dry and stress the wood, suffuse it with polyester resin and acetone, and finish it with an expensive automotive clear coat. Pinske calls such projects the "nemesis" of his career because they involve a series of trials and errors that costs him more than he ever expects to make.
Still, Pinske seems addicted to labor-intensive work. Prime examples: his pieces made from twigs and resin. Pinske makes countertops, bowls and chairs using thousands of twigs glued to a base. He fills the space between the twigs with multicolored resins, then sands and polishes the works to smooth perfection. The effect is like seeing multitudes of octopus suction cups upside down and stuck to a clear surface.
Beautiful as those pieces are, Pinske gets the most satisfaction from melding art history with his own woodworking experience. "I like to look at things that have been done by other artists and do plays on it," he explains. One incarnation of this is a crooked, wavy chair that's a nod to Frank Gehry's "Wiggle Chair" and Gerrit Rietveld's "Zig-Zag Chair." Pinske's chair has a serpentine base that climbs upward into the seat and elongates to form the back. It appears molded from a single piece of wood, but it's actually layers on layers of construction-grade plywood glued together.
Another of his favorite artworks is Constantin Brancusi's "Bird in Space," a series of marble and bronze sculptures that reduces a bird's act of flight to its fluid essence of sleek simplicity. "He saw a bird and took it to the most abstract, and he thought about every point in between," Pinske says. Pinske keeps his own bird sculptures a few steps closer to realism, but he manages to maintain the unadorned movement and composition that Brancusi achieved.
Pinske's gallery is a work in progress, like some of his commissions: Converting the space from an autobody shop has been more painstaking that he anticipated. But he's not in a rush; that "warehouse of talent" is capacious, and it could take a lifetime to rummage through its treasures. In the meantime, bear sightings in Chester have been on the rise.