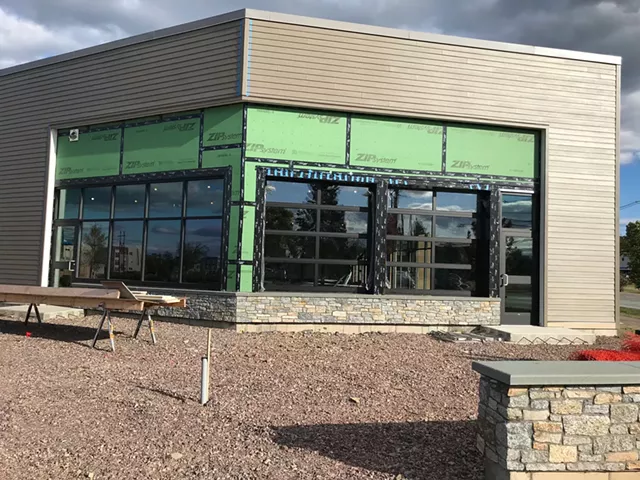 Sally Pollak ©️ Seven Days
Williston site where the Farmhouse Tap & Grill had planned to open
For a while, it looked like two well-known food businesses would anchor the building currently under construction at Finney Crossing in Williston. But, while Healthy Living Market & Café is still scheduled to move in, a new branch of the Farmhouse Tap & Grill "is currently out of the picture," according to Scott Rieley, codeveloper of the project. "We are actively marketing [that part of the building] out in the public domain and have [had] discussions with people who are interested in taking the space," he said.
Farmhouse owner Jed Davis told Seven Days in November 2019 that he planned to expand Farmhouse to Williston, adding the new branch to the original one that launched in downtown Burlington in May 2010. The restaurant would have occupied the west side of the building, while Healthy Living anchored the opposite end.
The roughly 5,000-square-foot space is suited for a restaurant, Rieley said, with its patio and big garage-style windows. "It's unfinished on the inside," he said. "Pending us finding an operator, we'll fit it out to their specs."
Four or five retail businesses will occupy the 12,000-square-foot space connecting the restaurant side of the building with Healthy Living, Rieley said.
Eli Lesser-Goldsmith, co-owner of Healthy Living, told Seven Days that he can't specify the date when the Williston store will open.
"Healthy Living is working furiously to finish construction on our new store," he said. "And we're super excited to open and serve the community of Williston and surrounding towns very soon."
Attempts to reach Davis were unsuccessful.