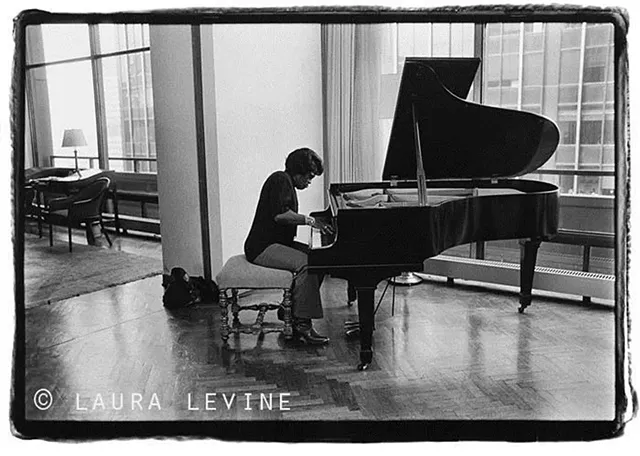 Photo ByLaura Levine
James Brown,1984
Last Saturday night, it was hard not to wonder what Shelburne Museum founder Electra Havemeyer Webb would have thought of a dissolute David Johansen, a heroin-ravaged Chet Baker, a nipple-forward Debbie Harry or a pajama-clad Rod Stewart. These are the subjects of just some of the photographs currently filling both galleries in the museum's Pizzagalli Center for Art and Education.
The legacy of Webb (1888-1960) has informed every exhibition at the Shelburne since she launched it in 1947. To be sure, the institution justifiably retains its reputation for possessing one of the largest and finest collections of folk art in the world. But that was most likely irrelevant to the revelers at the packed fundraising reception for "Backstage Pass: Rock & Roll Photography."
Photo By Laura Levine
Joan Jett,1981
Would Webb have reacted like a typical native of the earlier 20th century, or would she have donned a rock-star costume and boogied to DJ Disco Phantom's pumping tunes in the lecture-hall-turned-disco? Let's go with the latter. After all, the founder was a bit of a rebel in her own way. If anything was shocking, it might have been the price ($14) of the cocktails mixed up with Stonecutter Spirits.
With its bars, ample catered food and merch table stacked with commemorative T-shirts and punk-style buttons, this party, well, rocked. In an especially clever touch, museum staff scattered equipment cases — the kind stadium-level bands take on tour — around the rooms to serve as tables or seating. No small measure of merriment came from the guests' suggestive costumes. When an otherwise respectable adult turns into Joan Jett or Johnny Rotten for the evening, you're not in the museum equivalent of Kansas anymore.
The exhibit itself is a far cry from historic quilts and duck decoys, but it offers an enticing slice of another history, one in which viewers of nearly any age can find themselves. "Backstage Pass" is exactly the kind of show that the Shelburne needs to entice new patrons.
The stunning body of images from an anonymous collector primarily spans the 1950s through the mid-'90s — though the '60s and '70s dominate. It includes photographs of towering artists of jazz, folk, soul, reggae, hip-hop and pop, but it mostly encompasses, as the title says, rock and roll. Specifically, American and British rock — along with token Canadians Neil Young and Joni Mitchell.
Photo by Kate Simon
Iggy Pop, 2007
Museum director Tom Denenberg, casual in jeans and a butterfly-patterned shirt, seemed as electrified as his subject matter when he gave a gallery "talk" — he had to shout above the music seeping through the walls. Music brings people together, he noted, in a subtle nod to the current divisive political climate.
Though clearly aware that this was not the setting for a history lecture, Denenberg briefly traced the origin story of the genre depicted in the photographs. "Roughly speaking, rock and roll is an appropriation of black music," he said, referring to what was once called "race music." In 1949 — early in the postwar baby boom — music journalist and producer Jerry Wexler introduced the alternative term "rhythm and blues." As Denenberg writes in the show's catalog, this renaming "did more to engender racial harmony (and intergenerational discord) than will ever be measured." And the world would soon meet Elvis Presley.
Photo by Kate Simon
Debbie Harry,1977
Denenberg mounted this same exhibition nine years ago at his previous institution, the Portland Museum of Art in Maine. But for the Shelburne, he told the crowd on Saturday night, "We put it on steroids — it's much larger."
Indeed, a lot of celebrity is packed into these galleries, and we postmoderns are experienced star watchers. Denenberg pointed out that, while the show includes some obviously posed photos, many of its images are outtakes — "musicians in repose," as he put it. That makes for many informal and intimate moments, such as Debbie Harry and longtime romantic partner and bandmate Chris Stein stealing a sweet kiss (1976), James Brown quietly playing a grand piano (1984), and Courtney Love applying eye makeup in a bathroom mirror (1995).
Whether posed or not, the photos also speak to an era of documentary photography — in fact, to the whole modern phenomenon of crafting an image, in every sense of the word. Some of the photographers themselves, or at least their names, earned star status, too.
Photo by Kate Simon
Madonna,1983
At least one of these photos may not have been meant for public consumption: a heartbreaking image of Nirvana's Kurt Cobain sitting on the floor and crying. Denenberg, who calls the photo "harrowing" — the singer would later commit suicide — admitted he almost didn't include it.
In images like this, "Backstage Pass" alludes to the darker side of rock and roll. Viewers of a certain age will know that many of these musicians passed on ingloriously, including those in the "Forever 27 Club": Jimi Hendrix, Janis Joplin, Jim Morrison and, yes, Cobain. A pensive snapshot of Buddy Holly sitting in a tour bus was one of the last pictures taken of him before his fatal plane crash in 1959. Some viewers may find particular poignancy in the early images of musical giants who left us last year, including David Bowie and Prince.
Overall, though, this is a joyful showcase for youth culture (which, ironically, endures in the grandfatherly Rolling Stones). Because, after all, rock and roll can never die.
By uniting generations in the appreciation of that energy, perhaps a photography show really can provide "a platform for coming together," as Denenberg suggested. That sense of connection, he added, gesturing to the gallery walls, "is what this is all about."