Luke Awtry
Healthy Living CEO Eli Lesser-Goldsmith
Not all junk food is created equal. Newman O's are OK. Oreos, culinary kin to the Newman cookie, are not. Green Mountain Tortilla Strips get the green light. Nacho Cheese Doritos in the bright red bag get the red one.
That's how these snacks stack up according to Healthy Living Market & Café. The grocery store in South Burlington, with a branch in Saratoga Springs, N.Y., recently adopted formal product standards that dictate what it will and will not sell.
Healthy Living is eliminating from its stores products that contain one or more of the following ingredients: added hormones, antibiotics, artificial fats and trans fats, high-fructose corn syrup, artificial sweeteners, bleached or bromated flour, artificial colors, artificial flavors, and artificial preservatives.
Products with the offending components are being phased out of the inventory and will be gone by January 2019, according to CEO Eli Lesser-Goldsmith, 41. He owns the 300-person company with his sister, chief operating officer Nina Lesser-Goldsmith, 35; and their mother, Katy Lesser, who founded the business 36 years ago.
Oreos contain high-fructose corn syrup; Newman O's don't. The 28-ingredient list for Doritos (or more, depending on how you count) includes artificial flavors and artificial colors (Yellow 6, Yellow 5 and Red 40). Green Mountain tortilla chips contain just three ingredients: stone-ground corn flour, non-hydrogenated safflower oil and/or sunflower oil, and salt.
"We are natural-food stores, and we have always been — and we're proud of that heritage," Eli Lesser-Goldsmith said. "Katy has been a trailblazing leader in the natural-foods industry for over 30 years."
Healthy Living isn't the first natural-food grocery to ban certain substances from its shelves; predecessors include Whole Foods Market and Earth Fare, which adhere to similar guidelines, according to their websites. Meeting the new standards requires no substantial changes at the stores, nor will it affect prices, said Lesser-Goldsmith. He estimated that roughly one percent of the store's 33,000 products — or some 350 of them — have been or will be removed or replaced to meet the new criteria. These include certain brands of sauces, he said, such as Huy Fong Foods' sriracha (artificial preservative) and Roland Hoisin Sauce (caramel coloring).
The standards apply to prepared foods and local fare; beer and wine will be exempt. One local bakery that supplies Healthy Living will revise its recipes and ingredients to comply with the standards, according to Lesser-Goldsmith, who didn't name the baker.
Lesser-Goldsmith lives in Burlington with his wife and two young sons. He graduated from Mount Mansfield Union High School and Brandeis University, where he studied economics and philosophy. Seven Days talked with him in his office at Healthy Living about the store's product standards, his own snacking pleasures and more.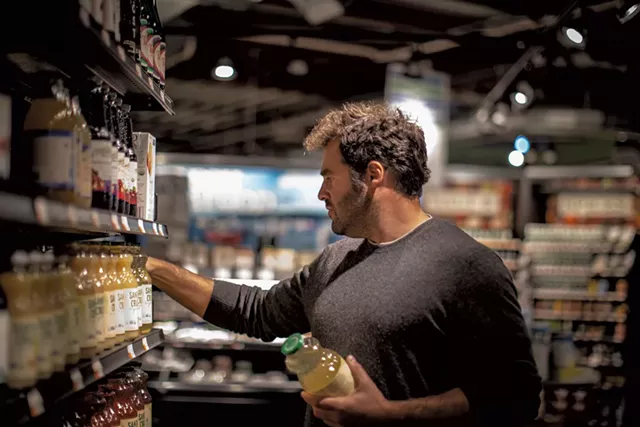 Luke Awtry
Healthy Living CEO Eli Lesser-Goldsmith
SEVEN DAYS: Can you briefly explain the product changes you are making at Healthy Living and what it means for consumers?
ELI LESSER-GOLDSMITH: For years, Healthy Living has been known as a place to get healthy food. We're now becoming much more specific about what that means in an attempt to progress our business, evolve our business and separate ourselves from the competition.
The changes that we're making are adopting this really tough set of product standards that we feel the world is headed toward, our guests have been asking for, and that our staff believes in as a mission and a vision of our company.
SD: What drove the decision?
EL: We've been talking about it for years, and it just felt like the right thing to do given that we already — for years — didn't believe in these ingredients. It felt like now is the time to do it. Our brand is growing. We've got new stores we're planning, and this is just a natural progression.
The food industry is broken up into two parts: conventional grocery and natural grocery. This product-standards list is synonymous with the natural-foods industry. And that's who we are. That's the type of product our guests want and have been buying for many, many years.
SD: How did you select the criteria?
EL: We studied friends of ours in the industry nationwide, and we thought this was a good starting point. And I want to make the point that we will be adding to this list and expanding it, and [we] are going deeper into certain departments such as health and beauty, produce and meat. This is what consumers are asking for; they want to know what's in their food. They want transparency within ingredients and brands. This delivers the results.
A guest in a focus group once told me, "I love your store because I [could] let my kid run around the store, and no matter what they brought back to the cart, I didn't have to say no." That resonated with us for many years. And now I feel even more confident that the products that they're choosing and their kids are looking at are OK.
Luke Awtry
Healthy Living signage
SD: How has the arrival of new grocery stores in the greater Burlington area — City Market South End, Trader Joe's, Market 32 and now Target — affected business at Healthy Living?
EL: We are in one of the most competitive industries in America, and we have been for over 30 years. And we have succeeded by a combination of being scrappy, of being innovative, of listening to our guests, following trends and always staying one step ahead of our competition.
SD: Have you and your staff been reading labels? On a practical level, how did you discern the information?
EL: We have a team of category managers, eight of them, and they hand-select every product that's in the store. We trust this group of people to curate the products in all the departments in our store. They're experts in those departments. They live and breathe these products. Yes, they go over every product and have for years.
We trust the category managers, and we're requiring affidavits and documentation from all the brands that sell to us. Isn't that awesome? That builds trust with our guests. That means that we've vetted those products for them. We've done the work. You see people reading labels: That's the part of the work we're doing for them. When you have someone with a health condition, and their doctor is saying, "You really have to cut down on trans fats or high-fructose corn syrup," Healthy Living becomes a much easier place to shop.
SD: What and when was your first job at Healthy Living? What did you snack on at work in those days?
EL: I started working at Healthy Living when I was 8 years old in a 1,000-square-foot store in the Blue Mall [in South Burlington]. Bagging raisins, checking people out, sweeping, bagging, learning the business. I probably [ate] lots of bulk foods. We were really heavy into bulk; that was a big entry point into the industry. There were lots of interesting mixes and granolas and dried fruits that 8-year-old boys would love to snack on.
SD: What's your favorite snack?
EL: My favorite snack is this new beef jerky we just brought on. It's a sugar-free jerky, and it is wonderful. I'm trying to eat less sugar in my life.
SD: Your mother founded this company in 1986. What was her role in this decision?
EL: Katy has always believed in these values for food. This puts in writing what she's been saying for years. It legitimizes everything she's been saying.
SD: Are there any hormone-laden or high-fructose corn syrup-dosed products you're going to miss on the shelves — that you'll sneak out and buy someplace else?
EL: We never had those products to begin with. But I'm a bad boy sometimes just like everybody else — but everything in moderation.
SD: Do you guys have plans to build another store in Vermont or elsewhere?
EL: We are developing two more stores right now. [Lesser-Goldsmith declined to elaborate on those plans but said the future stores will adhere to the new product standards.] The standards are forever. This is Healthy Living; this is part of our core values going forward. This is the next progression for Healthy Living.