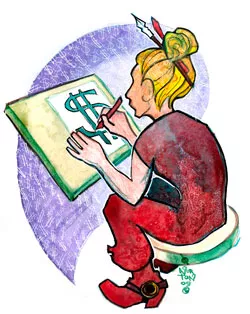 Conflicting visions of the role of the Vermont Arts Council have sparked a semi-public spat, with critics charging that the organization panders to populist sentiments, fails sufficiently to encourage artistic excellence, and cares more about promoting itself than helping arts presenters. Defenders reply that the council is simply striving to achieve its top goal, as stated in its strategic plan: "Increase opportunities for everyone in Vermont to experience and/or participate in the arts."
Under the directorship of Alex Aldrich, the council has put emphasis during the past 13 years on making the arts more accessible throughout the state. One aim has been to broaden the council's constituency to enhance its influence in the state legislature, which controls nearly 40 percent of the VAC's $2 million annual budget. Washington, through the National Endowment for the Arts, provides about a third of the council's funds; private donors account for the rest.
As a result of the culture wars of the 1990s, Aldrich says, organizations like his must focus on "explaining to the world at large why it's wise to invest public money in the arts." He dismisses objections from those he calls "old-guard purists who argue in terms of art for art's sake." The council seeks to "demystify art," Aldrich adds. "We give all Vermonters an outlet, regardless of talent."
That's precisely the problem, his detractors say. Bill Schubart, a former council board chairman, recently wrote an open letter on his website to current council trustees, contending that the council's focus on outreach to amateurs "comes at the expense of funding and celebrating excellence, both among new artists and established artists." Because it invests too great a share of its resources in community-oriented initiatives, the council has become "largely irrelevant to artists and presenters," Schubart charged. Individual grants are now so paltry, he added, that they're "barely worth the substantial application effort."
Mara Williams, an independent curator who often works with the Brattleboro Museum & Arts Center, notes, "The money they're giving to support mature organizations is a fraction of what it used to be." The Brattleboro center, for example, previously received about 5 percent of its budget from the arts council; now it gets less than 1 percent from that source, Williams estimates.
Northeast Kingdom filmmaker and arts impresario Jay Craven finds that the council has "very little impact for many artists working in various fields." The council used to award him $15,000 annually in a form that required Craven to apply for the grant only every other year. Now he gets $3000 to $5000 in one-time annual awards. "Vermont gives among the smallest arts grants in the country," Craven says.
In 2008, the council handed out 137 grants totaling nearly $617,000. It spent $83,000 on fundraising, $280,000 on administration and $668,000 on "services, partnerships, projects," according to its annual report.
The VAC, founded in 1964, has strayed far from its original mission, laments Williams, who served on its board from 1999 to 2004. "The Vermont Arts Council was set up to fund artists and arts organizations," she asserts.
These sharply opposed views of the VAC's purpose have crystallized around two specific council projects: "Art Fits Vermont" and "Palettes of Vermont."
The former, ongoing project has involved broad distribution of more than 60,000 wood and paper puzzle pieces that individual Vermonters can design as they see fit. The parts will be assembled at a "Puzzlepalooza" installation on the Burlington waterfront in July as part of the Champlain Quadricentennial festivities.
Two years earlier, nearly half the state's public schools and almost all its towns took part in the similarly grassrootsy "Palettes of Vermont" project. Over the course of six months, thousands of Vermonters painted maple palettes or combined them with other materials such as fabric, glass or metal to produce works of art. The palettes could also serve as "the muse to inspire your creativity in other artistic disciplines," the council said in its "Toolkit for Artists."
Both the puzzle and palette projects are "just silly," dishes Mark Waskow, chairman of Burlington's annual Art Hop and an avid art collector. "It's paternalistic and kind of like busy work. I went to some of those ["Palettes"] exhibits, and they were dreadful. I don't see how things like this serve artists."
Calling the two initiatives "hokey and ridiculous," Williams argues that the palettes and puzzle projects are both "so beneath what a state arts council should be doing. They're mainly meant to keep the council visible." She further opposes such efforts on the grounds that the council uses them to cast itself in the role of arts presenter, impinging on the turf of organizations that don't get large federal and state subsidies.
In Aldrich's mind, such criticisms are misinformed and redolent of elitism. The palette project was "howlingly successful," he says, noting that many Vermont communities regarded it as "the greatest thing we ever did." The initiative was funded through private donations, he adds.
Renowned folk artist Warren Kimble, a council board member, also defends the palette and puzzle undertakings as consistent with the council's obligation to "nurture artists." And he suggests that those who condemn such populist projects exhibit a distasteful degree of "self-importance."
Noting that the palette initiative involved 7000 artists and 20,000 students, Kimble asks, "How can you say that doesn't serve artists?" The project gave artistically inclined Vermonters who must earn their livings in other ways "a chance to make art again," Kimble says. "Don't you think you have to nurture people who haven't made it? I'm always trying to nurture art in every way I possibly can."
The council does have an obligation to nurture arts and artists, Schubart says in an interview, but its orientation should be toward Vermonters who have demonstrated talent or considerable potential. The council's current approach elevates "ubiquity over excellence," the former chair suggests. "The council should be asking, 'How do you make good artists great artists?'"
Craven agrees that excellence in the arts is not properly honored in Vermont. "On the art scene here," he says, "ambition can seem like a curse."
As the council has grown over the years into a 12-member professional staff, it has become a self-perpetuating bureaucracy, some of its critics contend. A recent statewide "listening tour" undertaken by the council with the ostensible aim of eliciting opinions on its performance actually amounted to a "development tour," Schubart says. "The question being asked was not 'How are we doing?' but 'How can we get more money in these difficult times?'"
Waskow describes the VAC as "an example of an organization that would serve its constituencies better if it had a smaller footprint." The council has to devote considerable staff time to raising money "just to protect its own turf, while artists have to go through an incredibly time-consuming and costly process to get a small grant," he says. "The council is a narcissistic organization."
It also lacks expertise in some of the arts, Williams charges. She says the Brattleboro Museum & Art Center can't get useful advice from the VAC because its staff members "don't know what's happening in [the museum] field."
None of these attacks are warranted, in the view of State Rep. Bill Botzow. A painter and photographer as well as a Democratic politician, Botzow argues the council makes important contributions to economic development in Vermont through its programs and projects. In his Bennington district, for example, "The council has been very helpful in drawing visitors," he points out. The organization is also generally well respected in Montpelier for its effectiveness as an arts advocate, Botzow adds.
Singer Jon Gailmor finds the council staff to be "passionate about the arts." He has no complaints about the council's work as it intersects with his own. "My perspective is that when the council has money for residencies in the schools, they do help out artists like me," Gailmor says.
The real issue, he adds, is that the federal government has "poor priorities" that lead it to treat the arts as "a frill." If significantly larger sums were devoted to arts organizations around the country, there wouldn't be so much squabbling about how funds get allocated among local communities and professional artists, Gailmor suggests.
Currently, for example, the VAC is reviewing $730,000 in applications from Vermont arts groups for $250,000 in grants for an arts jobs-retention program funded through President Obama's $870 billion stimulus package. Aldrich says the council and its constituents are grateful to be getting this money, but that it amounts to "peanuts" compared with Washington's other expenditures. The $50 million nationwide arts-jobs initiative, he notes, represents less than .01 percent of federal stimulus spending.