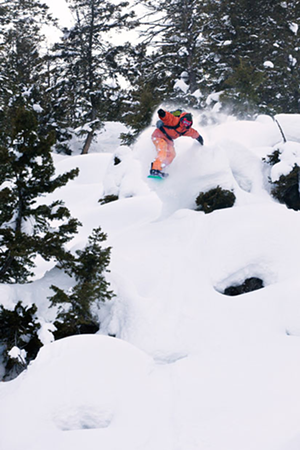 Oliver Parini
Vermont rider Kyle Cartwright
Imagine you're climbing a 500-foot-tall ice flow at Lake Willoughby. It's a blue-sky day, and the sun glints dramatically off the crags and frozen waterfalls. Your breath comes out in white puffs. Your hands are stiff, your eyelashes clumped together. While suspended in midair, you pull out your camera to photograph other climbers some distance away. Suddenly, you hear a loud crack — the sound of ice splitting. Out of the corner of your eye, you see a dark figure falling. A climber is tumbling through the air, fast. You hear his open jacket flapping in the wind. Without thinking, you start shooting, capturing shot after shot of the man upside down and falling, his harness at his knees. And you wonder if he will survive.
So goes a day in the life of an outdoor adventure photographer.
Or, at least it did for Alden Pellett, a Vermont photographer and avid climber, who has witnessed dozens of falls over the course of his career. He faced this exact scenario about 10 years ago, he says, at Lake Willoughby in Vermont's Northeast Kingdom. "When I realized he was going to fall, I kept the camera on him," Pellett admits. "I didn't know what the outcome was going to be. The climber could have ended up in the hospital — or worse."
As it happened, that climber's rope caught on one of his last screws, stopping his speedy descent just before he hit his partner. Neither was harmed.
We've all seen extreme-sport photographs, but we don't necessarily stop to think about the guy who took the photo. Chances are, he's taking at least as big a risk as the daredevil clinging to the mountain's edge.
Kevin Armstrong
Ottauquechee River in Woodstock
As an ice-climbing photographer, Pellett, 50, stresses that the sport comes first, photography second. That is, like other outdoor athletes, he has to be mindful of weather and avalanche threats, the condition of the ice, and the proper placement of his screws, ropes, pickets and other gear. Only then can he focus on photographic lighting and angles. "High-end ice climbing is fairly dangerous," Pellett says. "Not many people can climb the stuff that my partners and I can climb."
In peak ice-climbing season in Vermont, someone falls every weekend. Of course, Pellett aims to be as safe as possible. After years of experience climbing both rock and ice, he still takes every precaution. While other climbers have broken bones, sacrificed limbs or even lost their lives, Pellett has lost only some inexpensive photography equipment.
Adventure-sport photographers have to be in shape, try to avoid dangerous situations and know how to react to the unexpected. Nick Goldsmith of Woodstock, another 50-year-old photographer who shoots ice climbing and ski racing, can't say enough about caution on the ice. "Spin drifts and small avalanches are coming down every 10 to 15 minutes on some climbs," he says.
Nick Goldsmith
Jimmy Cochran, Fisk Trophy Race
Goldsmith explains that the best way for a photographer to safely capture good images on a climb is to be in a party of three: The person in front leads and the one at the rear belays, leaving the photographer in the middle to concentrate on his craft.
Safety also comes first in skiing and snowboarding photography. Out-of-control snowboarders and skiers have hit Goldsmith on more than one occasion, he says. Before he sets up for a ski shot, Goldsmith skis the race course slowly, two or three times, inspecting it so he can select the best location.
Oliver Parini of Burlington, a 26-year-old backcountry ski and snowboard photographer, typically snowboards ahead of his companions and scopes out a safe spot to set up his gear. "You want to watch out for tree wells, icy spots, cliffs, avalanche-prone areas — all these hazards that you find out on the mountain," he says. "You want to be in a place where you can see everything that's going on."
That place is usually also ideal for composition and lighting, allowing for a broader view of the landscape, more options for scene selection and more natural light, which results in crisper, cleaner images and vibrant colors. The sun is always at an angle during winter, even in the middle of the day.

Alden Pellett
An ice climber on the cliffs of Mt. Pisgah
Needless to say, extreme winter photographers have to dress appropriately, with layers, weatherproof outerwear and dexterous gloves. "Staying warm and dry is the No. 1 challenge," says Kevin Armstrong of Long Island, a 52-year-old photographer who has been shooting edgy, breathtaking Vermont landscapes since the 1970s. "When I hike up mountains at 5:30 in the morning, it's often below zero."
Being a winter athlete is hard enough, but winter-sport photographers have an additional challenge: dealing with delicate, complex equipment in extreme conditions. For example, switching lenses in cold or snowy weather can allow moisture, fog or snow between the camera body and the lens, causing camera damage or resulting in low-quality images.
Despite the obstacles, Pellett, Goldsmith, Parini and Armstrong succeed every year in capturing awe-inspiring winter photographs, which they sell to local newspapers; to friends and relatives of ski racers, snowboarders and climbers; to magazines such as National Geographic, Time and Outside; and to corporations such as Burton Snowboards, the North Face and Columbia Sportswear.
But even as the danger of getting those shots remains constant, the pay has plummeted in recent years — to less than half of the rates a decade ago, Goldsmith says. Of a recent shoot, he says, "10 years ago, it would have paid $2000. This time, it only paid $525."
One reason for the decline in pay, he explains: "Everyone has digital cameras."
So what motivates adventure photographers to endure extreme conditions and potentially risk their lives for a good shot? It's simple: love. "Documentary photography and snowboarding are my passions," Parini says. "I'm always going to be outdoors, snowboarding and living an active lifestyle. And I'm always going to be taking pictures — no matter what."
La gloire revient aux adeptes des sports d'hiver, mais ce sont les photographes qui immortalisent leurs exploits
Imaginez que vous êtes en train d'escalader une paroi de glace de 150 mètres de haut au lac Willoughby. Le ciel est bleu et le soleil fait étinceler les rochers et les cascades gelées. Votre souffle se transforme instantanément en fumée. Vos mains sont engourdies, vos cils se collent les uns aux autres. Suspendu dans les airs, vous sortez votre appareil pour prendre des photos des autres grimpeurs un peu plus loin. Soudain, vous entendez un fort craquement – le son de la glace qui se fend. Du coin de l'œil, vous voyez une silhouette qui tombe. Un grimpeur dégringole, à toute vitesse. Vous entendez son anorak détaché qui bat au vent. Sans réfléchir, vous mitraillez, prenant cliché sur cliché de cet homme la tête en bas, en pleine chute, le harnais aux genoux. Et vous vous demandez s'il survivra.
Voilà une journée dans la vie d'un photographe d'aventures de plein air.
Cette fois, il s'agissait d'Alden Pellett, photographe du Vermont et passionné d'escalade, qui a été témoin d'innombrables chutes au cours de sa carrière. Cette situation, il l'a bel et bien vécue il y a environ 10 ans, au lac Willoughby, dans le nord-est du Vermont. « Quand j'ai compris qu'il allait tomber, avoue Alden, j'ai braqué ma caméra sur lui. Je ne savais pas ce qui allait se passer. Le grimpeur aurait pu se retrouver à l'hôpital, ou pire encore. »
En réalité, sa corde s'accrocha à l'une de ses dernières broches, stoppant sa descente accélérée juste avant qu'il fasse collision avec son partenaire. Aucun des deux ne fut blessé.
Nous avons tous vu des photos de sports extrêmes, mais nous ne nous arrêtons pas nécessairement à penser à celui qui les a prises. Il y a de fortes chances qu'il ait pris un risque aussi grand que le casse-cou qui s'accroche à l'escarpement de la montagne.
Pellett, photographe d'escalade sur glace âgé de 50 ans, insiste sur le fait que le sport vient en premier, la photo après. Comme toute personne qui pratique un sport en plein air, il doit être attentif à la météo et aux menaces d'avalanche, à la condition de la glace et au positionnement de ses broches à glace, de ses cordes, de ses piolets et autres pièces d'équipement. Ce n'est qu'ensuite qu'il peut se concentrer sur la lumière et l'angle de ses prises de vue. « L'escalade glaciaire de haut niveau est assez dangereuse, dit Pellett. Rares sont ceux qui peuvent faire les parois où mes partenaires et moi grimpons. »
Pendant la période de pointe de la saison d'escalade sur glace au Vermont, une personne tombe toutes les fins de semaine. Même s'il a des années d'expérience d'escalade tant sur paroi rocheuse que sur glace, Pellett fait passer la sécurité d'abord et prend toutes les précautions nécessaires. Il connaît des grimpeurs qui ont subi des fractures, sacrifié un membre, voire perdu la vie, mais pour sa part il n'y a laissé que des pièces d'équipement de photo sans valeur.
Les photographes de sports extrêmes doivent être en forme, s'efforcer d'éviter les situations dangereuses et savoir réagir aux imprévus. Nick Goldsmith, de Woodstock, un autre photographe quinquagénaire qui se spécialise dans l'escalade glaciaire et les compétitions de ski alpin, estime qu'on n'est jamais trop prudent sur la glace. « De petites avalanches surviennent tous les quarts d'heure pendant certaines ascensions », raconte-t-il.
Goldsmith explique que la meilleure manière de capturer de bonnes images d'escalade en toute sécurité est de partir à trois : la personne qui est à l'avant guide et celle qui est à l'arrière assure, ce qui permet au photographe, au milieu, de se concentrer sur son travail.
La sécurité doit aussi être prioritaire lorsqu'on photographie des épreuves de ski ou de surf des neiges. Goldsmith s'est fait frapper plus d'une fois par des skieurs ou des surfeurs hors de contrôle. Avant de s'installer pour une séance photo de ski, il fait lui-même le parcours lentement, deux ou trois fois, de manière à choisir le meilleur emplacement.
Oliver Parini, photographe de 26 ans de Burlington spécialisé dans le ski de randonnée nordique et le surf des neiges, descend habituellement en planche à neige devant ses compagnons et repère un endroit sûr pour installer son équipement. « Il faut faire attention aux trous de neige au pied des arbres, aux plaques de glace, aux falaises et aux secteurs propices aux avalanches, dit-il; tous ces dangers sont présents en montagne. C'est primordial de trouver un site d'où on voit tout ce qui se passe. »
Le choix du site doit aussi tenir compte de la composition et de la luminosité, permettre de larges vues du paysage et fournir de nombreuses possibilités de prise de vue et d'utilisation de la lumière naturelle, d'où des images plus nettes et des couleurs plus vives. Le soleil est toujours de biais l'hiver, même en milieu de la journée.
Il va sans dire que les photographes de sports d'hiver extrêmes doivent être habillés chaudement, par couches, et porter des vêtements imperméables et des gants adaptés. « Le défi numéro un est de ne pas avoir froid et de rester au sec, souligne Kevin Armstrong, photographe de Long Island âgé de 52 ans qui immortalise les paysages à couper le souffle du Vermont depuis les années 1970. Quand je fais une ascension à 5 h 30 du matin, il fait souvent sous zéro. »
Être un athlète d'hiver est déjà difficile, mais être photographe de sports d'hiver comporte un défi additionnel, celui de manipuler des équipements complexes et délicats dans des conditions extrêmes. À titre d'exemple, lorsqu'on change de lentille par temps froid ou dans la neige, de l'humidité, de la brume ou de la neige risque de s'introduire entre le boîtier et la lentille, ce qui endommage l'appareil photo ou nuit à la qualité des images.
Malgré les obstacles, Alden Pellett, Nick Goldsmith, Olivier Parini et Kevin Armstrong réussissent chaque année à faire des photos de scènes hivernales très impressionnantes, qu'ils vendent aux journaux locaux, à des amis ou parents des skieurs, des surfeurs et des grimpeurs, à des magazines comme le National Geographic, Time et Outside, ainsi qu'à des sociétés telles que Burton, North Face et Columbia Sportswear.
Cependant, même si le danger inhérent à ce type de photographie reste constant, le salaire est en chute libre depuis quelques années. Selon Goldsmith, il a diminué de plus de la moitié : « Pour une séance, récemment, j'ai été payé 525 $, alors que j'aurais gagné 2 000 $ il y a dix ans. »
L'une des raisons de cette diminution est l'avènement des appareils numériques. « Tout le monde en a un », dit-il. Qu'est-ce qui pousse donc les photographes d'aventure à endurer des conditions extrêmes et à parfois risquer leur vie pour un bon cliché? C'est simple : l'amour du métier. « La photo et le surf des neiges sont des passions pour moi, dit Parini. Je n'arrêterai jamais de faire des activités de plein air, de pratiquer le surf des neiges et d'avoir une vie active. Et je n'arrêterai jamais de faire de la photo, quoiqu'il arrive. »
The original print version of this article was headlined "Freeze Frames"