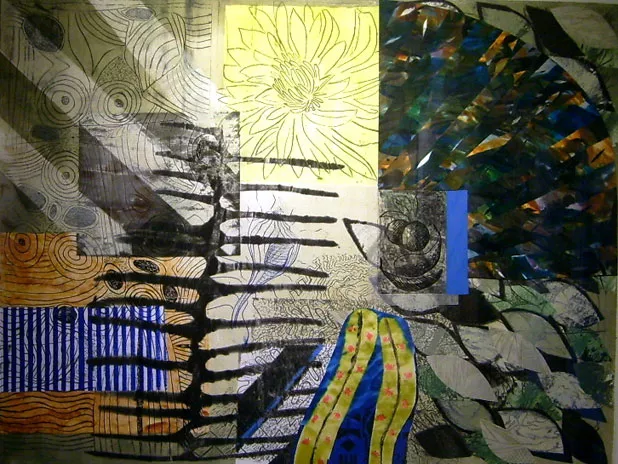 Sawyer Key by Carolyn Shattuck
Furchgott Sourdiffe Gallery's winter exhibition highlights the monotypes of Vermont artist Carolyn Shattuck and presents diverse works by 15 additional artists affiliated with the venue. The lively show of prints and paintings ranges from expressive landscapes to nonobjective abstractions.
On her website, Shattuck says of her recent work: "The monotypes become a vehicle for my experience of looking into the water as I kayaked, observing the depth of layering and seeing complexity and chaos in random harmony." Her 27-by-32-inch prints with collage elements are graphically bold and chromatically complex. "Sawyer Key," titled after one of the Florida Keys, includes rich organic patterning. Melding harmoniously in the print are a black-on-yellow flower, a jewel-like herringbone design at upper right, vertical lines and diagonal stripes.
Shattuck's "Walkabout 1" includes a line drawing of a light-blue bird in profile on a black background, and translucent layers of light and dark arranged like standing stalks of bamboo. Various involuted motifs of geometric lines of different weights enrich the image.
Jeri Lynn Eisenburg's 33-by-35-inch "Sugar Maple Floaters" also looks into water. The abstract photograph is printed on three 11-inch hanging strips of waxed vellum. The elegant piece presents the blurred image of raw-sienna maple leaves floating on a white background.
Another printmaker in the show, Matt Brown, created the vertical, 16-by-8-inch "Along Franconia Ridge." The image describes a pathway receding into the picture plane, which opens onto a dramatic view of the rolling mountains under an orange and gray sky. Brown writes: "My printing approach follows the traditional moku hanga method of woodblock printing developed in Japan in the 18th century." If he is technically influenced by Ukiyo-e artists, Brown is also aesthetically indebted to masters of the Late Edo period, such as Hokusai and Hiroshige.
"Pemaquid from Little Thrumcat" is a horizontally oriented, 8-by-16-inch Maine coastal print of frothy waves breaking onto a rocky shore. Brown captures distant mists behind the long, swooping diagonals of the foreground.
While the prints are strong, paintings dominate this exhibition. Julian Sheres' 30-by-36-inch "Morning Mist Rising" draws attention to a tenebrous stand of green deciduous trees with their leafy crowns supported by thin, twisted trunks. Behind them are rolling Vermont hills. Sheres' "Fields of the Old Barn," a 12-by-18-inch oil, contemplates the geometry of farm fields. Golden hills, bisected by a strong diagonal axis and flanked by the earth tones of indistinct rural architecture, glow under the gray sky of an impending summer storm.
Bonnie Acker's pastel abstracted landscapes are less geometric and more ethereal. "Autumn Mountains" and "October Horizon" are each centered on splashes of vermilion in a vista's distant reaches. Acker's horizons are lower than Sheres', opening broader skies above the otherwise muted hues of her autumnal meadows.
While Acker's pastels describe the tonalities of fall, her 18-by-30-inch oil-on-linen "Trapp's Meadow" is a glimpse of winter. White snow has artful accents of blue and lavender beneath the horizon of an indistinct sky; it's a portrait of cold itself, yet also of the subtleties of winter light.
It's classy that Furchgott Sourdiffe Gallery doesn't get overtly commercial by calling its 16th annual winter show a "holiday" event, but no one should overlook the gifting potential of fine art. Since it's doubtful the current economic crisis will lead to another Roosevelt-type WPA arts initiative, shopping this season at galleries and studios is likely to be the only jolt of economic stimulus Vermont's creative economy can expect for a while.