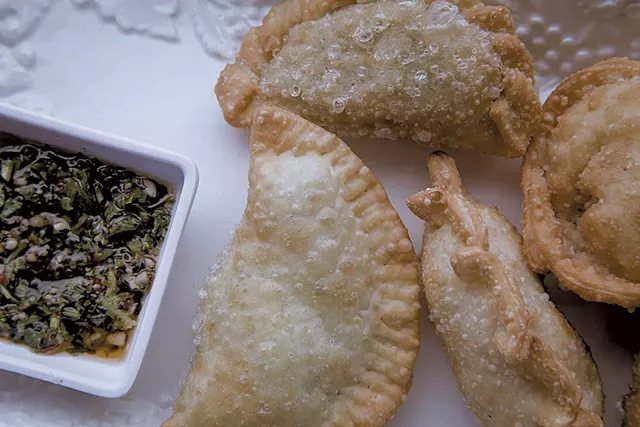 File: Luke Awtry
Vegetarian empanadas at Dale Boca Café
Dale Boca Café, an Argentinian restaurant in Winooski, has moved from 215 Main Street to 25 Winooski Falls Way, according to general manager Javier Zirko. The move is due to a planned development project that would demolish the Main Street building, he said.
At its new location, Dale Boca shares space with Sweet Babu, where chef-owner Shana Goldberger operates a wholesale bakery and dessert catering business.
Dale Boca, which opened in its original location about a year ago, serves lunch and dinner Wednesday through Saturday. The restaurant has expanded its menu with vegan, vegetarian and gluten-free options, Zirko said, adding that customers who want gluten-free empanadas should call a day in advance to place their orders.
"We're trying to do something different, to accommodate Vermonters," Zirko said. "It's very awesome to see a vegan [say], 'Oh, my God, I'm eating an empanada.'"
"I'm really enjoying having other people in my space," said Goldberger of Sweet Babu, whose baked goods are sold at local stores such as Burlington's two City Market, Onion River Co-op locations and Commodities Natural Market in Winooski. "And I'm really glad that the retail space is being utilized. It's kind of interesting to have a totally different style of food in the space, as well."
A shared culinary space is nothing new at 25 Winooski Falls Way. Several years ago, the roughly 20-seat café held a rotating food venture called Incubator, operated by nearby restaurant Misery Loves Co.
According to Eric Vorwald, Winooski's planning and zoning manager, a redevelopment proposal for four lots on Main Street, approved by the city and awaiting state permitting, would require the demolition of the building that housed Dale Boca.