James Buck
Lasagna, Grandma pizza and stuffed mushrooms at Jr's Original
One night last July, Bogdan Andreescu lay awake in his bed in Winooski and planned a restaurant. He saw where the eight-burner stove and hood system should go. He envisioned a place for the refrigerator, the bar and the pasta boiler. Andreescu could see — and mentally recorded — where to put the gas lines, plumbing fixtures and warming tray for the marinara sauce.
When he got up in the morning, Andreescu drafted the plans he had visualized the night before. He called his childhood friend Kyle Crete to ask if he wanted to open a restaurant. Crete agreed to be his business partner, and the plan proceeded. And just like that, Andreescu was helping to build the interior of the restaurant in a newly constructed building owned by Crete's father, Michael.
Jr's Original opened late last year on Main Street in Winooski, the town in which both Andreescu and Crete grew up. It's an old-style Italian restaurant that greets diners with the welcoming aroma of garlic, fresh bread and red sauce. The long, narrow menu opens like a book to reveal a list of classic dishes such as chicken marsala, eggplant Parmesan, baked rigatoni and shrimp scampi. Jr's Original serves pizza slices by day and whole pies at night.
Its name — which will sound familiar to local diners — is an ode to the Junior's restaurants where 34-year-old Andreescu got his start in the business two decades ago. He was a longtime employee of Franke Salese Jr., who opened Junior's Pizza in Colchester in 1992 before moving on to create several other restaurants with the Junior's name. Salese is perhaps best known for Junior's Italian, also in Colchester, which closed in June 2018. He gave Andreescu his "blessing" to use the Junior's name, Salese said, adding that Andreescu is like family to him.
James Buck
Stuffed mushrooms
"Bogdan's a smart guy; he's good," Salese told Seven Days. "He got an opportunity, and it was perfect timing, 'cause I was just closing Colchester. It was the perfect storm. God was on his side."
So were two prior decades of hard work, double shifts, night shifts, working two jobs and learning how to run a restaurant, from washing dishes to making pizza to managing a kitchen.
"For me, it was never a dream to own a restaurant," said Andreescu. "I'm just good at it. I'm good at managing, running and organizing."
When Junior's Italian closed, he saw a chance to open a similar type of restaurant — a place he thought diners would appreciate. "I wanted people to remember the old family-style Italian restaurant," Andreescu explained.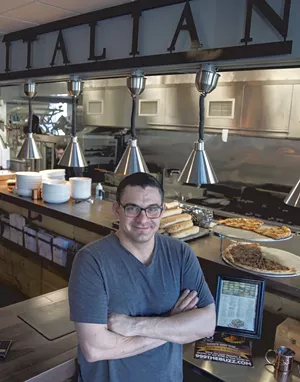 James Buck
Bogdan Andreescu
He salvaged two metal signs from Junior's Italian, made by Vermont sculptor Kat Clear, to hang in his own restaurant. The "Jr's" sign, crafted in rust-colored script, is behind the bar; one that reads "ITALIAN," in black capital letters, hangs near the open kitchen.
Andreescu, the restaurant's chef, enlisted his older brother to join him as general manager. "Do you want to get out of the rat race?" he asked Robert, who was working as a bar manager in Manhattan when his brother made the pitch.
"I thought he was a little crazy," said Robert, 45. "But I believe in him. So I came."
He returned to Vermont with a little New York City maître d' style, evident in his head-to-toe black ensemble and his easy manner behind the bar.
Robert was greeting guests on the Sunday evening I showed up for dinner. He led me to a seat at the bar, where I pondered a cocktail while waiting for a friend. The special that night was a pomegranate margarita. I'd been thinking about a martini and turned to Robert for advice.
"What goes better with Italian food?" I asked him.
"Wine," he said.
He steered me in the right direction with a glass of Montepulciano ($12); the drink set the tone for our relaxed, enjoyable meal, which proved very good and reasonably priced.
When my friend arrived, we decided to start with a pair of appetizers: a plate of baked stuffed mushrooms, de-stemmed, filled with diced veggies and crowned with Parmesan cheese and bread crumbs ($10); and long pieces of toast, spread with pesto and topped with sautéed shrimp, greens and chopped tomato ($13).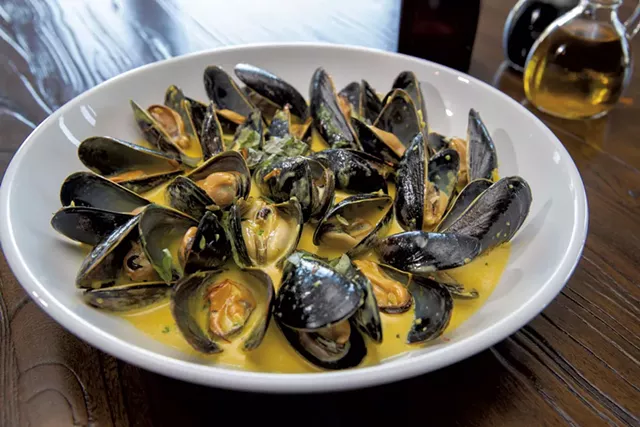 James Buck
Saffron mussels
Almost sated by the apps, we nonetheless continued to eat, sharing a large green salad that was divided for us by the kitchen and served with lemony vinaigrette ($11), as well as a plate of lasagna ($12). The ample slice of lasagna, served in a shallow white bowl, was covered in a thick red sauce that hid layers of cheese, meatballs and sausage chunks. A favorite dessert, crème caramel ($8), punctuated our meal.
From behind the bar, Robert occasionally joined our conversation. We learned he was 14 when his family immigrated to this country from Romania. He enrolled in eighth grade at St. Francis Xavier School, speaking Romanian and Russian but no English.
A few days after our dinner, I returned to Jr's Original to meet Bogdan and find out more about the restaurant and his family. The Andreescus, originally from Romania, were granted political asylum in 1987, when Bogdan was 3, and relocated to Winooski after living in Rome for six months.
The boys and their sister soon learned that, if you want something, you have to work for it, the brothers said. Their parents demonstrated the "value of hard work," Robert said. He started working two jobs at the age of 15: cleaning garage bays at a mechanic's shop and toilets at a campground.
"The first couple of years were tough in this country," said Robert. "I wanted to go back home" to Bucharest.
Bogdan began restaurant work as a teenager, starting as a dishwasher at Junior's Pizza. He moved on to make pizza and work the line at Junior's Italian. Later, while working as a machinist, he was kitchen manager at Salute, the Stowe restaurant owned by Salese's wife, Evelyn.
James Buck
Marsala meatballs
Through these experiences, Bogdan learned about "grunt work" and developing recipes, about managing food costs and minimizing food waste. He saw what to do on a Friday night when the dishwasher doesn't show up "and you're a man down." He knows how to "bust out" when it's super busy and the orders don't stop coming.
"There's no folding," Bogdan said. "As busy as it seems, it will be over soon enough."
His mother, Teodora, is retired from her job as deli manager at Simon's on Shelburne Road and now works at her son's restaurant. "She's our boss," Bogdan said. "She's always telling me what to do. And I'm like, 'Lemme give it a shot, I've seen it done once or twice.'"
His father, Cristian, died in 2005. Bogdan said he would've been proud of the restaurant.
"When we were young, we really didn't have anything," he said. "This country doesn't promise to give you everything. It promises to give you the chance to have what you want."