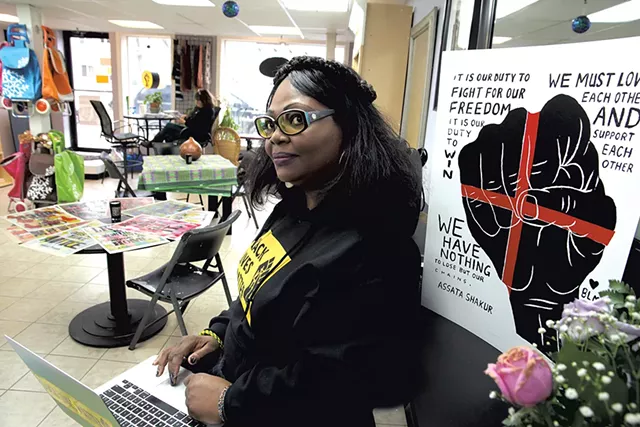 Matthew Thorsen
Ebony Nyoni at Shop 4 Change in Winooski
A sleepy city council race in Winooski has gotten complicated. Candidate and Black Lives Matter Vermont director Ebony Nyoni is enmeshed in a bitter legal case that raises questions about how she runs the local chapter of the prominent civil rights organization. Nyoni's troubles may have prompted a credible write-in candidate to step into the ring.
Last July, Keren Sita, a South Burlington resident and the 2017 Miss Black Vermont, sued Nyoni for slander and libel. Sita, 20, alleged that 42-year-old Nyoni defamed her in a June 27 Facebook post that claimed Sita was having "relations" with Nyoni's ex-husband.
That same month, Sita, who said she was Nyoni's unpaid personal assistant at BLMVT, joined six others who have been affiliated with the racial justice group to author an open letter to Nyoni. The letter, copied to more than two dozen people, claimed that Nyoni's leadership was "dysfunctional" and "abusive." The letter accused Nyoni of misusing the organization's funds to pay for dog accessories, alcohol and reclaiming her towed car. It called on Nyoni to step down as director.
In response, Nyoni countersued Sita in August for libel, citing the letter — and making it part of the court record. She has accused Sita of trying to destroy BLMVT with mistruths. "It's a smear campaign," she told Seven Days during recent interviews.
Nyoni said she currently draws no salary from BLMVT. "I don't earn anything, not from the organization itself," she said. "Anything I get is from speaker fees." She reported her total annual income as $5,600; the court waived her legal filing fees.
Nyoni said BLMVT revenues have not been substantial. Under U.S. Internal Revenue Service rules, charities with more than $50,000 in gross receipts are supposed to file an annual public disclosure that lays out pay for executives. Nyoni said that BLMVT revenues in 2015 and 2016 were below that threshold. She said she would be filing a disclosure for 2017. "I know what I'm doing," she said. "If I needed to file, I would have filed."
The women's dispute has been personal. Both sought, and got, relief-from-stalking orders against each other, meaning they weren't supposed to have any contact. They are representing themselves in court. In early January, the two agreed to mediate their legal differences but then changed their minds, court records show.
Judge Dennis Pearson was assigned to the case after Sita asked Judge Robert Mello to recuse himself. Sita contended that because Mello had granted Nyoni's request for a relief-from-stalking order, he could not be objective.
Although no criminal charges have been filed, Winooski police have been drawn into the disagreement.
The court record includes an email exchange between Nyoni and Police Chief Rick Hebert. Nyoni complained to him on January 1 that Sita was communicating with her in spite of the relief-from-stalking order. Nyoni demanded that the police cite Sita, or "otherwise I will have no choice but to seek counsel regarding a civil suit against the city. What are you doing to protect me from the violation of this order, and constant harassment? Let me know by the 2 of January or this will go public," her email reads.
Last week Nyoni said that her differences with the department have been resolved. Hebert declined to comment.
Nyoni told Seven Days that the dispute has nothing to do with her council candidacy and that she is running for a variety of reasons. She would be the only black woman on the council. "I want other young women of color to see that it's a possibility and that they can get their foot in the door," Nyoni said. "And also I see things in this community that I love and that I want to improve on."
Initially, Nyoni appeared to be a shoo-in for the council slot. There are two vacant seats, and she was one of two candidates who filed a petition by the January 29 deadline to be on the ballot. The other candidate is Kristine Lott, a 32-year-old data analyst who serves on the city's housing commission.
Hal Colston and Kristine Lott
Then, shortly after the filing deadline, nonprofit executive Hal Colston announced he would run as a write-in candidate. Colston said he was not trying to defeat either Lott or Nyoni but rather to serve the community where he has lived for eight years. The timing was a coincidence, he suggested.
"A couple of close friends I care about and love kind of twisted my arm and said, 'Why don't you run?'" said Colston, who in 1996 founded the Good News Garage, which fixes up donated cars for low-income people struggling to get to work. Colston has also been involved in racial justice efforts.
He currently works as director of the grant-funded Partnership for Change, a nonprofit that works to improve Winooski and Burlington schools. After six years, its funding will sunset in June.
Colston, 64, said that would give him time to serve in office, something he's long considered. "I think this is another way for me to give back to the community," he said. "I love Winooski."
Sita said there was an active "community effort" to recruit Colston after Nyoni filed to run. "All I can say is, people made an effort to make sure that Hal Colston is a write-in," she said. "We know the effects of Ebony. I think it's best that I leave it there."
Colston said he was unfamiliar with the details of the lawsuit between Nyoni and Sita but had seen the letter about Nyoni's leadership of BLMVT.
"I think the open letter just really came from a place of care, from what I could discern," he said. "People were obviously concerned about her leadership, and was it the right fit at this time for what was trying to be accomplished through Black Lives Matter."
He declined to comment further on her candidacy.
Winooski Mayor Seth Leonard said he was unfamiliar with details of the legal fight and that he was not endorsing any candidates. He also said he was unaware of Nyoni's threat to sue the police department. Asked if that could complicate a city councilor's role, he said that good rapport between councilors and staff is key.
"I can certainly see where that would be challenging, not knowing the details there of what their exchanges have been," the mayor said. "It's fair to say that if that's where a relationship is starting, it's going to take some work and some effort."
Leonard added that Nyoni could bring an important and unique perspective to the council.
Nyoni was critical of Seven Days for looking into her legal dispute, saying it was not relevant to the campaign. She asked if the backgrounds of other candidates would be similarly scrutinized.
A record check at Chittenden District Court last week turned up nothing on Lott but did show several driving violations for Colston from the early 1990s. He was charged with driving under the influence for the second time in 1992 and pleaded no contest after the charge was amended to negligent driving. He pleaded guilty to driving with a suspended license in 1991.
"I learned the hard way that it's very important not to drink and drive," Colston said. He called the incidents a "foolish mistake" and said he had learned from the experience. "I've had a safe driving record since," Colston said.
Colston grew up in Pennsylvania and moved to Vermont in the late 1980s to work as director of catering at what was then called the Inn at Essex. He got into nonprofit work in the 1990s.
As a councilor, Colston said, he would work hard to bring jobs and opportunity to residents, especially those who are low-income or recently arrived immigrants and refugees. "I would love to see more support and development of small businesses that reflect the needs of our growing, diverse community," Colston said. He also wants to encourage more participation by New Americans on the city's many commissions.
Last Saturday at a meet and greet inside the Winooski coffee shop Scout & Co., he distributed campaign flyers with instructions on where to write in his name.
Colston's other opponent, Lott, graduated from Michigan State University in 2007 and has lived in Winooski off and on since 2010. "I just want to bring balance in general, moderation," she said, referring to the tensions between new construction and historic preservation; and recent arrivals and those who have lived in the city for generations.
New housing should cultivate mixed incomes and avoid concentrating poverty, she said. And while it's exciting to see growth, Lott said, she hears from many residents who want new development to be incorporated without dramatically changing the face of the city.
Nyoni said she'd bring a rare empathy to elected office. She can't afford a car, she said, and knows firsthand what many low-income Winooski residents are up against. She's stood outside in frigid weather waiting for the bus and wants to see better transit — especially to the nearest major grocery store, a Shaw's in Colchester.
Nyoni grew up in New York City and moved to Burlington to attend the University of Vermont. After graduating, she worked in education and social work and ran a beauty salon.
She helped launch BLMVT to address institutional racism. In the organization's storefront on Main Street in Winooski she sells flags, T-shirts, posters and other products, many related to BLMVT.
As a councilor, she would work to bring the city's diverse groups together, she said. Nyoni would like to see street fairs celebrating different cultures and street signs that include translations in Somali, Arabic and Nepali — reflecting the languages of local immigrant groups. For her, running for office is an outgrowth of years of activism.
"I have to be the change," Nyoni said.