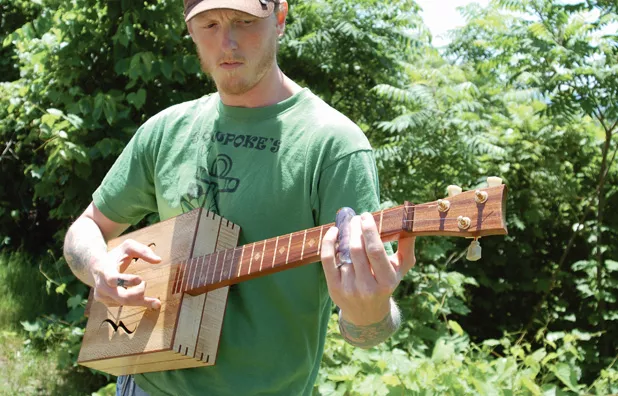 How cool is it that a Vermont student's cigar-box guitar is a finalist in an international woodworking competition? Burlington College student Robert Palmer (pictured here) was chosen as a finalist in the Fresh Wood competition hosted by the Association of Woodworking & Furnishing Suppliers (AWFS). The trade association is flying him and a BC faculty member to its biannual fair in Las Vegas, which runs July 20 to 23. AWFS judges sifted through the works of students from some 50 colleges in the U.S. and Canada, and they based their picks on "design innovation, quality of presentation, the use of materials, methods and processes, the functionality and achievement of design intent, and craftsmanship and quality." Whew.
Palmer's three-string cigar-box guitar is dubbed "Smokin' Sycamore." The animal-print-lined gee-tar case, drolly called "Doom Box," is styled after an early American coffin. The Virginia native is a carpenter by trade and a fan of the blues. Little did he know when he enrolled in BC's new Craftsmanship and Design Program that the "simple box" he aimed to make would turn into "a woodworker's take on an otherwise simple Delta Blues instrument," Palmer writes. The winners of the Fresh Wood competition will be announced on Friday, July 22. Bring it on home, Robert!
*****
Speaking of bringing it home, the Center for Cartoon Studies in White River Junction got a nice fat grant from the Vermont Community Development Program — a quarter-million and change — to launch the Inky Solomon Center. The colorfully named enterprise aims to be a state-of-the-art industry generator for all those CCS grads: incubating start-ups, producing graphic works for the print and digital worlds, and facilitating collaborations among students and professionals. Examples of current alumni projects are a graphic biography series for Disney and a greeting-card deal with Hallmark.
The town of Hartford applied for the grant with the cartoon school. The ISC will renovate and make its home in the so-called Old Telegraph Building, a first-floor space provided in kind by CCS' community partner, FairPoint Communications. The 1920s-era building was once a switching station for regional calls and has provided CCS with a studio for the past five years. Inky Solomon is considered the "spiritual leader" of CCS — his legend is posted, in cartoon form, of course, on the school's website. Apocryphal? Decide for yourself.
What's certainly true is that CCS is working that creative-economy thing. The International Comic Arts Forum brings, well, international cartoonists to White River Junction September 29 through October 1. As for Inky, "By spring we'll be set up and working in the studio," says CCS cofounder and president Michelle Ollie. More details will be announced at the forum.