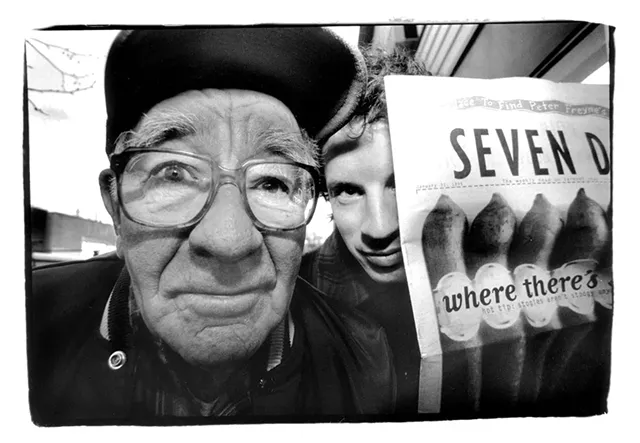 Matthew Thorsen
Fred Tuttle
Originally published January 31, 1996.
It's hard to imagine a Player-style pitch for John O'Brien's new film, Man With a Plan. A retired Vermont dairy farmer runs for Congress — and wins — thanks to a remarkably dexterous dog? How about Being There meets The Candidate meets "America's Favorite Home Videos"?
This homespun docudrama operates on the same underdog appeal that carries its candidate-star — 76-year-old Fred Tuttle — to Washington, D.C. It mixes documentary and fiction, animal husbandry and art into an organic brew O'Brien describes as "community cinema." A delightfully uplifting antidote to hellbent Hollywood, it will send you searching ... for your own "Spread Fred" bumper sticker.
Tuttle is no rocket scientist. In fact, he's a pretty lousy candidate all around. But you want him to win, anyway. His candor is his charm. He openly admits his candidacy is motivated by money — he owes property tax on his dilapidated farm, and his 95-year-old father needs a hip operation. "Why Fred Tuttle?" narrator Bryan Pfei er quizzes him in a cornfi eld. "Why not?" quips the arthritic farmer in a thick Vermont brogue. In one of many clever shots using animals, a voice-over reads, "While Fred lacked experience and polish and savvy, leadership came naturally to him." The visual shows Tuttle pursued by a flock of sheep.