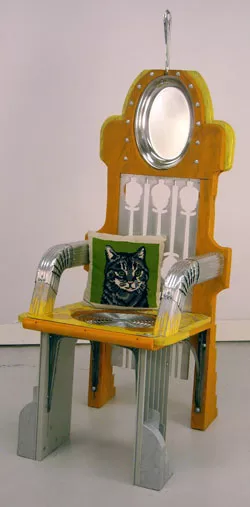 "Assemblage of Household Items," Ed Owre
We noted in early August that Steve Conant of Burlington's Conant Metal & Light had called on artists to create chairs for a Design/Build Challenge benefiting the South End Art Hop and ReCycle North. And, boy, did they. As viewers at last weekend's Hop noted, 25 creative types submitted seats in wildly different styles. The money raised by the silent auction of the chairs will be split among the artists and the two nonprofits.
Four of the chairs also won awards of distinction from the public: Ed Owre's "Assemblage of Household Items" (pictured) took both Most Creative and Best of Show. Wylie Garcia's "Aquarium Chair" was voted Most Fun. Allison Ross' "Cardboard Chair" was Best Re-make. And Jackie Mangione's "Hand Painted Chair" — with a facsimile of Fragonard's 1767 painting "The Swing" — was Most Comfortable. The chairs can still be seen (adjacent to the Art Hop juried show) in the Soda Plant through September, and images of all the entries are posted at www.thesodaplant.com. Congrats to all.
(Pamela Polston is a board member of SEABA, which puts on the Art Hop.)