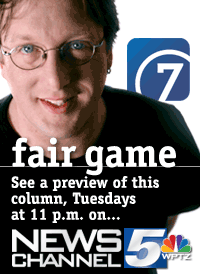 Burlington College president Jane O'Meara Sanders resigned Monday after months of negotiations with the college's board of trustees. The two sides failed to resolve ongoing differences about how best to chart the future of the quirky independent college.
The rift, and her pending ouster, were first reported in last week's Fair Game. There had been increasing concerns over her leadership and fundraising skills, sources tell Fair Game, that some board members believed could jeopardize the school's ambitious growth plans.
After seven years on the job, Sanders will officially step down as president on October 14. In recognition of her accomplishments at the helm of the 200-student school, the college is granting Sanders president emerita status, a distinction shared only by the founder of Burlington College, Steward LaCasce.
Trustees announced Sanders' resignation on Monday after a closed-door meeting at the Sheraton Burlington Hotel & Conference Center. The board kept in constant contact with Sanders and her attorney throughout the day — shuttle diplomacy via cellphone.
The board said Sanders, who earns more than $165,000 a year, will get a yearlong sabbatical as part of her presidential parachute. During that time, she'll research, advise and consult with the college on fundraising, site development and other matters as needed. Her current contract was good through the end of 2013.
Unlike outgoing University of Vermont president Dan Fogel, Sanders did not ask for a multiyear severance package. "I told the board I wouldn't seek or accept a buyout of the contract," Sanders told Fair Game. "We're a small school, and we can't afford that."
She also seems to have picked up on the very public recommendation Gov. Peter Shumlin had for Fogel: that he give up some of his $600,000 severance pay and plow the money into scholarships. While the UVM prez rejected the gov's idea, Sanders liked it. "I suggested that they put any of the money remaining on my contract toward scholarships, and they said they'd consider that."
During Sanders' tenure, the college added academic programs, boosted its annual fundraising efforts and, last year, bought the former Catholic diocese property on North Avenue for $10 million. The college trustees and Sanders have been at odds ever since. The new campus needs repairs to the tune of $2 million, and Burlington College has to double its student population just to stay solvent.
In the next few weeks, the board is expected to establish an interim leadership plan and announce the search for a new president.
Sanders said she was pleased with Monday's outcome.
"I feel it's a good time to leave," she said.
All in the Family
Last week Fair Game broke the news that Burlington College and its president were on the verge of parting ways — a story that had been rumored for months, but no one close to the situation would discuss for attribution.
But it was Jonathan Leopold's connection to the story — especially the college's $17,000 payment to his family's Bahamian resort — that generated reaction.
The first email came from Burlington College's attorney, Joshua Simonds, who provided details that were not available by last week's deadline: The Caribbean expenditure was an all-inclusive, six-night stay at the Andros Beach Club and Nathan's Lodge, both of which are owned by the Leopolds. Turns out it was a three-credit spring break course — for 14 students and two faculty members — focusing on nature photography and marine and coastal ecosystems.
The students maintained a blog describing their weeklong adventures on the island: snorkeling, eating with the locals, hiking and, you know, studying up on how life's a beach. No wonder Newsweek recently ranked Burlington College No. 1 in the nation for its "free-spirited" students.
The expenditure was listed on the college's 990 tax form on file with the U.S. Internal Revenue Service. By law, the college must list any expenditures considered "related parties transactions" between the college and a business linked to a college official or officer.
Payment was made to the Leopold Consulting Group as "reimbursement for six nights all-inclusive at Andros Beach Club and Nathan's Lodge," at $1090 per person. That included accommodations, meals, ground transportation, housekeeping, guided tours, sporting equipment and taxes for the whole group.
"The cost to the college is at a substantial discount and represents a generous gift in kind from the family, which also pursuant to IRS guidelines was acknowledged to the donor," Simonds wrote.
After Simonds, Fair Game heard from Jonathan Leopold, the former chief administrative officer in Burlington who is at the center of the Burlington Telecom financing controversy. He is very unhappy about the way he and his family were characterized in last week's column. He claims his new status — as a private citizen — protects him from public scrutiny.
Leopold demanded Seven Days issue a correction, clarification and apology: a clarification about the academic nature of Burlington College's transaction with his son's resort in the Caribbean; a correction that he was not a "key figure" in its $10 million purchase of the diocese property on North Avenue; and an apology to his wife for the "son of a beach" line at the end of the column — or else.
We are sorry Roxanne Leopold felt targeted by what was intended to be a general comment on the situation. It was meant as a joke, not a jab. The contents of Simonds' email should clarify the nature of the beach-club expenditures. And let it be known that Jonathan Leopold, who is treasurer of Burlington College's board of trustees and sits on both the executive and finance and facilities committees, denies he was a "key figure" in the financing deal.
In addition to the Andros Beach Club expenditure, the school's 2009 IRS form also listed paying more than $55,000 to the Vermont Woodworking School, a business cofounded and run by Burlington College president Jane Sanders' daughter Carina Driscoll.
We note that this year, Burlington College announced a new bachelor of fine arts in craftsmanship and design via the woodworking school, which is based in Fairfax. Go figure.
Salmon Stays Put
After threatening to run for two different electoral offices, and also to retire, Republican Auditor Tom Salmon is a candidate for … reelection.
One month after being sworn in to office for a third time, Salmon declared back in January that he was unlikely to seek reelection and was thinking about taking on U.S. Sen. Bernie Sanders (I-VT). Then he was going to challenge Gov. Peter Shumlin. Then again, maybe he'd just go back to private life.
Hurricane Irene changed his mind, according to Salmon.
"During the past six months, I have talked with hundreds of Vermonters and consulted with my family about how I can best serve the state of Vermont in the coming years," the auditor wrote in an open letter to supporters. "I have examined a number of options, but the impact of Irene on Vermont helped me to understand that the best way for me to serve Vermont is to continue as state auditor."
Who then will run against Shumlin?
Former Lt. Gov. Brian Dubie's got first dibs, but Sen. Randy Brock (R-Franklin) is also at the top of the list. Mark Snelling, a businessman and son of former Gov. Richard Snelling, and Thom Lauzon, the mayor of Barre, have also expressed interest in running for statewide office next year.
Dubie's not in any rush.
"The best thing to do is support the governor and the administration — as I have done — and pull together as a state," Dubie told Fair Game. "I think they are doing the best job they can, and it just doesn't feel right to talk about politics when so many people have lost everything."
Global Whining
The Vermont Public Interest Research Group had some harsh words last week for Gov. Peter Shumlin's new comprehensive energy plan, but quickly retracted them.
Last Friday, VPIRG clean energy advocate Ben Walsh fired off an email to members titled "Really? This is what we waited for?" criticizing Shumlin's 20-year energy plan. Walsh accused Shumlin of being less aggressive in the development of renewable energy than his predecessor, Republican Gov. Jim Douglas.
Say it ain't so!
"Really," added Walsh. "Since 2005, Vermont utilities have signed up for 13 percent of their electricity to come from new renewable projects by 2013. That is 1.6 percent new per year. The Shumlin plan is only calling for 1.1 percent new renewable electricity per year.:-("
Less than four hours later, Walsh's boss — James Moore — issued an apology under the email subject line "Correction: too harsh, good plan."
"I want to be very clear," Moore demurred. "We are thrilled to have a comprehensive energy plan that shows real vision for where this state can and should go to create a clean energy legacy for our kids, reduce our dependence on oil and put Vermonters to work."
Yeesh, that sounds like a Shumlin stump speech.
Did the gov's office take VPIRG out to the biofuels woodshed? Shumlin chief of staff Bill Lofy says the gov's office complained to VPIRG, but VPIRG was already preparing a revised statement.
"They didn't need much convincing," Lofy said of the first email critique.
Moore told Fair Game the "tone was off" in the first email and that it "missed the mark."
Perhaps you've heard of Bill McKibben's climate change fighting group, 350.org, which helped rally more than 1000 Vermonters on the Statehouse steps this past weekend? In a rousing speech, Shumlin told them everything they wanted to hear.
Maybe VPIRG should start a new environmental group, called 180degrees.org.