Every now and then, Seven Days takes stock of who's ahead and who's behind in Vermont politics. Now that the legislature has adjourned, it's time to tally the session's biggest winners and losers. Here's how it looks:
Winners: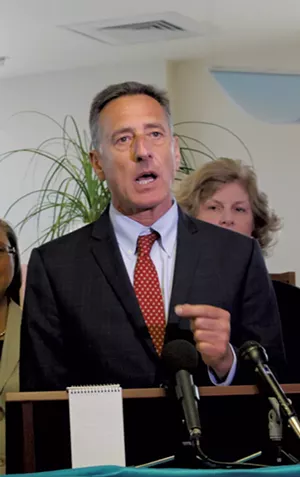 Courtesy Of Paul Heintz
Peter Shumlin
Gov. Peter Shumlin — After a tough summer and fall reckoning with an unhappy neighbor and a malfunctioning health insurance exchange, the second-term gov couldn't afford a rocky legislative session. He largely avoided one. By focusing on opiate addiction, Shumlin earned praise from all political quarters — not to mention national headlines. By keeping his legislative agenda modest and avoiding confrontation with legislators, he walked out of an election-year session with few scars.
Gun Rights — For the second year in a row, gun rights groups put the kibosh on any substantive changes to Vermont's practically nonexistent firearm laws. They killed Burlington's three voter-approved charter-change proposals, including mandatory gun locks. (With two months remaining in the session, House Speaker Shap Smith claimed there wasn't enough time to debate them.) And they watered down a measure meant to keep firearms away from those accused of domestic abuse. Gun-control advocates are hoping to require universal background checks next session. We'll see how that goes!
Courtesy Of Paul Heintz
Rebecca Ramos
Rebecca Ramos — Think of her as Vermont's 31st senator. The chief of staff to Senate President Pro Tem John Campbell (D-Windsor) distinguished herself last session for whipping the pro tem's office into shape. This session, she truly came into her own — deftly managing the Senate's competing egos and keeping the body on track, all while downplaying her own essential role. It'll be a huge loss to Campbell and his colleagues if rumors of her departure turn out to be true.
The Solar Industry — Recognizing the complicated politics of renewable energy in Vermont, solar boosters worked quickly this winter to pass legislation expanding the state's net-metering program. Before opposition could coalesce and bog down the bill, the legislature raised the cap on how much electricity utilities must accept from home owners and business owners who generate it and sell it back to the grid.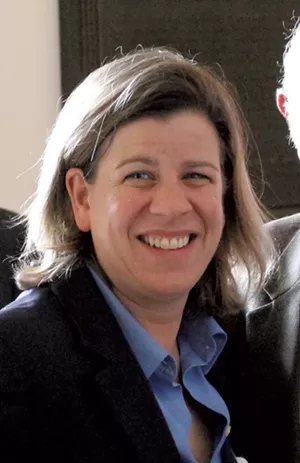 Courtesy Of Paul Heintz
Heidi Scheuermann
Heidi Scheuermann — In the end, she decided not to challenge Shumlin for governor, but the Stowe Republican effectively elevated her role in the political discourse this session. Scheuermann learned what U.S. Sen. Bernie Sanders (I-Vt.) knows all too well: When you threaten to run for higher office, reporters pay a lot more attention to you.
Vermont Public Interest Research Group — After suffering an early defeat over campaign-finance reform, VPIRG's policy agenda caught fire. The group played a major role in passing Vermont's sorta-first-in-the-nation GMO labeling law, led the charge on toxic-chemical regulation and played a role in expanding net metering. Executive director Paul Burns got the recognition he deserved at last week's GMO bill-signing ceremony on the Statehouse steps.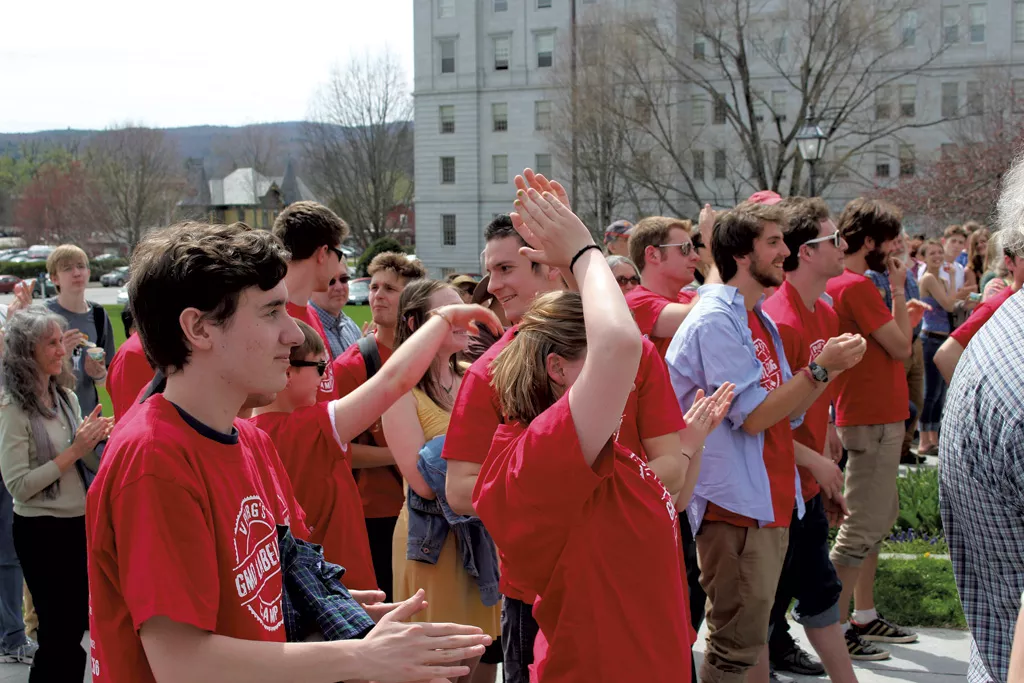 Courtesy Of Paul Heintz
VPIRG canvassers at GMO bill signing
Courtesy Of Paul Heintz
Kevin Mullin
Kevin Mullin — Who would've thought that a Rutland Republican would become one of the most effective members of Vermont's Democratic Senate? But this session, the economic development committee chairman got the job done: from universal pre-kindergarten to toxic regulation to a (slower than originally proposed) minimum-wage hike. His speaking roles at numerous Shumlin press conferences confirmed the administration views him as indispensible. Runner-up winners: Sen. Tim Ashe (D/P-Chittenden), whose portfolio as Finance Committee chairman vastly expanded to include health care reform and education, and Sen. Dick Mazza (D-Grand Isle), who won an epic pissing match with Shumlin over banning handheld cellphone use while driving.
Tie Score:
The Business Community — As evidence of their persecution, Vermont's business lobbyists point to the state's minimum-wage hike, the unionization of child- and home-care workers, Vermont Health Connect and single-payer. But it wasn't all bad news this session. The business community killed paid sick leave and prevailing wage legislation, whittled down the toxic-chemical bill and passed a $5 million economic development package. Most importantly, Shumlin kept Democratic legislators from raising most broad-based taxes.
Opiate Focus — Shumlin memorably launched the session with the declaration that Vermont was in the midst of a "full-blown heroin crisis." The legislature took action: providing funding to reduce waiting lists at drug-treatment centers, diverting low-level criminals from jail to treatment, and stiffening penalties for traffickers and those convicted of drug-fueled crimes. But within a month of Shumlin's State of the State address, lawmakers had mostly moved on — and few new innovative ideas were contemplated.
Campaign for Vermont — Bruce Lisman's political advocacy group pledged to be a major presence at the Statehouse this year. It wasn't. But Campaign for Vermont can claim one notable victory: a new ethics panel in the House, which will monitor potential conflicts of interest, and new rules requiring House members to disclose their employers and paid board service.
Losers:
Single-Payer — Yes, we know. The real debate over how to finance and implement Shumlin's single-payer health care plan won't come 'til next year. But even without any details to dissect, Shumlin's fellow Democrats spent plenty of time this session agonizing over — and arguing about — what those details will look like. Can Shumlin keep his party united around its holy grail of public policy? We'll see.
Courtesy Of Paul Heintz
Dick McCormack
Property Tax Relief — Shumlin and House Democrats talked a big game this session about reining in school spending, but they had nothing to show for it by the fall of the gavel. Runner-up loser: Senate Education Committee chairMan Dick McCormack (D-Windsor), who stood in the way of meaningful reform. His excuse that his committee lacked the time to weigh the House's school district consolidation plan was kind of lame, given that it didn't exactly sneak up on him.
House Republicans — There was no shortage of issues an effective minority party could have used to divide and conquer Shumlin and his Democratic allies. But House Republicans once again proved themselves inept and irrelevant this year. Their sole tactical victory came in the session's closing days when they capitalized on a procedural error to scuttle a heftier minimum-wage hike.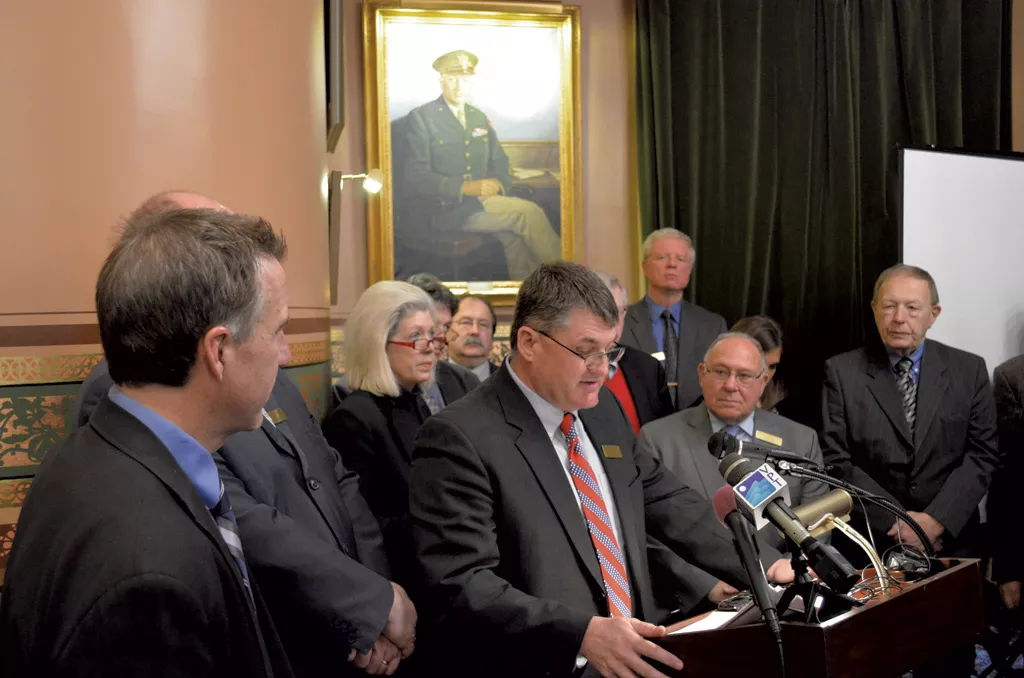 Lake Champlain — Yet again, Shumlin and the legislature punted on cleaning up the state's rivers and its biggest lake. Environmentalists criticized the administration's latest plan to reduce phosphorous pollution and failed to convince the legislature to fund mitigation programs. Runner-up Loser: Senate Natural Resources and Energy Committee chair Bob Hartwell (D-Bennington), whose skepticism about the role of humans in climate change may cost him his chairmanship next year.
The Press — This was one of the least dramatic legislative sessions in recent memory. That was good news for Shumlin and his majority party Democrats, but bad news for those of us writing about the news.
Disclosure: Tim Ashe is the domestic partner of Seven Days coeditor and publisher Paula Routly.