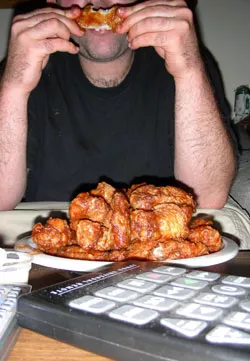 When you think about it, it's kind of horrific. Every night, hungry folks all over the country grab a beer, sit down with their friends and munch on the tiny bones of dozens of martyred chickens.
There's not even much muscle on the flightless wings. For many, tearing the meat from the bone is more of a distraction than a dining experience. But it doesn't have to be.
In honor of arriving college students everywhere, we at Seven Days set out to see if wings could soar to new heights. Or at least transcend the freezer-burned, gummy-sauced finger food that's all too often the norm.
Admittedly, wing tasting is not an exact science. We embarked on the experiment without formulating hypotheses. We did, however, make serious analyses, take thorough notes and, yes, construct spreadsheets. We would have worn lab coats, but we didn't want to see them turn greasy orange. Goggles might have been a good idea, as one of our testers was temporarily blinded by some errant hot sauce.
We tasted only the wares of wing purveyors that deliver to the full Burlington-area college circuit. If St. Mike's students could not partake, neither could we. We also chose to stick to locally owned businesses — some small chains, others independent restaurants. Given that nearly every pizza place also serves wings, and we didn't want to explode, we limited our survey to places with flavor — literally. Although we love us some spicy Buffalo sauce, the four places we hit offer more options, such as Hickory Barbecue, Honey Dijon and Jamaican Jerk.
In addition to the grub, we ranked the quality of delivery service. No one wants to step away from the keg to go on a food run, and partiers ready to get their bite on won't want the wings to arrive cold, with a layer of congealed fat. So we rated each order taker's phone manner, then timed how long it took for the food to show. No one wants to spend their hard-earned dollars (or their parents' — we noted who takes college cards) on an inferior product.
We took taste, texture, crispiness and freshness into account, sampling two flavors from each purveyor: whatever sounded most unusual, and the hottest Buffalo version on the menu. We hoped to encounter a wing that would make us cry, snot all over ourselves and possibly call an ambulance.
Of course, we took into consideration two of the most important lessons of higher education: The look and feel of the package counts, and size matters. No one wants a dry, teensy bone in her mouth.
What were the results? When it comes to straight-up chicken-y goodness, Wings Over Burlington won our vote with its crisp, fresh-tasting wings in an array of flavors. We highly recommend it to connoisseurs and extreme eaters who like their Buffalo sauce on the scalding side.
Those who are ordering for a diverse crowd may want to consider our second favorite joint, New England Wings. The wings were enticing, and the numerous other options — including six different salads, baskets of fried food, subs and pints of Ben & Jerry's — make it easy to please everybody in the dorm.
Want the details? Read on. And keep in mind that the members of our crack team urge readers to use protection when getting saucy. Always have a napkin ready. And paper towels. There is no harm in hygiene.
*******
Chicken Charlie's
Quoted delivery time
30 minutes
Actual delivery time
31 minutes
Delivery hours
11 a.m. to 10 p.m., seven days a week.
Accept college cards?
Yes
Price
$8.49 a dozen. Extra $1.50 charge was for extra flavors or additional dressing — we're not sure which.
Delivery cost
Free with $12 order
Phone manner
Fine and friendly. Was willing to discuss favorite flavors.
Splitsville
We tried two different kinds. The wings were in one container, separated by leaves of tissue paper.
Finger burns?
Hot enough for us.
Wrap it up
Styrofoam containers were strapped together with a thick plastic band. We ripped into the styro when trying to cut the plastic strip. "This might be tough to do drunk at 2 a.m.," Dan Bolles pointed out sagaciously. Flimsy plasticware came in individual packages, with one incredibly thin napkin each. Not nearly sufficient for mopping up the mess.
Extras
No veggies. What the heck?
Meatiness
Big fat wings.
Dressing quality
Eh. Not too flavorful. Where's the blue cheese?
Buffalo heat range
Classic Buffalo, Hot Buffalo
Non-Buffalo flavors
Honey BBQ, Mild BBQ, Medium BBQ, Hot BBQ, Suicide BBQ, Teriyaki, Honey Dijon, Zesty Italian, Spicy Garlic, Cajun BBQ, Asian Zing
Spicy-hot enough for ya?
Not so much. Traditional, vinegary sauce, messy container.
Flavor fave
We tried to order the fun-sounding Asian Zing, but they were out. We ended up with Italian wings, which were breaded and doused in Italian dressing. Alice liked the flavor, but the drenching of dressing made 'em soggy.
Other items sold
Chicken tenders, fries, roasted chicken, soups, salads, ribs, burgers, gyro, sandwiches, wraps, lots of sides.
What's best?
Friendly service, expansive hours and the inclusion of silverware, however wimpy.
******
Big Daddy's
Quoted delivery time
30 minutes
Actual delivery time
38 minutes
Delivery hours
11 a.m. to 2 a.m., seven days a week.
Accept college cards?
Yes
Price
$8 a dozen. Didn't charge extra for splitting flavors or for additional dressing.
Delivery cost
Free with $12 order
Phone manner
Fine, although her initial greeting was rushed and tough to understand. Also volunteered info about popular flavors.
Splitsville
Ordered two varieties. Each flavor came in a different receptacle.
Finger burns?
Nice and toasty. But the restaurant is pretty near our office.
Wrap it up
Individual aluminum containers with plastic tops came stacked in a paper bag. The tower was swathed in many layers of Saran wrap and required sharp objects to penetrate. We were pleased by the stack of napkins, but hasn't anybody in this town heard of wet naps?
Extras
Three carrots and three celery sticks. Fine quality.
Meatiness
Smaller, more compact pieces.
Dressing quality
Very chunky blue cheese dressing. The ranch has a nice buttermilk flavor. Both are homemade.
Buffalo heat range
Mild, Medium, Hot, Extra Hot, Ridiculous, PrepHOTstrous.
Non-Buffalo flavors
Honey Mustard, Honey BBQ, Hickory BBQ, Southern BBQ, Garlic, Teriyaki
Spicy-hot enough for ya?
A bit hot, but not "PrepHOTstrous" by any means. Peppery heat that builds slowly. Might seem hot after eating a bunch.
Flavor fave
Sweet Honey BBQ didn't taste anything like BBQ. These were better when swiped through the dressing, resulting in a flavor combo similar to cream cheese and jelly. "It reminds me of Chinese restaurant sauces, sweet and gloppy," Alice professed.
Other items sold
Pizza, calzone, stromboli, pasta, salads, drinks, ice cream, subs.
What's best?
No puddles of sauce on the Buffalo wings. We liked the homemade dressings. The carrots and napkins were nice, too.
******
Wings Over Burlington
Quoted delivery time
40 minutes
Actual delivery time
35 minutes
Delivery hours
Monday-Thursday, 5 p.m. - 1 a.m.; Friday 11 a.m. - 3 a.m.; Saturday noon - 3 a.m.; Sunday noon - 1 a.m.
Accept college cards?
Yes
Price
$7.50 for 10, with no extra charge for sampling different sauces.
Delivery cost
Free
Phone manner
Pleasant and patient. Recommended the various BBQ versions.
Splitsville
Too excited by the plethora of flavors to choose just two, we split an order of 25 wings ($15.99) among four flavors. The wings arrived in separate parts of one container, so the sauces hadn't mixed.
Finger burns?
Yep. They brought them in an insulated bag. Good call.
Wrap it up
The only wing joint that has its own special Styrofoam containers with the company logo. And they were black, which makes it extra hip. What wasn't hip? The lack of plasticware and napkins. It's a party foul to lick your fingers and then feel around for your next wing.
Extras
Celery all by its lonesome. It was crunchy, though.
Meatiness
Medium-sized. They're made from fresh chicken, not frozen, which is a huge plus.
Dressing quality
Has its own "Wings Over" line of dipping sauces (e.g., ranch and blue cheese). Both were just fine, but they took a back seat to the tasty wings.
Buffalo heat range
Wimpy, Cruisin' Altitude, Red Alert, Jet Fuel, Afterburner
Non-Buffalo flavors
Honey BBQ, Bar-B-Que, Kickin' BBQ, Golden BBQ, Cajun Teriyaki, Cajun BBQ, Teriyaki, Honey Mustard, Garlic Parmesan, Plain, Mustang Ranch, Lemon Pepper, Jamaican Jerk, West Texas Mesquite, Cajun Blackened, Spicy Teriyaki, Sweet Onion BBQ, Honey Lime
Spicy-hot enough for ya?
Finally, a truly spicy wing. Alice Levitt thought the rich, brick-red sauce looked "angry," and we weren't disappointed. "I can feel it in my ears," commented Dan.
Flavor fave
As already mentioned, we couldn't order just one flavor, so we ended up with three. And loved them all. Crisp, dry-rubbed Garlic Parmesan had some herbs in the mix. "It's like biting into a garden," said Alice. The mustard-y Golden Bar-B-Que was unusual and delicious. The Spicy Teriyaki wasn't that spicy, but it was good nonetheless.
Other items sold
Boneless wings, ribs, waffle fries, sandwiches, wraps, veggie burgers, onion rings, coleslaw, soda.
What's best?
The freshness and the excellent variety of wing flavors will keep us going back for more. The slick packaging was nice. Those who hate human interaction can order on the web.
******
New England Wings
Quoted delivery time
30 minutes
Actual delivery time
27 minutes
Delivery hours
4 p.m. to midnight. Lunchtime delivery Thursday through Sunday is coming soon.
Accept college cards?
Free
Price
$8.49 a dozen, with one sauce. Getting additional kinds will cost you.
Delivery cost
Free
Phone manner
Helpful when asked several questions about the order.
Splitsville
Each dozen was swaddled in tissue paper and nestled in an individual cardboard container. The downside? When you're reaching for the ones on the bottom, you're likely to get sauce on your mitts.
Finger burns?
Some were hotter than others. They arrived in a paper grocery bag.
Wrap it up
Each dozen came in a paper box lined with lots of tissue paper, which is all well and good until bits of paper end up hitchhiking in the sticky sauces. On the positive side, we did get a nice stack of napkins.
Extras
Each dozen comes with its own baggie of fresh-looking celery.
Meatiness
Good-sized, but not huge.
Dressing quality
Nothing special. Blue cheese didn't have much cheesy flavor. The ranch was nice and creamy.
Buffalo heat range
Mild, Medium, Hot, Lava
Non-Buffalo flavors
Honey BBQ, Spicy BBQ, Teriyaki, Spicy Teriyaki, Spicy Bbyaki, Cajun, Marinara, Gravy
Spicy-hot enough for ya?
With pepper flakes sprinkled on the outside, these wings bit back. They weren't the bright red, vinegary style; the sauce had more substance.
Flavor fave
The Cajun version had a peppery dry rub — hot, crisp and good, though not typically Cajun. Honey BBQ was sweet and slightly tangy, but didn't stand out from the crowd.
Other items sold
Dinner combos, sandwiches, salads, subs, fries, chips, candy bars, beef jerky, pop tarts, Ben & Jerry's pints.
What's best?
The wings themselves: They're crisp and tasty. The many non-chicken items on the menu make this a great option for big crowds.