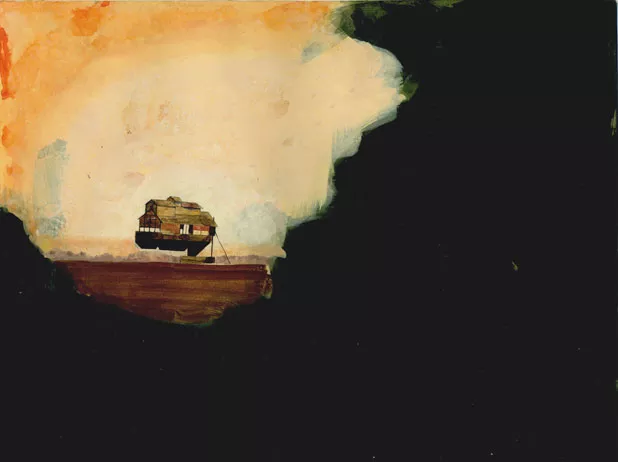 "View" by Siobhan McBride
In "This World, Other World," the current exhibit at Burlington's Firehouse Gallery, eight past residents of the Vermont Studio Center depict environments or landscapes that reside in some plane askew from reality.
An internationally known artists community, the Johnson center has been a haven for artists and writers for 25 years. Like other such facilities, it's a world unto itself, a place of creativity, camaraderie, focus and respite from the "real" world. Perhaps that's what inspired the theme?
The idea came from guest curator David Grozinsky, who is the exhibition and admissions coordinator at VSC — a position, he explained at the show's recent opening, that affords him familiarity with the works of artists who do residencies there. Though the selected artists have no affiliation other than their link to the center, Grozinsky assembled them for their "otherworldly" artistic explorations. As Firehouse Gallery manager and assistant curator Amanda Sanfilippo explains, "David was interested in how artists create a fantastical, alternative reality." The works are like "hermetically sealed compartments," she adds, "where everything is on their own terms. They're playful."
Building and structure are central to this exhibition, which features a mix of paintings and sculptures that probe notions of usefulness, strangeness and familiarity.
In "View," a painting by Siobhan McBride, a barnlike structure balances precariously on a shiplike hull. Two spindly stilts prop the form up on a narrow platform as it floats in a painterly, tangerine-orange haze. The dreamlike vessel, in fact, resembles the iconic Red Mill building at VSC.
Sarah FitzSimons' wooden sculpture "New Construction" is a maquette for a large-scale piece she hopes to make. The sculpture begins with the framed-in structure of a barn, and then gradually develops into the framed-in form of a mountain. The transition from humanmade to organic structure suggests a parallel psychological shift from the closed spaces of imposed order to the wildly inventive permutations of nature.
Within view of FitzSimons' sculpture, Carrie Dickason's aluminum-foil-covered bamboo structures stand tentatively on a low, white platform. Spindly, leggy and delicate, the constructions resemble oddly angled radio towers, and they cast diffuse, linear shadows that look like subtle charcoal drawings on the platform. With their slight form and precarious balance, these works echo FitzSimons' fascination with structure but approach it differently. Where FitzSimons' structures are solid yet evolving, Dickason's are fragile and transient. The two artists' works complement each other as linked meditations on form and function.
Structure seems to devolve in Magnolia Laurie's painting "When You Stagger In, I Notice the Void." Rail-like irons tumble at angles into a churning sea; moody washes of gray conjure the sky storming above. Energetic strokes in the foreground charge the turbid water carrying the spidery rails into the distance, far from any hands that might hold them. The tumult suggests natural disaster — the humanmade world carried off by the natural one.
Perhaps the most eye-catching piece in the show, < ahref="http://www.lashermanasiglesias.com/" target="_blank">Janelle Iglesias' suspended sculpture "Draw Back the Bow (or Kill Your Darlings)" spirals high into the gallery space. A haphazard tower composed of materials including tree limbs, broomsticks, logs and vines holds a host of arrowlike sticks, seemingly caught in the spiny machinations of skeletal parasols. The piece is simultaneously alive and still, as if depicting a suspended attack on a makeshift fortress. Seeing it is a bit like walking into the climax of a fairy tale without knowing the story — some crucial action is unfolding, but without obvious context or meaning. The epic event simply exists, between the material fact of the work and the consternation it evokes. It's an exciting, disorienting object transported from an imagined world.
If Iglesias' sculpture drops us into an unknown tale, Erin Kaczkowski's painting "Framing a Grey and White Object" plunges us into a feeling. A nearly flat gray border surrounds a central painterly section that's awash with pastel layers of paint and geometry. Thick white paint in one corner protrudes from a mix of flat and brushy textures. Kaczkowski creates a tactile interior world of color and intersecting layers. The painting evokes both confusion and clarity, drawing the viewer in for more.
Grozinsky described the exhibition as a Wunderkammer, or curiosity cabinet, of places. These artists render their imaginary landscapes and structures in fine detail, creating vivid glimpses of the worlds they create along with insight into the one we share.