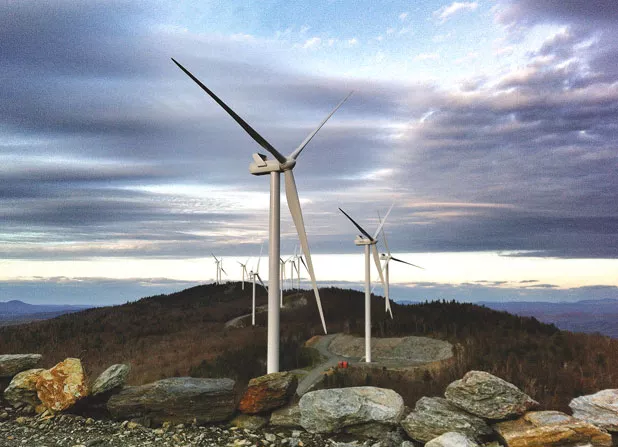 As Montpelier prepares to do battle over a proposed moratorium on industrial wind power, both sides are trying to show that public opinion is on their side.
Nine state senators — five Democrats and four Republicans — have introduced a bill that would prohibit new wind-power projects for three years while the state studies its costs and benefits. One of the lead sponsors, Sen. Robert Hartwell (D-Bennington), was just named chairman of the Senate Natural Resources and Energy Committee, which will help shape energy policy during this legislative session.
Polls have consistently shown that Vermonters overwhelmingly support building ridgeline wind projects like the ones now generating power in Lowell, Sheffield and Georgia. A WCAX-TV poll conducted by Castleton State College last May asked respondents, "Do you support or oppose building wind energy turbines along the state's ridgelines?" Sixty-nine percent said they supported it, while 17 percent were opposed and 13 percent answered, "not sure/it depends."
In his 2012 Town Meeting Day poll, Sen. Bill Doyle (R-Washington) asked 12,300 voters from 148 cities and towns, "Should wind turbines be built on Vermont ridgelines?" The unscientific survey found 58 percent in support; 23 percent opposed.
Just last month, Green Mountain Power, developer of the 21-turbine Kingdom Community Wind project on Lowell Mountain, hired a D.C. polling firm to survey its customers on the subject. According to GMP spokesman Robert Dostis, Public Opinion Strategies asked 600 customers, "Would you say you support or oppose wind energy on Vermont ridgelines?" Dostis says the result was 75 percent yes, 21 no and 4 percent unsure.
"The public supports it. It's necessary for our environment, for our health and for jobs," said Paul Burns, Vermont Public Interest Research Group's executive director, after a wind moratorium rally at the Statehouse two weeks ago. "I'm confident we'll stop [the moratorium] in the Senate because it's so out of step with what Vermonters want to see."
But opponents of big wind have sought to cast doubt on the surveys and, in the process, prove their growing momentum. During the rally earlier this month, scores of Northeast Kingdom residents packed the Statehouse's Cedar Creek Room, where the moratorium bill was unveiled. And on January 31, the group Energize Vermont plans a "legislative action day" to build support for the wind moratorium and present their own alternative energy plan for the state.
Conventional wisdom might suggest that wind opponents are a small but vocal minority of Vermonters — especially when polling numbers skew so consistently in favor of ridgeline wind power. But polling expert Rich Clark, the director of the Castleton Polling Institute, cautions against reading those polls as broad support for "industrial wind" in Vermont.
Clark doesn't dispute GMP's reported survey numbers, noting they mirror his own results from the WCAX poll. But he believes the numbers collected in both the Castleton and GMP polls are "soft." He's still waiting for a poll with "that follow-up question" that might drill down deeper. For instance, do Vermonters support turbines when they're placed within view of their own homes?
He likens the poll results to national opinion on the death penalty. A majority of Americans believes persons convicted of murder should be put to death. But follow-up questions about the possibility of life imprisonment without parole, or about the costs associated with death penalty legal appeals, erode that support.
His point? "Go deeper."
GMP spokeswoman Dorothy Schnure says the company has asked more nuanced follow-up questions in smaller surveys in the past. In 2011, it asked 100 customers to choose one of two statements that best reflected their opinion: "…wind turbines like those being built in Vermont's Northeast Kingdom [are] an essential part of generating safe, clean, renewable power in the future, even if it means that a few of our ridge lines will have giant turbines that could spoil the view," or "Wind turbines like those being built in Vermont's Northeast Kingdom might provide some renewable energy and cut climate-changing greenhouse gasses a little, but it's not worth spoiling Vermont's pristine ridge lines when other alternatives exist."
According to GMP, 65 percent picked the former; 27 percent chose the latter. Eight percent weren't sure. Schnure concedes those results come with a high margin of error.
GMP hired Public Opinion Strategies — a Republican polling firm that worked for Mitt Romney's presidential campaign — to collect customer feedback on service, reliability and other topics using live interviewers. The latest GMP survey polled 600 customers on December 16 and 17 and had a margin of error of plus or minus 4 percent, Dostis says.
"We have to take it for what it is," Schnure says. "It's a poll. It's a reading." But over time, she says, the snapshot that has emerged is one of steady support for wind development.
Clark's perspective — that the wind polling numbers are valid but likely don't tell the whole story — is echoed by opponents of wind energy who express frustration at just how often polling data are trotted out in defense of wind development.
"What most people have been polled on is the question of: Do you support wind? Well, I support wind. That's not really the issue," says Sen. Joe Benning (R-Caledonia), a lead sponsor of the wind-moratorium bill. "The issue is whether or not you support the location of industrial-strength wind in our most environmentally sensitive areas. If you redeveloped the question for the polls and asked that, I think you're going to have a different answer."
Annette Smith of Vermonters for a Clean Environment measures public opinion another way: the voting record of communities that have been asked to host wind-power projects. The town of Lowell voted 342 to 114 in favor of the Kingdom Community Wind project after Green Mountain Power made its case — including the promise of large annual property tax payments to the town — in an extensive public relations campaign. Sheffield residents voted 120 to 93 to continue exploring a 16-turbine wind project, and Readsboro residents also voted to expand an existing 11-turbine array.
But as Smith points out, residents in Barton, Sutton, Londonderry, Manchester, Wilmington, Ira, Newark, Hubbardton and Brighton have all voted against wind projects in some form or another, either by opposing specific developments or amending town plans to prohibit wind turbines on ridgelines. Smith's tally shows that in considering the votes across 12 towns, 58 percent — or 1943 voters — have opposed wind projects, compared to 42 percent in support.
"These are communities that have grappled with the issue," says Smith. "These are communities that have voted on it after they've educated themselves."
Smith complains of insufficient education in Vermont about the potential downsides of wind — noise primary among them. Smith says she experienced the information gap firsthand when she participated in a deliberative polling session commissioned by the Vermont Department of Public Service in 2007.
"I was in the 90 percent that pushed the button that said, 'Yes, I support ridgeline wind,'" says Smith. At the time she thought the issue boiled down to aesthetic objections, not the environmental and health concerns she raises today.
"What we've seen in communities is that the opposition is strong, it's growing, it's present," says Lukas Snelling of Energize Vermont, a group opposed to big wind. "The poll is completely irrelevant. It lends itself to be a really nice talking point for wind proponents, but the reality is, it's not reflective of what takes place in these communities when projects are proposed."
For his part, VPIRG's Burns says opponents of big wind should be heard. "But that kind of extreme position to clean energy is not going to carry the day in the Statehouse," he says.
The original version of this article misstated the vote results in Sheffield. The true results are 120-93.
The print version of this article was headlined "Do Vermonters Really Support Ridgeline Wind Power? Parsing the Polls".