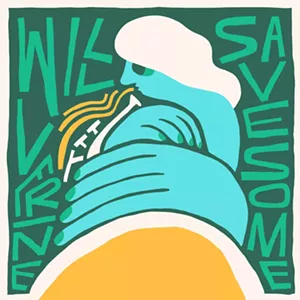 (self-released, digital)
A clattering mixture of bells and metallic percussive sounds opens Willverine's latest EP, Save Some. As the clanging tones evaporate in a wash of reverb, a billowy voice and quick jabs of synth bass trade off back and forth. A string of dewy handclaps flutter in as the beat fully drops and the song "Oh Beauty" comes to life.
Will Andrews, the Colchester-based electro-pop musician and producer behind the Willverine moniker, is a master of playing with space. Whether sparse and cavernous like "Oh Beauty" or jam-packed with sounds, layers and ideas like "Run Too Fast," his songs have a sense of balance and structural integrity. Flying buttresses of bass and beats keep "Oh Beauty"'s metaphorical 30-foot ceiling from caving in.
Andrews assembles a dream team of players on Save Some, including vocalists Francesca Blanchard (heard on the opener) and Burlington expat Maryse Smith. Also in the mix are a few cronies from his jazz-hop outfit Japhy Ryder, including Zack DuPont, Pat Ormiston and Jason Thime, plus guitarist Sean Witters. With their strengths fully utilized — whether rippin' guitar work or elegiac vocals — Andrews' guests sparkle in their various roles.
The artist hands off lead vocal duties to other players about half the time, but he's a damn fine singer in his own right. Andrews opens the up-tempo "Don't Waste It" only to be joined by Smith at the hook. Bustling hi-hats, effervescent guitar and arpeggiated synths drive the groove at its most fully outfitted before the song returns to spacious beats, bass and vocals.
Blanchard returns on "2 Hours," a slow-jam rumination on loss. The 808 snares pop over a demure mix of piano and guitar. Andrews introduces his signature instrument, the trumpet, at the song's climactic midpoint. Blanchard layers exquisite harmonies as the song sheds its elements like falling petals.
Reflective keys and processed vocals open "Run Too Fast," an absolute beast of a song. Andrews cobbled together 50 separate tracks: siren synths, flanged bass, alien whirs, molten trumpet, blazing guitar, and more ebb and flow over hip-hop-inspired beats.
"Save Some" is pure Willverine. Andrews lays out the track's individual ingredients before mixing them together: the tap-tap on the rim of a snare; deep, round synth bass; his own overdriven vocals; an elegant piano line; a searing guitar lick. They fit together like puzzle pieces around the song's one-minute marker.
The EP closes with the bittersweet "Anymore," a mid-tempo swirl of slide guitar, velvety trumpets and Smith's vulnerable vocals.
Andrews makes great strides here as both songwriter and producer. His futuristic yet nostalgic style of trip-hop electro-funk is as fresh as it gets.
Listen to Save Some on Spotify.