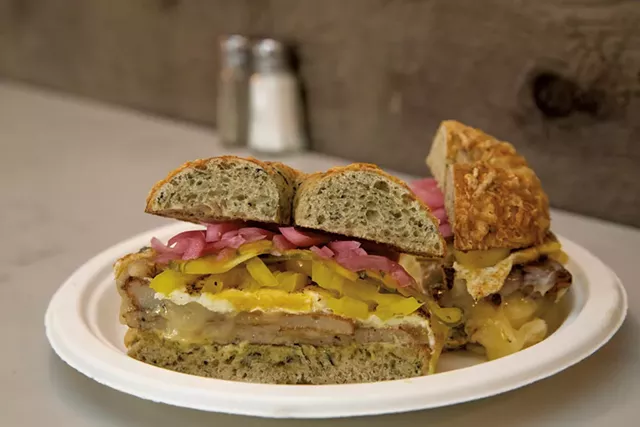 James Buck
Triforce breakfast sandwich at Willow's Bagels
Just when you think earnest entrepreneurs have snapped up every viable inch of Burlington's downtown to sell used records, dumplings or artisan anything, foodies take over a former funeral parlor and start slinging bagels, sourdough pizzas and craft cocktails.
To be fair, the Queen City is still waiting for Stonecutter Spirits to open its Highball Social cocktail lounge in the old Corbin and Palmer Funeral Home at 71 South Union Street. (That will happen any day now, according to sources close to the project.) But, with two new businesses up and running, the onetime funeral home is already hosting a livelier scene.
On warm summer nights, people gather at picnic tables outside the new Folino's pizzeria, toting beer and wine from nearby City Market, Onion River Co-op. And in the morning, a breakfast crowd trickles into Willow's Bagels for locally roasted coffee and breakfast sandwiches oozing with melted cheese, sautéed veggies and savory pork.
Though just two blocks from Church Street, the location feels tucked away, with the vibe of a cool backwater just waiting to be discovered.
Both of 71 South Union's bread-based businesses grew from their owners' intense personal relationships with baked goods. Tyler Bean of Willow's was a longtime bagel junkie who baked at home to unwind; John Koerner of Folino's started making sourdough pizza when mastery of naturally leavened loaves proved elusive. Neither man had cooked professionally.
But what they lack in industry experience they make up for in heart and grit. And the results prove, once again, that food needn't be fussy if it's prepared with care and intention.
Let's stop in for a taste, shall we?
Building a Community Vibe at Willow's Bagels
James Buck
Raspberry "pup-tart" at Willow's Bagels
In his previous life as a touring musician, Tyler Bean often settled into bed around 4 a.m. Since he partnered with his father, John, to open the bagel shop in June, that's when he's been arriving at work.
Bean, who would search out bagel shops wherever he woke up on tour, euphemistically described flip-flopping his biorhythms as "fun." But, he said, he's grown accustomed to spending early mornings — and afternoons, evenings and nights — working dough by hand. "Cooking has always been a respite for me," he said. Giving undivided attention to baking helped him feel present "when other aspects of my life were chaotic."
Opening a restaurant doesn't sound like a recipe for a calm and centered life. But making bagels is "a long process and one that takes a lot of attention," Bean said, "in a way that you can kind of be in the moment, as opposed to worrying about everything else that's going on."
The baker hails from Norwalk, Conn.; growing up, he spent a lot of time in New York City. But, probably wisely, he doesn't try to make his bagels mimic the ones in the five boroughs.
"We like to say it's a Burlington-style bagel," Bean said. "So it's somewhere between New York and Montréal." The bagels are puffy, chewy and plump — as in New York — but dense and just a little sweet, à la Montréal.
Full disclosure: I lived in Brooklyn for many years, and I'm a total bagel snob who's relatively inflexible on the old New York-versus-Montréal bagel debate. During a sunny lunch hour in late July, I thought the jalapeño-cheddar round that bookended my Spike breakfast sandwich looked stiff and starchy. I steeled myself for doughy disappointment.
But the first bite revealed something softer, fluffier and altogether better than I expected. The bready pillow soaked up the juices from the sandwich's wilted spinach, roasted garlic, egg and sausage. I'd definitely order it again.
And I'm excited to go back and try one of the shop's bagel bombs. Stuffed with everything from sausage and egg to flavored cream cheese, these petite dough balls are modeled after the ones at Milk Bar in New York
In the kitchen, Bean gets help from Joanna Fortier, who has baked for Klinger's Bread and managed Tomgirl Juice. She orchestrates the pastries — shortbread ice cream sandwiches, scones, lemon bars and buns — and advises on everything else.
During my lunch, I bought a raspberry "pup-tart" hand-pie scattered with coarse sugar, thinking I'd try a bite and save the rest for later. But the crust flooded my olfactory sense with the aroma of baking butter and sugar, and the filling was tart and sweet and tinged with citrus peel, and it was all crisp and flaky and interspersed with moments of sugary crunch. I couldn't help but eat the whole thing then and there (and want another).
Another day, I might slow down and take it with a cup of coffee. Willow's partners with Burlington's Brio Coffeeworks, Essex Junction's Gold Ladder Coffee and Montgomery Center's Backcountry Coffee Vermont on its drip and espresso roasts.
The space, with its barn-wood walls, spacious booths and poured-concrete floors, combines rustic and elegant elements. Abstract paintings by Burlington artist Valerie Russell lend modern polish, but the cozy, welcoming bakery suggests a do-it-yourself project that thrives on community engagement.
To that end, the shop names its sandwiches after the loving, lapping, tail-wagging canines that belong to its employees, friends and family. The restaurant's "Willow" was Bean's beloved late Sheltie, from whom he hopes his business can take a lesson.
"It's about how she lived her life," he said, "how she went about dealing with things. This place is all about taking your time and treating people with respect."
Testing a Business Model at Folino's
James Buck
Leeky Chicken pizza at Folino's
Five years after opening his first pizzeria next to Fiddlehead Brewing in Shelburne, Folino's owner John Koerner wasn't really looking to open a second location. But in 2017, when he heard about the vacated funeral parlor building on South Union, he saw an opportunity. "It was kind of one of the last spaces in Burlington that hadn't been developed," he said.
Koerner also wanted to know whether his BYOB model, which involved hanging a shingle next to a spirited beverages purveyor, was replicable. "Curiosity killed my cat," he said. So he leased enough space to accommodate both his wood-fired pizzeria and a beverage business, which he assumed would be a brewery, as in Shelburne.
Middlebury-based Stonecutter Spirits signed on instead. Koerner doesn't usually drink cocktails, but he liked the company's energy — and product. During a recent Stonecutter cocktail tasting, he said, "I was like, 'Holy moly, this is good!' I couldn't believe how good it was."
The Burlington pizzeria has been open for more than eight months now, and Koerner said customers have been finding it without the additional draw of a bar. "[Business has] been pretty good. It's not where I want it to be yet," he added, "but my model isn't filled out yet since [Highball Social] is not open."
The place was quiet last Wednesday, when a girlfriend and I had a late lunch inside the cavernous tiled space. To our left, a man and a woman in their thirties talked work projects over a red pie with roasted red peppers, mushrooms and artichokes.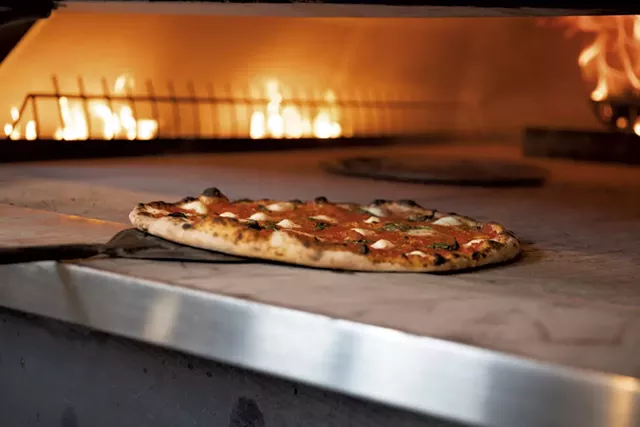 James Buck
Margherita pizza at Folino's
Behind us, four twentysomethings in oversize T-shirts and cargo shorts sipped craft beer in cans. "I'm getting pretty into sours," said one guy, launching a lengthy, if lax, conversation about local brews. On the airwaves, Weezer strummed a live acoustic version of their 1994 hit "Buddy Holly."
The laid-back atmosphere and straightforward service — order and pay at the counter, help yourself to water in blue plastic cups — belie a rather serious approach to pizza.
Koerner ferments his sourdough crusts over several days using a blend of flours from King Arthur Flour and house-ground organic wheat and rye from Champlain Valley Milling in Willsboro, N.Y.
"I think all those organisms [in the dough] like the fresh-ground flour," he said, adding that he's constantly tweaking his culture to keep it happy and active.
Happy dough translates to happy customers — or at least it did at our table. The pies bake in a 1,000-degree-Fahrenheit oven that's visible from everywhere in the restaurant. Our crusts were invariably crisp, blistered and chewy, mild in flavor but just a tad tart.
The smoky spice and floral aromas in a side of chile-infused honey enlivened the savory mélange of a scallop-and-bacon pie. Extra ranch dressing proved addictive for dipping slices of "leeky chicken" — Folino's version of a classic Buffalo chicken-bacon-ranch.
A proper margherita came fragrant with basil and dotted with mozzarella di bufala, which is edible even by those who eschew lactose. Koerner special-orders it in bulk from Italy. "It's one of those things that you [do and] hope people appreciate it," he said.
He couldn't say whether his guests do. But, he added, sourcing premium ingredients is nonnegotiable. "If your product is really, really good, you're eventually going to be fine," Koerner said. "That's pretty simplistic, but that's what I do."