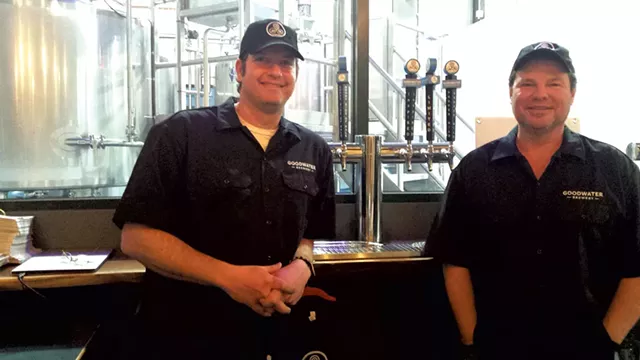 Melissa Haskin
Chris Capetz and Marty Bonneau
Last Friday evening, about 15 people crowded around the bar at Williston's new Goodwater Brewery. Every stool was taken.
Goodwater is the project of longtime Williston homebrewer Marty Bonneau and his nephew, Chris Capetz, who relocated with his family to Chittenden County from St. Petersburg, Fla., for Goodwater. Their beer hit the market almost two months ago, and it has sold fast. "We're having a hard time keeping up," Bonneau said. Goodwater brews are available at locations such as the Bearded Frog in Shelburne and Finnigan's Pub in Burlington and flow as far east as St. Johnsbury.
The tasting room at 740 Marshall Avenue will be open weekly from Wednesday through Sunday. Guests can sample Goodwater's four brews: Sweet Winter Brown; Hoppy Side of Pale; Proper Mild, an English-style beer; and InspiRED, an Irish-style red ale. With winter officially over, kölsch will soon replace the Sweet Winter Brown in the taps, Bonneau said.
Bonneau has yet to work out décor, he noted, pointing at the room's barren gray walls. Another detail: stools, which Bonneau and Capetz realized they had forgotten to order just days before opening. (On Friday night, the guests sat on stools the owners had borrowed from a friend.) Extra tables, too, are still on their way.
Bonneau pointed out space he's reserved for more tanks, then gestured to a corner where he plans to install canning equipment this summer. With the Goodwater flowing, he's all set for expansion.