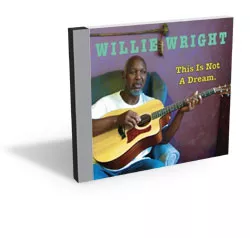 (Green Coil Records, CD)
Unless you were around Greenwich Village in its 1960s folk heyday, you've probably never heard of Willie Wright. A member of the Harlem-based doo-wop group the Persuaders and then later as the leader of his own band, the Willie Wright Trio, he was a prolific songwriter and respected vocalist who never quite achieved the same notoriety as the Village contemporaries with whom he often shared stages — cats such as Phil Ochs, Richie Havens and Judy Collins, to name a few. Wright's music, a mellow blend of acoustic soul and folk, has largely been left behind, his albums perhaps relegated to the dusty used bins of NYC record stores or flea markets.
Wright, now 73 and in an advanced stage of Parkinson's disease, retired from performing in 2002, after spending most of his post-New York career living in Boston and gigging around southern New England. Last year, his signature 1978 album Telling the Truth was re-released on Vermont's Green Coil Records, to the delight of hard-core folkies and soul aficionados. That album's reappearance set the stage for Wright's latest effort — his first in 34 years — This Is Not a Dream., released earlier this year. Recorded in 2011 at Burlington's Low Tech Studios with the help of a handful of the singer's Vermont-based pals, the album is a bittersweet affair. The amiable collection of laid-back originals reveals a gifted songwriter, and also a man who is grappling with swiftly declining skills in the face of a debilitating illness.
For that latter reason alone, This Is Not a Dream. is a remarkable record, a triumph. Wright's warm, easy rasp crackling through your stereo speakers is nothing short of soothing. Comparisons to Bill Withers in the record's liner notes are not at all outlandish. But to focus solely on the singer's battle with Parkinson's is to do a disservice to his considerable talents as a songwriter.
Wright has a simple, straightforward style that matches his gentle croon. The sweetness both in his words and delivery is compelling and comforting, whether he's singing about lost love, social issues or, as in the case of album centerpiece "Trust," outlaw gunman Jesse James.
Wright's Vermont friends, including multi-instrumentalists Erik Kaarla (bass, guitars) and Gus Zeising (drums, sax, flute), percussionist Bill Coil, and guitarist Bob Green, form a solid backing band and frame Wright's material with the same tasteful simplicity and R&B sensibility with which he writes. The casual quality of their collective performance puts the focus squarely on Wright and reflects his easy charm.
This Is Not a Dream. probably won't catapult Wright to long-overdue fame. But that hardly seems the point. The mere fact that it exists is an achievement and inspiration, a reminder that there is humble beauty to be found in life, even when days seem bleak.
This Is Not a Dream. by Willie Wright is available at williewrightmusic.com.