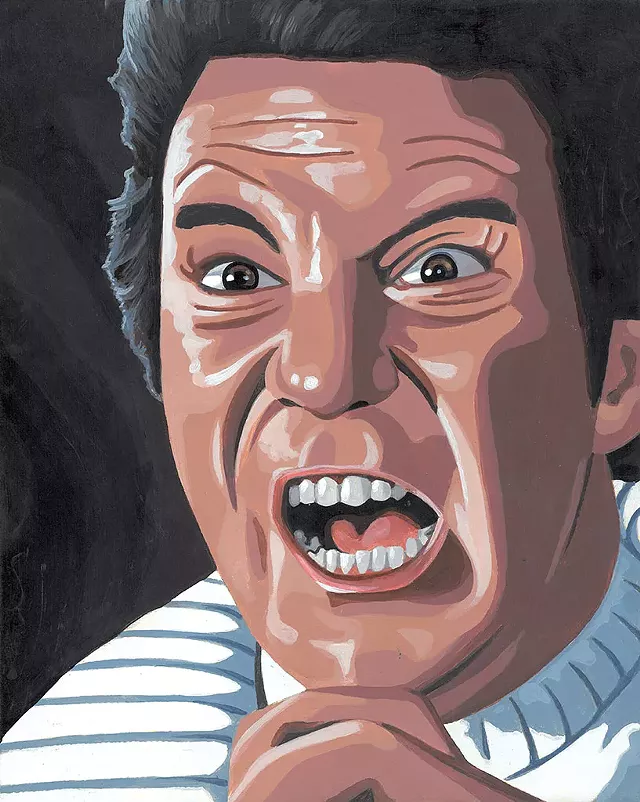 In the late 1970s and early '80s, the "Star Trek" franchise was lost in space. It had floundered since the original TV series ended in 1969, and a movie intended to rekindle public interest, Star Trek: The Motion Picture, was a cosmic flop in 1979. Many wondered whether there was still an audience for the intergalactic adventures of the crew of the USS Enterprise. As it turned out, there was.
In 1982, the second movie in the film franchise, Star Trek II: The Wrath of Khan, set box office records. Not only did William Shatner's Admiral James T. Kirk (38-year-old spoiler alert!) save the universe from annihilation at the hands of Ricardo Montalban's villainous Khan, but he, Spock, Sulu, Chekov, Uhura and the rest of the Enterprise crew saved the "Star Trek" universe itself. The film is widely credited with jump-starting the seemingly endless stream of "Star Trek" reboots and spin-offs, from TV series "Star Trek: The Next Generation" to the more recent J.J. Abrams-directed films and the "Star Trek: Picard" series, which debuts later this month.
Star Trek II: The Wrath of Khan also reaffirmed Shatner's legacy as a singular sort of Hollywood icon: an actor, producer, screenwriter, director, musician and occasional TV pitchman of uncommon humor, self-awareness and depth. His character's famous cry of "Khaaaan!" could ensure that his likeness will live long and prosper as long as people share online memes.
Shatner will speak after a screening of the movie on Thursday, January 16, at the Flynn MainStage in Burlington. Seven Days talked with the actor by phone in December about the film and his career.
SEVEN DAYS: Why does The Wrath of Khan endure? It's still my favorite of all the Star Trek films.
WILLIAM SHATNER: Oh, how wonderful. Well, it's an emotional film. But the story is that Star Trek: The Movie [sic], the first film that Robert Wise had directed, ultimately made money and was eventually, by those criteria, a success. But in the beginning, it was not. The studio thought it didn't meet their expectations. They thought Star Trek was a failure and didn't want to make any more films. Then, at the behest of the wife of the head of the studio, they decided to make one more, and they'd give it to the television department rather than the movie department. So that's what they did.
The television department made a much cheaper film. And they followed many of the dramatic rules of the television show and begat this movie, which was a plot-and-character film and not so much running and jumping — not that they knew much about running and jumping in film, special effects, in those years. So they relied on story. So, as a result of the success of that movie, all the rest of the "Star Trek" franchises became a reality. That's why it's important.
SD: I've read that you had to convince George Takei to do the film.
WS: [Laughing] That's a new one! Where in heaven's name would you have read that?
SD: I think it's actually on the film's Internet Movie Database page.
WS: Oh, my God. That sounds like something that Takei would put out. I didn't know him all that well to begin with, and over the years he's been really mean toward me, and I have no idea why. So no, George took a chance on his own.
SD: So, how often do people yell "KHAAAAAN!" at you?
WS: [Laughing] Oh, let's see: About one out of every seven days, in celebration of your publication. Every week, somebody yells "Khan!" at me. I think they're saying "comic-con," but apparently not.
SD: When you're showing the film and speaking with audiences about it and your career, what are some of the things you might enjoy talking about?
WS: It's the kick of having a dialogue — though it's not always a dialogue. But finding out what they want to know and answering it and trying to be amusing and make them laugh, but also make them cry.
There are two techniques involved. So, ask me a question.
SD: Um ... if you were going to use Ceti eels on someone, who would it be?
WS: Right. You know, I'm looking at the blue sky, and I've often wondered, Why is the sky blue? And I'm not answering your question. I've just got off on a tangent, and because there's a time limit, you'd write that down even though I didn't answer your question — because I didn't want to. That's one technique, of avoiding a question.
The other technique is to jump into it and answer the question to the best of my ability. I enjoy it all. The idea of the exploration of what the question asks is of interest to me, too. What exactly is it that I think or believe? I've often made many self-discoveries over the questions that people have asked.
SD: Do you follow the "Star Trek" reboots and spin-offs?
WS: No. I have some really good buddies in "The Next Generation," but I've never seen "The Next Generation." I've seen clips and bits and parts, but I've never seen a whole show. And that goes for the other iterations of "Star Trek": I've never seen them.
SD: You're just not interested?
WS: You know, Dan, I don't have an answer for why I haven't looked at them. But I haven't looked at any hour show. You name any popular hour show in the past or the present, and I haven't seen it. The great classic hour shows, the ones that are terrific now, and people tell me how good they are, I don't have any idea about. I don't know why I don't watch them. I just don't.
I'm a newsaholic; I watch sports; I watch movies. I look at other shows that analyze the Earth and the sky and your body. The hour show just doesn't interest me. One day perhaps it will, but it hasn't up until now.
SD: You said you're a newsaholic. What do you make of the goings-on in Washington, D.C., at the moment?
WS: Well, I've stayed away from politics because I'm still a Canadian living in America. And I've got this green card.
SD: You wanna hang on to that, huh?
WS: [Laughing] I'm a little nervous about saying something detrimental. I'm looking out my office window here, and I'm enjoying the view. I want to keep it.
But it's just a shame, really, about everything. Hopefully this, too, shall pass.
SD: Are you working on anything musically?
WS: I've just finished a blues album, and, well, I think it's going to be good. I want to do a documentary about it: White guy from Montréal does the blues. How is that possible? How did I choose the numbers? And what are the blues? What is the blues? I'm trying to sell that idea.
SD: Last question, and I'm almost embarrassed to ask, but one of my favorite roles of yours is from Airplane II: The Sequel, which I realize is probably a silly thing to say to you. But do you have any good stories about working on that film?
WS: I just remember it being very funny, and a lot of talented, amusing people were involved. And some of the concepts they wanted me to do were funny. I remember having a good time, but that's all I can think of. The results were very funny. I thought those movies were terrific.
This interview has been edited and condensed for clarity and length.