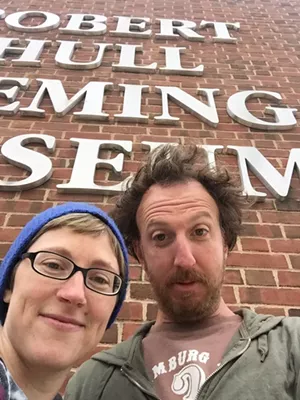 Ryan Miller
Not our most flattering angle, but you can't take photos inside the museum...
The mention of sex is probably long overdue in this column since I'm ostensibly here to discuss our efforts to maintain a healthy relationship. However, this being a family-focused publication, and me being a person you might run into randomly at the grocery store, I've left that topic out on purpose. Until now.
But don't get too excited/appalled. I'm bringing it up now in an academic context. Thinking we might find some inspiration, or at least something provocative to talk about, Ryan and I visited the
Fleming Museum
on the UVM campus to view the recently-opened exhibition, "
Sex Objects: Perspectives on Gender and Sexuality
."
A friend alerted me to the existence of the exhibit (the same friend, by the way, who so generously divulged the location of her
secret skinny dipping spot
) and I knew it would be an easy sell.
"Hey, babe," I asked Ryan. "Do you wanna go see a museum exhibit about sex?"
"Yes."
The tricky part was finding the time. The Fleming is open until 7 p.m. on Wednesdays, but generally speaking a museum date means a daytime date. Since both of our kids are in elementary school now, we have some flexibility as long as work allows it.
(Sidenote: I highly recommend daytime dates. The novelty of getting out together in the daylight adds an element of unfamiliarity that can be just enough to start the date off on a fresh note.)
We agreed that we could each carve out a two-hour block of time on a Wednesday morning to go get arty.
We had been to the Fleming once before, but not to look at art. It was for a
PechaKucha
night years ago and I didn't even remember that until we walked into the atrium, so this date qualified as going somewhere new to us. The "Sex Objects" exhibit is the first one you pass upon stepping foot in the building, which makes me think someone there thinks it's a pretty special collection of art. And where a thong from
Bertha Church
can sit alongside a pair of ancient Turkish shoes with turned-up toes in a glass enclosure, you know there is at least something to talk about.
[jump]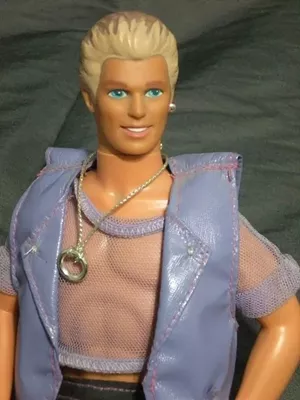 To our mind, the most provocative piece in the collection was the
Earring Magic Ken
doll. Much to the chagrin of the angry work-study college student sitting in the corner of the room, presumably tasked with reminding people that art is not meant to be touched, Ryan and I stood in front of the perfectly preserved plastic doll and made dirty jokes for a good 45 seconds. In our defense, this was only after we read the placard above Ken, which explained that Mattel actually made the doll to rather overtly appeal to their lesser-known but large constituency in the early '90s — gay men. Earring Magic Ken wears a purple mesh shirt and a necklace with a chrome circle "charm" that was said to actually be a sex toy.
And that was about the biggest (and, admittedly, the cheapest) thrill to be found in the exhibit. It is a moderately interesting study of gender, but light on the sex.
We had some time to spare before our agreed upon "return to your computer" hour, so we wandered into the next room of the museum. There we found another temporary exhibit called "
In Grain: Contemporary Work in Wood
," which has a less titillating subject than the exhibit that brought us to the museum, but was far more exciting.
Three walls of the room are lined with 365 small carvings by retired Middlebury College art professor
Eric Nelson
. Ryan and I admired them slowly, asking each other rhetorical questions about process and intention. ("Do you think he carved the similar ones all at once or spaced them out?" and "I wonder if they're arranged in this order for a specific reason?")
Then we came upon the stunningly lifelike works of Italian artist
Bruno Walpoth
. We both spent some time being sucked in by the wooden eyes of Walpoth's figures and shared our ideas about what each non-living being might actually be thinking.
The joy born of mutual fascination was well worth the relative disappointment we felt in the first exhibit, but at this point Ryan was getting antsy. He traveled upstairs and cruised through the permanent collection while I stayed downstairs to enjoy an exhibit of Senator Patrick Leahy's photographs of "
World Leaders & Global Citizens
." It was nice to remember, again, that even on a date we can allow each other the space to move where and when we each choose.
Another upside of spending those last five minutes of our date in separate areas of the museum is the experience of having something to share. Ryan was thrilled that he got to see an actual mummy ("They show an x-ray of the skeleton inside!"), and I was psyched to tell him about Senator Leahy's relationship with the Dalai Lama.
It's safe to say that ancient burial practices and senior senators are not generally turn-ons, but regardless of the content, sharing is sexy.