Jeb Wallace-brodeur
Sen. Jeanette White, left, speaking with Stuart Savel, center, and Emily Amanna, seated, from Vermont Home Grown
Bill Lofy went before the Senate Judiciary Committee in Montpelier last Wednesday to make a case for why it's a good idea to tax and regulate — rather than prohibit — recreational marijuana.
"Didn't you used to be somebody?" committee chair Dick Sears (D-Bennington) asked him jokingly.
Lofy did. He served as Gov. Peter Shumlin's chief of staff. He's now a lobbyist for the Vermont Cannabis Collaborative, a group of Vermont entrepreneurs pushing the state to legalize marijuana this year.
There are definitely some heavy hitters on the pro-pot side of the debate: Lofy wants it. So does his old boss, Shumlin, who called for passage in his State of the State address. The bill itself is currently in the clutches of a committee chaired by one of Shumlin's closest friends in the legislature — Sears.
Sears and Shumlin served together in the Senate for 14 years. They've buddied up at Red Sox games, and Sears, who campaigned for Shumlin, is a powerful figure in this argument.
So marijuana legalization is a shoo-in, right?
Not so fast. Powerful forces are at work on both sides.
Sears conceded that he and Shumlin have helped each other on many issues, but Sears noted he has not always marched in lockstep with the governor, notably voting against end-of-life patient choice in 2013 and last year's school-consolidation bill.
"I'm not exactly a puppet," said Sears, who's been in the Senate 24 years. The 72-year-old also volunteered that he hasn't smoked marijuana since he was elected to the Bennington Selectboard in 1987. "I didn't want that headline in the Bennington Banner," he said.
When Shumlin summoned Sears in advance of the State of the State to talk about marijuana, the senior senator said he promised only that his committee would consider a bill. Sears said he sees no reason to legalize marijuana unless it will put a big dent in the drug's black market. Can it do that? "I don't know," Sears said last week.
Sears' House counterpart, Rep. Maxine Grad (D-Moretown), will be a tougher sell. "I'm not clear about why we are doing this," Grad said of legalization. "I have a lot of questions."
She's not alone.
Sears' hometown police chief told legislators last week that Vermont is not ready to legalize marijuana. A new Department of Health study paints a bleak picture of the potential health effects. Doctors, school counselors and the Vermont League of Cities and Towns are urging legislators to say no.
Next week opponents plan to launch newspaper ads that warn of dangers and ask Vermonters to call their legislators in opposition, said Kevin Ellis, a veteran Statehouse lobbyist working with Smart Approaches to Marijuana-Vermont and the Burlington Boys & Girls Club. "I don't think government should endorse this. It ruins lives," he said.
On the other side, a different set of drug counselors and doctors — including the state health commissioner — join in the argument that prohibition has failed and that taxing and regulating marijuana will provide more money to treat existing drug addiction. A team of Vermont business people, with Lofy as their lobbyist, is highlighting opportunities for the state to be on the forefront of marijuana research. Vermont Cannabis Collaborative and the Marijuana Policy Project will both be running online ads urging Vermonters to call their legislators in support.
"Under current prohibition laws, marijuana isn't controlled, so consumers don't know what they are getting. It is sold by criminals who don't ask for proof of age," states a Marijuana Policy Project online ad featuring former state attorney general Kim Cheney.
Which side will prevail? Around the Statehouse, veterans of some of the state's thorniest issues give legalization about a 50-50 chance. Whatever happens, it will unfold quickly. Sears has set a January 29 deadline for a vote on the bill.
If Sears ends up saying "nay" to whatever bill emerges from his five-member committee, it's likely doomed. His disapproval would be a sign to other legislators that the bill's not ready.
Another way it could die: if the bill gets kicked to the largely conservative Senate Transportation Committee under Sen. Dick Mazza (D-Grand Isle).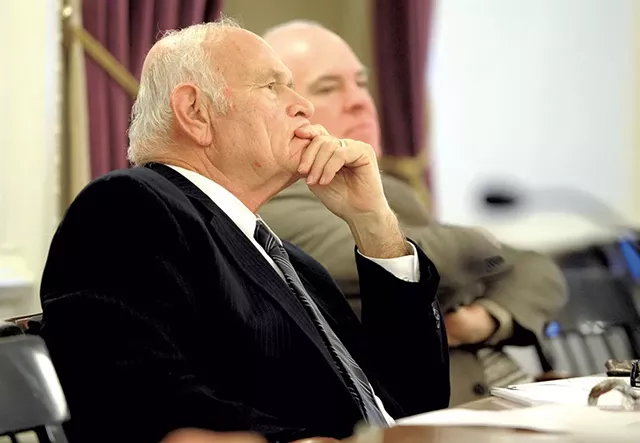 Jeb Wallace-brodeur
Sen. Dick Sears listening during testimony on marijuana legalization legislation
Shumlin won election to Vermont's top job with the help of campaign contributions from the Marijuana Policy Project and the National Organization for the Reform of Marijuana Laws. Before he retires next year, the governor might go to the mat for them one last time to make Vermont the first state to legalize marijuana by legislative action. Colorado, Washington, Oregon and Alaska have done it by public vote. Another five, including Massachusetts and Maine, are expected to vote in November on public referendums to legalize the drug.
Shumlin has already proven his ability to twist arms and win votes on issues such as same-sex marriage and the Vermont Yankee nuclear power plant shutdown. He'll need that same kind of muscle to make legalization pass, said House Speaker Shap Smith (D-Morristown). "This bill is not going to pass unless the governor is 100 percent advocating to get it done, and even then, it might not," said Smith, who agrees with Shumlin on legalization but said many are resistant. "He can't be ambivalent at all."
Shumlin said Friday that his staff is working with Sears' committee to come up with "the right fix." Once they've settled on the details, he said, he expects that a majority of legislators will concur. "We can't expect legislators to say this idea is better ... unless they know what you're talking about," he said, acknowledging that support for legalization will depend on the actual language in the bill.
Shumlin has listed five tenets for successful legislation: Legalization must wipe out the black market; marijuana must be kept away from kids; revenue must be used to expand drug-prevention programs; enforcement of drugged driving must be strengthened; and marijuana edibles are a no-go, because they make it too easy to overdose.
Asked by Seven Days how he'll measure those goals, Shumlin set a number of bars — all of which seem easy to clear. He's not looking for hard proof that the black market will be quashed. Instead, he reasoned, if the tax on marijuana is low enough to keep the price of legal marijuana below dealer prices, "That's going to drive the black market out."
And Shumlin isn't insisting on roadside drug testing similar to that for drunk driving. (Such a test is not yet widely available.) He is instead looking for more police to be trained as drug-recognition experts. There are now 34 such officers statewide.
Shumlin, who last year described himself as personally having "been there, done that" on marijuana use, said his support of legalization doesn't mean he endorses consumption.
"I don't think Vermonters should be smoking pot. I don't think Vermonters should be drinking alcohol in excess. I certainly don't think Vermonters should be smoking tobacco," he said. "But we're dealing in a world where Vermonters are smoking more pot than [people] in other states."
The governor has the support of his health commissioner, Dr. Harry Chen. "I don't necessarily think we have a great system of regulation now, meaning non-regulation," Chen said. "It kind of makes sense, what he's trying to do."
Chen's support comes despite a health-impact assessment his department released last week that indicates marijuana would be detrimental to the health of users. The report lists 22 health indicators and concludes that marijuana use would worsen conditions in 16 of them, including depression, anxiety and heart problems. The report also says that the academic performance of young people suffers as a result of marijuana use.
Like Shumlin, Chen drew an analogy to cigarettes. He's not endorsing marijuana, but his job is to warn of the dangers while dealing with the reality, he said.
If the state legalizes marijuana, the health department report recommends banning edibles and establishing a blood-alcohol limit for THC — the principal psychoactive ingredient in marijuana. But there is no widespread agreement on what that number should be.
Sears' committee has been quizzing witnesses on these issues — and, this week, is traveling the state to hold five public hearings. By Friday, Sears plans to cut off testimony and start writing a bill. Although the banking and tax issues will fall to the Senate Finance Committee, Sears' will set the basic framework for how legalization would work: who can grow it and how much, where it can be sold and by whom, and how the state would monitor it.
Such legislation is complicated by the fact that marijuana is illegal under federal law.
Usually, as the heat turns up, Sears looks miserable and lashes out. Despite that, he acknowledged, he loves being in the middle of the mayhem. "It's a challenge," he said with a smirk. And his committee has navigated plenty of complex and divisive issues, such as end-of-life patient choice, genetically modified foods, child protection and gun control.
Member senators Jeanette White (D-Windham) and Joe Benning (R-Caledonia) have proposed allowing 100-square-foot marijuana plots for personal use; those strike Sears as too big. Sears also wants to include a relatively clean, easy way for Vermont municipalities to vote whether to allow marijuana sales within their limits.
When Bennington Police Chief Paul Doucette argued that the state isn't ready for legalization, Sears was listening. Bennington County has no drug-recognition experts, Doucette told the committee. Sears said he thinks each county should have at least three.
A decade and a half ago, as the legislature was considering civil unions, the precursor to same-sex marriage, Sears said his vote turned on what he heard at a public hearing in Bennington. "I realized it had support with my constituents."
He was all ears again on Monday at a public hearing about marijuana in Bennington. But Sears said he didn't find the same clarity. "I think it was 50-50," he said of those for and against legalizing pot. Sears said he heard a lot of calls for the state to go slowly. "Whatever proposal we come up with will not be effective July 1, 2016," he said. "I think it takes longer to set up the infrastructure," he said.
House representative Grad said the push from the public to legalize has been underwhelming. A September trip to Colorado, to see legalization in action, didn't sell her, either.
"I'm not saying no. I'm not saying yes," said Grad. "If it's sent to me, I'll do the work. It's not a slam dunk."