Courtesy of Mike Howe
Members of Box of Chocolates, clockwise from top left: Arnie Wobble, Mickey Hawaii (Mike Howe), Raphael Rivera and Brute Rake
A piano emporium called Absolute Piano sits at 140 Plymouth in Brooklyn. Such boutiques are typical of gentrified, chic districts such as DUMBO (Down Under the Manhattan Bridge Overpass). But 30-plus years ago, when the zone had no fancy acronym and was more or less just the clump of streets that spanned the Manhattan and Brooklyn bridges, 140 Plymouth was home to a scrappy artists' collective.
Primarily composed of filmmakers, a crew under the name Box of Chocolates would eventually cut a quirky lo-fi rock record, Fearful Symmetry. Famed indie label Drag City originally released it on vinyl in 1990. Last month, Drag City reissued the album after dropping a couple of singles earlier this spring.
The unearthed LP comes with extensive liner notes detailing the album's history, the stories behind its songs and a couple of new tracks recorded in Vermont by members of the former collective, along with some new players. All proceeds from the album are directed to food banks in places where the LP's various players live, a charitable nod to the economic disruption brought on by the coronavirus pandemic.
Perhaps most notably — certainly to the type of music aficionado who adores obscure rock history — the album features the first-ever recordings of Will Oldham, better known as Bonnie "Prince" Billy. Oldham and a couple of Box of Chocolates collaborators would later become the Palace Brothers, Oldham's band before adopting his current moniker in the late '90s.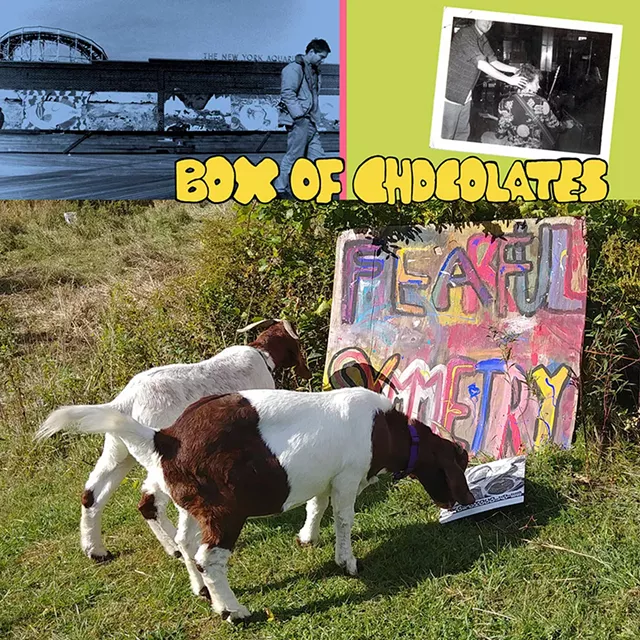 Courtesy of Box of Chocolates
"We were getting out a lot of our creative frustration by jamming and writing songs in the loft," explained Box of Chocolates' Michael Howe by phone. Howe, who appears on Fearful Symmetry as Mickey Hawaii, has quietly lived in central Vermont for decades. Though he was a veteran musician when the LP was recorded — including playing in a group called Disposable God Squad — Howe has since worked primarily in software development.
After relocating from Brooklyn to the Green Mountains in the mid-'90s, he enlisted some locals to record a couple of new tracks, "Stigmataphoria" and "The Past Lives of Clarence Thomas," both of which appear on the reissue. Vermonters included Madtech Sound Reinforcement and Lovetown Recording's Bennett Shapiro, Harwood Union Middle and High School director of vocal music Stefanie Weigand (also of TURNmusic), former shock-rapper Xavier Woogmaster, and Tony Award winner Michael Chorney (Hadestown, viperHouse). Howe had worked with Chorney previously, engineering some of the earliest viperHouse recordings, including Lap Hen, a live album.
In the reissue's liner notes, Howe described 140 Plymouth as a ramshackle blank canvas, a 1,000-square-foot space doused in a "chemically infused white-wash," a clean slate for its future residents to live out their artistic dreams and urban debauchery. It was a melting pot of creative minds, a jumbled assembly of young, hungry artists living the New York City dream.
Oldham entered the picture after Box of Chocolate's Brute Rake (a pseudonym) discovered him on the set of a Montana-based film production in the late '80s. At the time, Oldham was primarily pursuing an acting career.
"I'd always sung in private, and I thought that my voice had potential," Oldham told Seven Days by phone. "It was a pretty important transitional time [for me]. I was very involved with music. All of my friends were musicians. I had just never made it myself."
With encouragement from Howe, Rake and others, Oldham began writing songs. In truth, Oldham only penned about three minutes of the 40-minute original Fearful Symmetry LP: the ephemeral, condemnatory pseudo-sea shanty "Garbage Barge" and the lumbering acoustic ballad "The Ephant." He explained that the reason the chord changes, particularly in "The Ephant," are played so slowly was because "it literally took me a full second to change chords, because I was still figuring out where your fingers went on the guitar."
Since multiple songwriters birthed its tracks, Fearful Symmetry was the definition of eclectic. Practically the only common denominator was the physical space in which it was conceived. Styles range from the folksy, psychedelic, Spanish-language "Perdido" to the sprawling, experimental opus "Twinkle, Twinkle Little Nightmare."
"[Songs] tended to be snippets that other people would bring in, and we would play them repeatedly [until] they would take shape and form over the course of repeated sessions," Howe explained.
Oldham noted that Howe and Rake imparted some guidance that he still thinks about today whenever he records.
"I remember I was supposed to be singing backup on one song on the record, and there was something I was doing with my voice," Oldham recalled. "[Howe and Rake] were saying I wasn't hitting the note they were asking me to hit, I was gliding up to it. They were like, 'Don't glide up to it, just hit the note.' And I didn't know what they were talking about because I hadn't really ever paid that much attention to singing.
"I have to say that them telling me that — and it took me five or 10 minutes just to understand what they were asking me to do — I still think about that little instruction probably every time I go into a recording studio," he continued.
In certain quarters, Fearful Symmetry has been credited with ushering in "the lo-fi movement" in indie rock. "This is wrong," states Howe in the reissue's liner notes. "Or maybe the wrong lens is being used," he clarifies. "[It] was recorded under innocent pretenses and has nothing to do with the history of Rock 'n' Roll which, like most pompous and over-hyped histories, is rife with self-service and perversion."
"The record itself made the opposite of a splash," Oldham said. "I don't think anyone heard it. I don't even think [some of] the people who were on it even heard it."
So if the record wasn't an exemplar of, to use Howe's term, "the lo-fi movement," nor a commercial success the first time around, why reissue it? Howe and Oldham both explained that it was just for nostalgia and to give the album a chance to be discovered by new audiences, since it had never been available through modern digital services. Most prominently, they reissued it simply because they could.
Drag City, said Howe, knows that anything it releases with Oldham's name attached "will sell 500, a thousand records." Then he added, "In some ways, it's kind of a collectible."