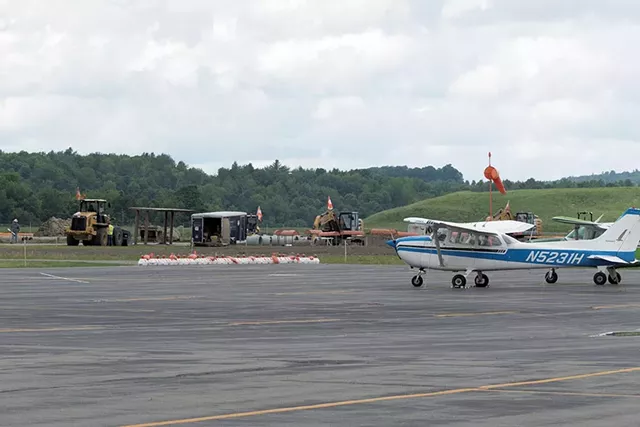 Don Whipple
Northeast Kingdom International Airport
The main runway at the Northeast Kingdom International Airport is 1,000 feet longer than it used to be. Crews are laying pavement for a bigger taxiway and wide apron. Next up on the to-do list is a long-promised septic system.
Later this month, hundreds of Porsches will converge on the airport in rural Coventry for a two-day Jay Peak Resort-sponsored auto rally. It will be the largest event at the site since the Vermont-based band Phish held its "farewell" concert there in 2004.
Despite the collapse of a series of mammoth Northeast Kingdom projects that included a grand vision for the state-owned airport, signs of growth have emerged on the hill overlooking Newport.
Never mind the unfulfilled plans for a passenger terminal, warehouses, an airplane assembly plant and commercial flights into the tiny airport — all collateral damage of the April federal fraud charges against developers Ariel Quiros and Bill Stenger.
Local and state officials emphasize the airport's promise, not the broken promises that have slowed its progress.
Around the Northeast Kingdom, local officials and burned creditors are coming to terms with the gains and losses Quiros and Stenger left behind. But the party line is that most communities are generally better off with incomplete facilities than they would have been if the developers had never set their ambitious goals.
The same logic prevails at the Coventry airport.
"It's a huge enhancement," said Rep. Mike Marcotte (R-Coventry), who also serves on the Coventry Selectboard. "It gives us more of an economic development potential. Nothing's been wasted up there."
The airport, formerly called the Newport State Airport, got a new, loftier name last year to reflect its aspirations. Whether the international airstrip can live up to its "international" claim remains to be seen.
Since 2012, the airport had been a piece of the puzzle for Stenger and Quiros as they launched projects at Jay Peak and Burke Mountain ski areas and in Newport. Unlike most of those, plans at the airport were not funded through the federal EB-5 immigration program that grants U.S. residency status to foreigners who invest $500,000. The airport projects instead involved a mix of public and private money.
The public projects, spearheaded by the state but largely funded with federal grants, are nearly complete. Using $21 million in Federal Aviation Administration money, and a 10 percent state match, the Vermont Agency of Transportation lengthened and expanded access to the main runway. It also paid for new snow-removal equipment.
The state landed the FAA grants in 2014 in part because the infrastructure improvements would dovetail with Quiros' and Stenger's private plans. But none of the FAA money was predicated on the developers' success and it isn't at risk if the private projects are never completed, said Chris Cole, state transportation secretary.
Quiros and Stenger hoped to lure charter flights from Canada to bring tourists to their new condos and hotels at Jay and Burke, and to haul materials to their planned biotechnology plant in Newport.
Q Resorts bought the contract to operate the airport from Dan Gauvin's Lakeview Aviation in 2012. They kept Gauvin on to run the daily operation, while also leasing airport land — where they planned to build amenities — from the state.
The state renewed Q Resorts' contracts in 2014, but those deals expire June 30 and the state has no plans to renew them. VTrans instead plans to sign a new contract with Gauvin, said Guy Rouelle, who oversees the 10 state-owned airports as VTrans' aeronautics administrator.
The private projects came to a screeching halt in April when the U.S. Securities and Exchange Commission charged Quiros and Stenger with fraudulent use of the EB-5 money. A court-appointed receiver took control of their companies' assets, including Q Resorts' contract to run the airport, their newly built hangar and a fuel facility still under construction.
Last November, just five months before the federal charges came down, Stenger staged a press conference at the airport to note completion of the runway extension and to celebrate his plans to build a new passenger terminal for an airport that has little more than a few outbuildings. He pledged that the improvements would attract commercial flights to Coventry.
"This will be a great hub of activity and economic development that teams with everything else that's going on," Stenger told the smattering of local and state officials who gathered, according to a Newport Dispatch News video of the event.
As he spoke, Stenger grew defiant. "The naysayers can go to hell. And they're out there, aren't they?" he said.
The audience laughed and applauded in support. Gov. Peter Shumlin, who had been a major supporter of Stenger's plans, wasn't in the crowd. According to an email exchange among VTrans officials at the time, his office considered the runway completion too incremental a step to warrant his attendance.
Rouelle, who was there for the occasion, had already started to express doubts about the pace of Stenger's and Quiros' work at the airport. In a Vermont Public Radio story that aired just before the press conference, Rouelle acknowledged that people were asking, "Wow, Guy. Why did we give all of the transportation funding match ... to this dead-end project?"
Five months later, the federal charges made it clear Q Resorts won't finish what it started, but Rouelle said that doesn't mean growth at the airport is dead. The state plans to seek bids from developers interested in building a terminal. His agency will also take over the partly finished fuel facility, with federal money covering 90 percent of the remaining $250,000 cost.
Forty-two planes are now based at the airport, which counts the nearby Ethan Allen furniture plant as one of its customers. Fuel sales at the airport showed a slight decline in business in 2015 from the previous two years, and 2016 appears to be on track to match 2015. Rouelle said construction is likely responsible for the reduced traffic.
There may be little solid proof yet that business is ready to take off, but Gauvin, who has run the airport for more than 15 years, argued that the improvements were crucial to its survival. "It won't be for nothing," Gauvin said. "More jets will be able to land."
The runway expansion opens the airport up for use by larger planes — as big as a 70-passenger commercial jet, according to Rouelle.
He conceded that the airport's growth will be slower and less dramatic than it would have been. Last year, he projected that the number of flights would increase from 8,825 a year to 12,732 in 2016 — but those numbers factored in Quiros' and Stenger's now-stunted plans to bring more business to Jay, Burke and Newport.
"I can assume that the forecasted activity will be less without that development," Rouelle said. "I can also assume that the activity will be delayed until we can find another investor" to take it from here.