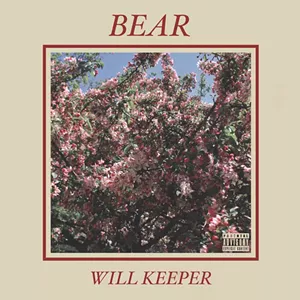 (Anti-Golf, digital)
When the manager of one of the most successful music outfits Vermont has seen in years directs you to a new album from a completely unknown local, you pay attention. I came upon Bear, the debut EP from singer-songwriter Will Keeper, through Calhoun Rawlings, manager of the now Chicago-based rap group 99 Neighbors. Rawlings had no official duty to advocate for the budding artist. He just liked the record a whole damn lot, and I can see why.
While listening, I had one of those rare "Where the fuck did you come from?" moments. Real name Will Lynch, the 22-year-old Burlington-bred singer-songwriter is unquestionably a phenom. His gorgeously textured debut straddles bleary-eyed soft rock and bathwater R&B with subtle queer overtones. It's precocious, thought-provoking and one of the most beautifully crafted albums the Queen City has seen all year.
Lynch's ephemeral, 13-minute debut stems from a more serious approach to songwriting he developed while attending the University of Vermont, he explained in an email. He also produced the EP and played everything himself.
Bear is a quietly seductive record full of sensual imagery, romantic consternation and sweet little nothings, like the things you want to say post-coitus but don't, scrolling your phone instead. Lynch writes clever, distinctive turns of phrase and laces his production with ornate details, such as slight hiccups in his beats, pitch-bent vocals and sleek effects that evaporate as quickly as they take hold.
Opener "Ache" morphs from lo-fi acoustic to balmy R&B. Though more restrained than what follows, it sets up the EP's touchstones: smooth vocals, pop beats and a sticky-from-the-heat vibe.
Though the song is literally about sharing a bed, the title of the subsequent track, "Queen," could be a double entendre, given the proliferation of the word "queen" in queer circles. Sandwiched among an imposing bass line, elastic synth and briskly strummed guitar, his lyrics speak to "making space in my bed" for someone who might not be worth the time.
On punch-drunk "June Bug (Remastered 2020)," Lynch sings with a breathy tenor that thrives in that slight space between chest voice and true falsetto, much like Rhye's Mike Milosh. He continues this on the following tune, "Pep Talk," which leans heavily on the pitter-patter of twinkling synths.
Summer love thrives on the EP's closer and title track. "Come and bind your fingers in my hair," Keeper gracefully sings. It's the kind of conflicted love song that never quite reveals itself, but the track bumps harder than the four that came before it. It's almost like he's saying that love can be more about feeling than thinking.
Though only a tease of what's to come, Bear is one of the strongest Vermont debuts in a long while. I'd like seconds, please.
Stream Bear on Spotify.