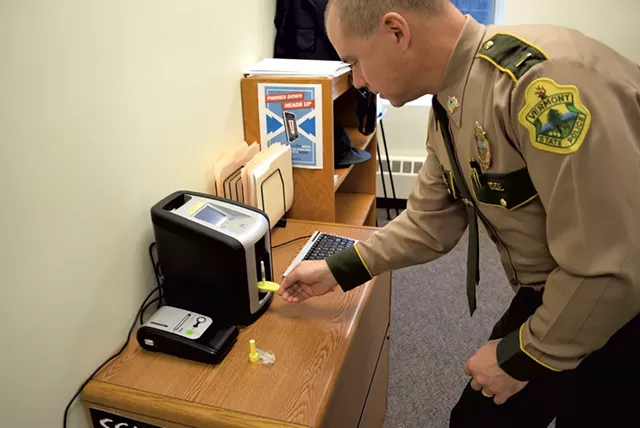 Terri Hallenbeck
Lt. John Flannigan, Vermont State Police
Vermont State Police Lt. John Flannigan was at his son's basketball practice after hours on December 1 when he got a text message, asking if he was available to return to work to test a man suspected of drugged driving.
According to police, they'd gotten calls about a driver stopped in traffic on busy Route 15 in Jericho that night. The vehicle's headlights were off. Troopers suspected Kyle M. Murphy of drugged driving and brought him in.
Flannigan is one of 35 Vermont law-enforcement officers qualified to screen drivers for illegal substances. Police can't process a suspected drugged driver without such a consultation.
Flannigan arrived at the Williston station a half hour later and took Murphy through a 12-step process — a coincidence of terminology that is not lost on the troopers. Officers who share his expertise carry laminated cards outlining how to detect telltale signs of impairment. Tense muscles, for example, can indicate a person is on stimulants; the reverse, depressants. Flannigan took Murphy's pulse, examined the size of his pupils in three light settings, checked his blood pressure and looked up his nose for traces of drugs.
After almost an hour, the 24-year veteran of the Vermont State Police who's been a drug-recognition expert since 2005 concluded that Murphy was under the influence of both a depressant and marijuana.
Police customarily request that suspects go to a hospital for a blood test to confirm the drug-recognition officer's findings. Murphy said no. So state police charged him with possession of a controlled substance — they found prescription drugs in the car — and refusal to submit to a blood test.
When troopers suspect a driver is drunk, they can screen him or her on the side of the road using quick and easy-to-use breathalyzer devices, then follow up at the station with a more sophisticated DataMaster evaluation, the results of which hold up in court. Any cop can administer such sobriety tests.
Testing for drugged driving is not as simple. There is no established standard akin to the .08 percent blood alcohol content that indicates a driver has had too much. In drugged-driving cases, a specially trained officer must observe drivers in a controlled setting to conclude if they are under the influence.
The potential impact on highway safety has lawmakers worried as they wade into the 2016 legislative session and a debate about legalizing the recreational use of marijuana.
Testing drivers for overconsumption of alcohol is a well-known process, said Sen. Dick Mazza (D-Grand Isle), who runs a general store in Colchester that sells wine and beer. As for marijuana, he said, "I don't even know what it looks like."
"I'd have to be convinced that what we have in place is workable," said Mazza, who chairs the Senate Transportation Committee. "I don't think that's going to be a simple thing."
Supporters of legalization argue that it's unrealistic to ignore the fact that Vermonters are already using marijuana illegally.
"People are smoking pot and driving now, and I believe a regulated market will give us more ability to regulate what they're smoking," said Gov. Peter Shumlin, a legalization supporter.
Rep. Chris Pearson (P-Burlington), sponsor of a bill to legalize marijuana, said he doesn't think angst over drugged-driving testing will derail the legislation. "Those are legitimate concerns," Pearson said. "I have them today, and I'll have them in a taxed and regulated world."
Shumlin, who is heading into his last year as governor, also downplayed the testing challenge, though he acknowledged there might be other barriers to legalizing marijuana next year. "We're still trying to figure out whether this is the right time to do it," he said, calling for a phased-in "Vermont-style approach" to putting pot on par with beer.
What does that mean? Holding off on legalizing the sale of edible marijuana products — problems arose in Colorado because portion sizes weren't clearly marked. The governor was otherwise vague, noting that he's still monitoring how legalization is working in other states.
He's not alone. Glenn Davis, highway safety manager for the Colorado Department of Transportation, regularly gets calls from legislators, police and reporters in other states seeking lessons from the first state to legalize. Davis warned that pinpointing the impact of legalization is difficult.
Are his state's roads less safe today than they were before legalization in 2014? "I can't say," Davis answered. "I think in five years, we'll be able to have a snapshot." He noted that statistics don't date back far enough to establish clear trends.
Cards that help police detect impairment
"Data is challenging," Davis said. "Our fatalities are kind of on the uptick, but I truly cannot say marijuana is a factor in them."
Flannigan, who is the Vermont State Police traffic operations commander and coordinator of the state's drug-recognition experts, declined to offer his opinion about legalization. Although he said he'd leave that to higher-ranking state officials, his wariness is evident.
"Drugs are much different than alcohol," Flannigan said. "With alcohol, we've got centuries of research and data. One drug could affect you differently than it affects me."
Supporters of legalization contend that driving under the influence of marijuana is less dangerous than driving drunk. A National Highway Traffic Safety Administration study released in February supports that claim.
Trooper Jerry Partin, another certified drug-recognition expert with the state police, said his field experience suggests otherwise. Marijuana "can be a very dangerous drug with somebody behind the wheel," he said.
A September report by the Rocky Mountain High-Intensity Drug Trafficking Area, a group formed to combat drug trafficking, bolsters that argument, stating that marijuana-related traffic fatalities were up 32 percent in Colorado after the state legalized recreational use of pot in 2014. As an aside, however, the report's authors admit, "This report will cite data sets with terms such as 'marijuana-related' or 'tested positive for marijuana.' That does not necessarily prove that marijuana was the cause of the incident."
In other words, if alcohol or another factor was the overriding cause of an accident but the driver had some signs of having used marijuana, the crash would count as marijuana-related.
"It's a very misleading report," said Matt Simon, New England political director and legislative analyst of the pro-legalization Marijuana Policy Project. He noted that Tom Gorman, the director of the group behind the report, was a leading opponent of legalization.
As authorities look for information, they are exploring new potential solutions for policing. Until July, Flannigan was overseeing a pilot project experimenting with a roadside saliva test for drug impairment. Although he has yet to publish the results of the yearlong effort, he said all indications are that the $25 test is as accurate as more expensive and difficult-to-obtain blood and urine tests.
The saliva-testing machine is the size of a toaster. The suspect puts a plastic tube under his or her tongue for 60 to 90 seconds, swishing it back and forth to collect saliva. The trooper inserts the tube into the machine, which churns out a receipt showing levels of seven drugs, including marijuana.
If this test was available for regular use in Vermont, it might ease the fears of some legislators reluctant to legalize pot.
Rep. Dave Potter (D-Clarendon) doesn't support legalization, out of concern it will increase marijuana use among vulnerable young people. But he has introduced legislation that would make the saliva test standard for Vermont police in drugged-driving cases. He hopes his bill will pass regardless of what happens with pot laws. A former driver-education instructor in Rutland, he said, "I think it will make our roads safer."
In Colorado, nearly two years after legalization, police rely instead on the state's 250 drug-recognition experts, Davis said. That state is training more of them, using revenue raised from marijuana sales taxes, Davis said. He recommended that other states considering legalization do the same.
Colorado also uses marijuana money for public education about drugged driving — including posting signs in marijuana stores warning people against operating a vehicle while under the influence. Said Davis: "People didn't know you could get a DUI from marijuana."