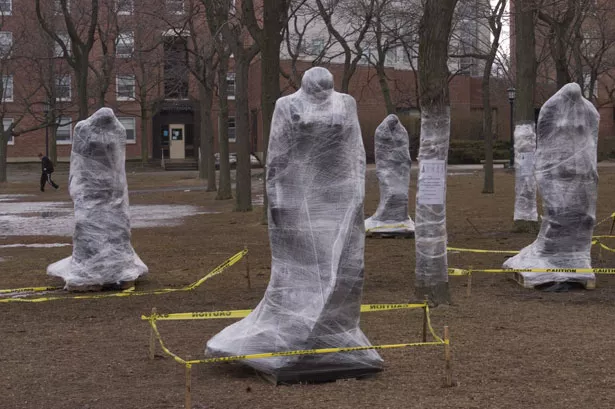 The women were very tall, vaguely ominous looking, and dressed in black. Anyone who spent time on the University of Vermont campus - specifically the quadrangle behind the Fleming Museum - surely noticed them. Before, that is, they disappeared in 2004. Collectively called "Lamentations," the five metal sculptures by Judith Brown paired classical form with a recycled, scrap-metal aesthetic. After the artist's death in 1992, her family donated the works to UVM. Magisterial and mournful, they presided over a grove of trees on the quad like a silent supreme court - until Vermont's inhospitable weather handed down its own sentence. The vulnerable connective tissue inside these ladies of steel began to deteriorate, and the sculptures were removed for repairs.
Actually, they were moved to Burlington's Flynndog, and there "Lamentations" has languished since, albeit admired by a stream of visitors to that gallery's exhibits. Restoration proved prohibitively expensive. Time passed. The sculptures ended up in the basement. An entire class of UVM students has never seen them.
Until now. Suddenly, "Lamentations" is back on campus. Emphasis on sudden: On Monday night, under cover of darkness, someone returned the sculptures to their original positions, give or take a few feet. On the morning of April 1, they must have proved an eye-opener for students venturing groggily from their dorms. Except - wait a minute - that was April Fool's Day, and the "Lamentations" ladies appeared swathed in plastic wrap. Are they real? Is this some kind of joke?
Yes and no. Turns out, the sculptures are fakes, though carefully and lovingly created by Flynndog proprietor Bren Alvarez and Burlington metal sculptors Kate Pond and Kat Clear, along with a crew of "helpful elves." The installation is a prank - only UVM security was apprised, Alvarez claims - but the motivation behind it is sincere: to raise awareness and money, so that "Lamentations" may finally be restored and returned to the grove for real.
"I started to feel complicit in the failure of fundraising," says Alvarez, who, well, laments the sculptures' long sojourn in her Flynn Avenue building. Pond - who had been a friend of Brown's - and Vermont printmaker Sabra Field were among those offering to help, she notes. Clear, who shares a studio with Pond, walked past "Lamentations" nearly every day when she was a UVM student. She acknowledges their powerful, if subconscious, influence on her own subsequent work. "Judith's energy was an amazing thing to see," recalls Pond. "Kat has that same energy."
Another coincidence: Pond, Clear and Alvarez all had pieces in a 2004 exhibit at the Flynndog - the first show in which Brown's goddess-like figures also appeared. Their connections are "cosmic," the women agree. And all three are determined to reconnect "Lamentations" with UVM.
The university did, in fact, allocate some $20,000 for the restoration of one of the figures. That work has been done by sculptor Jeffrey Sass of White River Junction, who was an assistant to Brown. It will take $15,000 to $20,000 each to repair and reinstall the others and, Sass estimates, each piece will take about three months of work.
"Recreating these [sculptures] was a wonderful experience," says Alvarez, "like being in one of those classes where you recreate a masterpiece to see how it was done. I hope the gestures will still read through the Saran Wrap."
For more information or to donate to the restoration project, contact Bren Alvarez at bren@flynndog.net. On May 2, Kat Clear's exhibit "The Whoopsie Girls" opens at the Flynndog as part of the Lamentations Awareness Project.