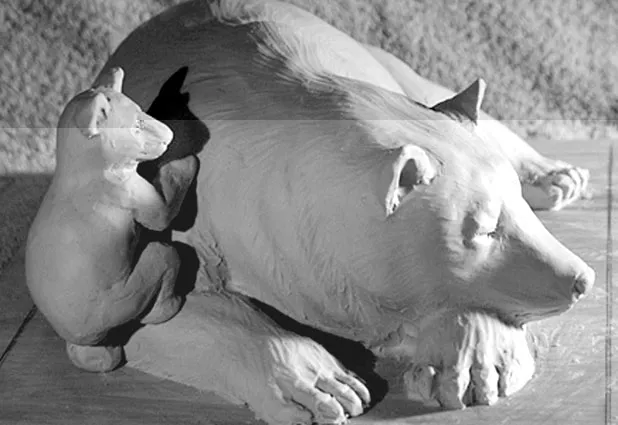 The families, dog walkers and other visitors to Hubbard Park in Montpelier do not need to arm for bear. In fact, children will be encouraged to clamber on the one that may soon appear in the ball field, near a proposed playground. But it will be made of stone. Made, that is, if artist Chris Miller can rustle up the money for it.
Miller is a stone and wood sculptor who lives in Maple Corner, Calais (and, yes, he was in the infamous naked "Men of Maple Corner" calendar a decade or so ago). He made the stone truck that's parked in his yard — a "crowd-sourced community project," according to Miller's website, that serves as an outsized planter. Several local admirers apparently alerted the Montpelier Parks Commission, suggesting "it would be great to have something like this in the park," Miller says. But instead of a vehicle, the commission — and Mayor John Hollar — approved a life-size, granite bear sculpture that, the artist predicts, will weigh some 2500 pounds. Good thing "Sleeping Bear" will remain lying down.
But the bear project won't even get off the ground unless Miller raises the funds. These days, he says of art commissions, "Everybody wants something but has no money. It's like, 'We will accept this thing if you give it to us.'"
But he's not complaining too much. Instead, Miller made a maquette of the sculpture and launched — what else? — a Kickstarter campaign. The parks commission posted a link on its website, and an article in the local Bridge newspaper has drummed up "good feedback," Miller says. Gifts to backers range from a Euro-style "I support the Sleeping Bear of Hubbard Park" sticker, to a studio visit with, uh, pizza. "I make wicked wood-fired pizza," Miller declares on the page. "Ask around!"
He'll know by March 1 if supporters can bear it.
For a virtual visit to Chris Miller's studio, see chrismillerstudio.com