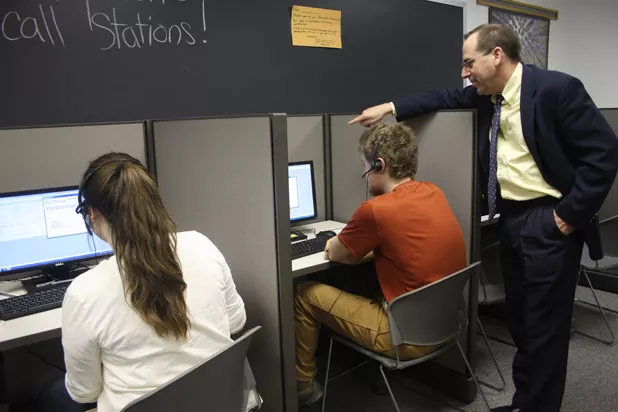 Courtesy of Ennis Duling
Rich Clark
Vermont wasn't a big enough prize in last week's Super Tuesday presidential primary to earn much attention from the GOP candidates or the national news media. But a public opinion poll conducted by a little-known college in Rutland County was mentioned by political analysts from coast to coast — including MSNBC's "Hardball."
"In Vermont, a poll from Castleton State College shows Romney in the lead, but Santorum within striking distance," said Chris Matthews, the hyperactive host of "Hardball," as he ran through a slew of poll numbers five days before the election. "Amazing! Look at this: Romney 34, but Santorum right up there at 27 up in Vermont. Don't you love the publicity that gives all these colleges with their polling?"
Dave Wolk sure does. Recalling his reaction as he watched the "Hardball" clip, the Castleton State College president says, "I looked at the TV and said, 'Well, yeah!'"
With the launch of the Castleton Polling Institute last fall — its first poll was released February 27 — the ambitious state college just west of Rutland hopes to follow the lead of Quinnipiac University, Marist College and other academic institutions that have distinguished themselves by building top-notch public opinion research shops. As campaigns have become year-round affairs, these schools have built national brands by providing fodder for politicos and the insatiable media that cover them.
A polling institute has been a dream of Wolk's since he took the helm at Castleton in 2001. From his vantage point, a poll promises the school as much publicity as a winning football team. But unlike sports, the poll will provide "an on-campus site for meaningful research in public policy.
"This is a pretty blue-collar campus, and our students for the most part have jobs, and this provides a service-learning opportunity where they can make some money and learn a lot," Wolk says. "It's just a win-win for all of us, and if it puts Castleton on the national map, all the better. And if Chris Matthews wants to keep talking about us, we won't mind."
The Castleton poll will also be a win for data-hungry political observers, journalists and politicians. While much of the country is saturated with survey data, Vermont has a paucity of polling, leaving the public reliant on pundits and emeritus political-science professors to make educated guesses about where the local electorate stands.
The University of Vermont's Center for Rural Studies conducts an annual poll to measure opinion on a wide variety of issues in the state. State Sen. Bill Doyle (R-Washington) conducts an informal, unscientific poll on Town Meeting Day each year to survey voters on hot-button issues of the day, such as the future of Vermont Yankee and whether the state should legalize marijuana. Rep. Sam Young (D-Glover) got into the game last year with his own Doyle-style town-meeting survey.
But there's no poll that regularly tracks Vermont politicians' approval ratings or sizes up potential election match-ups. The most competitive statewide race in the past six years — the 2010 gubernatorial election between Democrat Peter Shumlin and Republican Brian Dubie, and the five-way Democratic primary that preceded it — produced just a handful of public opinion polls.
One was commissioned collaboratively by WCAX Channel 3, WDEV-FM and Vermont Business Magazine. The three local media companies hired Maryland-based Research 2000 to survey Vermonters in February 2010 — six months before the primary and nine months before the general election.
In the other poll, Vermont Public Radio hired Washington, DC-based Mason-Dixon Polling & Research to gather views on a number of statewide races and issues less than a month before the November election. Additionally, New Jersey-based Rasmussen Reports polled the race four times, though that outfit has come under withering criticism from New York Times polling guru Nate Silver for questionable polling practices and a history of inaccuracy.
WCAX News Director Anson Tebbetts says his audience values polling data, though it can be expensive for his station to produce. He's looking forward to visiting the Castleton program and potentially partnering with the survey shop.
Ross Sneyd, VPR's news director, says the Castleton Polling Institute could be particularly valuable if it tracks public opinion not just on political horse races, but also on substantive policy questions. "I think if they're out there trying to get the pulse of Vermonters' opinions on a broad range of things, I think that's more interesting to folks who listen to us — and to us ourselves," Sneyd says.
That's one of the goals, says Rich Clark, director of the Castleton Polling Institute. In his last job, running the Survey Research and Evaluation Unit at the University of Georgia's Carl Vinson Institute of Government, Clark established a quarterly, statewide survey called the Peach State Poll, the purpose of which was to track changes in opinion on a wide range of issues.
"This is the undervalued role of polls," Clark says. "It creates a historical record of public opinion over time."
If Clark can find the money, he'd like to do the same in Vermont. But don't expect it to be called the "Green Mountain Poll."
"Our plan is to brand everything with the name Castleton," he says, joking, "Contractually, I'm obligated to say the name 'Castleton' every hour — even if I'm driving in the car by myself."
Castleton has invested around $100,000 getting the polling institute off the ground, according to Wolk. That price tag includes half of Clark's salary, wages for student pollsters and outfitting a 16-station, computer-assisted polling facility. Eventually, the school hopes the program will pay for itself through fees paid by businesses, media outlets and government agencies that contract with the survey shop. Clark isn't certain yet how often the institute will poll Vermonters; that depends on how much paid work it gets to support the "free" surveys.
Describing the institute as a nonpartisan entity, Clark says it would likely refuse to run polls for individual candidates, though he said it is possible Castleton might permit a candidate to buy an individual question on a poll, so long as the arrangement was fully disclosed.
A key selling point for potential clients, he says, is that money spent on Castleton polls will stay in Vermont. That's one reason the school decided to build a call center on campus instead of farming out the work to out-of-state vendors. Another reason, Wolk says, is that the school is committed to employing students — who major in everything from marketing to exercise science — and incorporating the institute into the school's academic program.
"This is part of our civic engagement mission," Wolk says. "Service learning is important to us, but it also educates the students about survey research, and it's pretty sophisticated."
For the first poll, Castleton students interviewed 800 randomly selected Vermonters over several days in mid-February. They asked respondents who they planned to vote for in the presidential primary (34 percent of Republicans said Mitt Romney); whether they support a four-year gubernatorial term (58 percent did); and whether they back a constitutional amendment limiting outside spending on political campaigns (76 percent said yes).
So how did Castleton fare in predicting the outcome of the Vermont presidential primary? In Clark's view, pretty well.
"Political scientists are brilliant at predicting the past," he jokes. "But I honestly believe we were pretty close to being on."
The Castleton poll had Romney leading Rick Santorum 34 to 27 percent, with Ron Paul coming in third at 14 percent and Newt Gingrich drawing 10 percent. On Election Day, Romney ended up winning 39.7 percent of the vote, while Paul came in second with 25.5 percent. Santorum took 23.7 percent and Gingrich garnered 8.2 percent.
Clark attributes the differences between his predictions and the final results to two factors: First, when the Castleton poll was being conducted — a little over two weeks before the election — Santorum was surging nationally. His numbers dropped in most places as Super Tuesday approached. Second, the notion of Democrats taking Republican ballots to sow mischief in the primary gained momentum in the two weeks before the election — a factor Clark did not anticipate.
"An open primary is so goddamn hard to predict," he says. "We had estimated a far lower percent of Democrats crossing over because that idea came out after we did the poll."
Nevertheless, Clark was pleased with the outcome of the poll — and he was particularly happy about its reception in the press.
"The media reaction was far greater than I expected. In Georgia, every time we sent out a release, we got press, but it was usually a one-day news cycle. It was forgotten within a couple days," he says. "This had a longer life span than I'm used to."