Two summers ago, Katie Chicoine came home from day camp at
Otter Creek Wildlife Rescue
in Addison all fired up. After learning how wildlife rehabilitators care for injured animals, she was inspired to do similar work.
At 15, Katie has three years until she can get her wildlife rehabilitator permit. So her grandma, Lisa Germaine, put in some 50 hours working as a rehabber's apprentice, then acquired her permit last August. She cleared out two bedrooms in her Colchester home and created Safe and Sound Wildlife Rehabilitation. Katie is listed as an authorized assistant on the permit.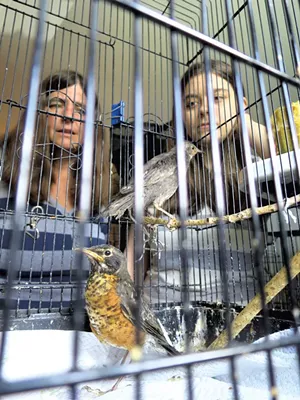 Together, the pair have tended to squirrels, rabbits, chipmunks, four newborn possums and a weasel named Willie Nelson. They've also cared for a host of birds — robins, starlings, grackles and blue jays — which requires a federal permit. The animals arrive with a variety of ailments, from broken wings to predatory injuries, while others were abandoned as babies. At Safe and Sound, they are treated and released back into the wild.
In one room, syringes, nipples and cans of squirrel and bunny formula sit on a table alongside antiseptic and pain medications. A mini fridge holds fresh fruits and vegetables and paste-like bird food. Cages, terrariums and pet carriers house wobbly baby birds and orphaned squirrels. The scene brings to mind the phrase, "If Mom says no, ask Grandma." Katie's mom loves animals, but between her four kids and three dogs, she has no extra room.
As for Germaine, "I never thought about doing this, that's for sure," she said. But her love of animals — and her granddaughter's enthusiasm — convinced her otherwise. She sold toys, gave away furniture, pulled up the carpet and installed linoleum to create a suitable space for the critters.
Rehab work isn't always warm and fuzzy. The hours can be long, and the work is often exhausting; baby birds, for example, need to be fed every 20 to 30 minutes during the day. Rehabbers also cover their own operating expenses, which add up quickly. Thankfully, some people drop off a donation along with an animal in need.
Safe and Sound is one of 18 authorized wildlife rehabbers in the state, reachable through a link on the Vermont Fish & Wildlife Department website. When people call, "They ask if they have reached the wildlife rehabilitation center," Katie said with a laugh.
The "center" in question is her grandma's modest, three-bedroom home complete with baby gates at the stairs to keep the wildlife safe from her four rescue dogs downstairs. Germaine likes to joke, "we live in a gated community."
Permit Procedure
Anyone interested in caring for wildlife in Vermont needs to obtain a rehabilitation permit. The Fish & Wildlife Department encourages apprenticeships first. Permit applicants must be at least 18 and submit an application and $50 fee, as well as pass a test to demonstrate proficiency. A Fish & Wildlife staffer and local game warden also conduct an in-person interview and on-site inspection.