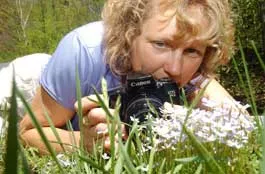 Ankle-deep in wet leaves, Kate Carter positions her tripod on a slippery slope to snap a picture of some Clintonia growing along a wooded trail in Waterbury. Crouched at an improbable angle, she uses a macro lens to shoot just inches away from the small plant with bell-shaped, pale-yellow blossoms. "Usually I'm down on the ground with my butt in the air," acknowledges Carter, her footing still not secure in the springtime forest.
As the author and photographer of Wildflowers of Vermont, she can often be found toting her 35mm Canon A2 to parks, bogs, fields and natural areas to document various species. The pocket-sized guidebook, which Carter self-published in December, serves as a sort of launching pad for her workshops. On June 12, she'll host her next session for aspiring wildflower shutterbugs at a reservoir canoe access in Moscow.
The 47-year-old Waterbury Center resident also puts out Vermont Sports Today, a monthly devoted to all things outdoorsy in the Green Mountain State. Some might suspect that the founder of a newspaper covering hiking, cycling, climbing, camping, kayaking, marathon running and such would be ruled by jock genes. In fact, Carter's creative drive and environmental awareness do seem to stem from her athletic endeavors.
"I think they go hand-in-hand," she suggests. "I spend so much time outside, but I didn't know the names of plants. That made me feel disconnected and a little dumb."
Although not a vegetarian or "Whole Earth" hippie, Carter sounds a bit like a poet as she discusses her favorite flora: "Closed gentian is totally cool-looking. I really like the figwort family," she says. Grass-of-Parnassus — a native plant with dark green veins radiating from the center of delicate white flowers — she calls "stunning."
Her own life took root in Kansas, followed by a childhood in New Jersey. After graduating from high school, Carter spent time as a ski bum around Mount Snow for two years before setting her sights even higher — on the Rockies in Colorado.
Though she'd never even used a camera before, Carter was hired by a company called SharpShooters to run a ski-area photo concession. "I had no college. I had no dream. I just wanted to do the powder thing every day," she confesses. "But I do think I've got a pretty good artistic eye."
Homesick for the East Coast, she jumped at the chance to open a SharpShooters franchise at Stowe in 1982. "I noticed how different the light was out West," Carter says, sounding like a discerning photographer. "It's not as harsh here. You get a lot of mid-tones. There's more diffusion with the clouds and humidity. It's softer."
Her SharpShooters sojourn came to an abrupt end in 1989 after an accident in the line of duty. "I stopped working for them the day I broke my leg," recalls Carter, who is big-boned, but exceedingly fit, with wavy blonde hair and a dimpled smile. "I was skiing in the woods and hit a tree. I was in a cast for six months."
With only $5000 coming to her in workmen's compensation, Carter needed a job. That's when she began commuting to Bur-lington to sell ads for a paper called Vermont Woman — which ceased to exist a year later.
But what seemed a streak of bad luck led to an inspiration. "I had seen a publication in Colorado, Rocky Mountain Sports and Fitness, and believed something like that would really fit in here," Carter says. "And it has."
Working from home, she figured out how to be the reporter, photographer, editor and publisher of Vermont Sports Today. Not to mention salesperson. "I was selling the ads myself at first," Carter says. "The money was pretty skimpy back then."
Along with her photos, Carter developed the work ethic and lifestyle that keep her on the go. She was spending so much time outdoors that Menasha Ridge Press in Alabama ap-proached her about doing a book. The result was Mountain Bike Vermont, published four years ago.
When it came to wildflowers, however, Carter wanted to go her own way. She had been shooting plants, animals and scenery for years. She researched whether other books existed like the one she had in mind; they didn't. Her marketing savvy came into play with the idea of tapping into "that Vermont products lure," she notes. "I'm set up to publish because of the newspaper. I figured, 'Why not do it myself? I can do this and — you know what? — I'll make more money this way.'"
But with limited knowledge of the subject, Carter had to study. "I'm not a botanist, so I consulted with Charles John-son, a retired state naturalist," she says. "He also helped me with the book's layout and design."
By the winter of 2000-2001, Carter had located a printer in Montréal. In mid-April, she set out to photograph what eventually would become 225 images of wildflowers. By early autumn, she had shot 80 rolls of film.
"My first plant was coltsfoot," Carter remembers. "That's an alien species. In the woods, you're probably going to see native species. Driving down the road, you see the 'garden esca-pees' — things like mallow. It's a European plant brought over here for people's gardens that got away."
Carter initially wanted to cover the whole state, but that proved unfeasible. "I found everything I needed closer to home, from Middlebury to Woodstock and north," she says, adding that places such as Shelburne Pond, Chickering Bog in East Montpelier and Niquette Bay State Park in Colchester were particularly fruitful. The book lists the spot where each photo was taken, as well as the time of year.
"I found many things not on my original list," Carter notes. "I wasn't intending to limit myself, but I didn't want to come to a point in mid-summer when I had too many items. So I began eliminating all flowering shrubs. Then, all flowering vines." Consequently, she plans a shrub-and-vine sequel that should be completed this year.
Carter's prose for each entry in the wildflower guide is brief but descriptive. "Flowers resemble upside-down pantaloons hanging from clotheslines," she writes under a picture of Dutchman's breeches, "or albino bats hanging from tree limbs."
The manuscript went to press last November. To get her 5000 copies of Wildflowers of Vermont into readers' hands, Carter collaborated with Vermont author Jerry Gange, who could offer the distribution routes he has cultivated for his own hiking guides. Her finished product is now in shops and museums throughout the state and beyond. "We've got it up and down the Connecticut River Valley," Carter says. "It's also available on Amazon.com, but they take a big cut."
While Vermont Sports Today kept her afloat financially, she spent $25,000 — "my life savings" — on the project. "I expect to reach break-even this summer, when 2500 copies have been sold," she confides.
Reviews have been mostly positive. Commentator Jules Older praised Carter's efforts earlier this month on Vermont Public Radio. The Green Mountain Club's Long Trail Newsletter offered constructive criticism, wishing she had included the state's "Class B Noxious Weeds" — four of the book's selections are on that list of invasive wildflowers. "That's a good idea," she concedes. "It hadn't occurred to me."
What does occur to her on a recent stroll along the Waterbury trail is that the purple trillium is past its prime. She moves a few feet down the path, stops and points. "This is the beginning of false Solomon's seal. It's very young now, but grows to be 3 feet tall. Oh, and there's Clintonia," Carter proclaims, referring to a flower that is not a tribute to Bill and Hillary. Sometimes called the blue-bead lily — due to the color of its poisonous berries — the plant was named as an homage to De Witt Clinton, governor of New York in the early 1800s.
As she continues walking, Carter notices that both the native species and garden escapees are flourishing. "It's been happening here for a month. Before the late-spring canopy, all the little woodland flowers peep out, then die back and go to seed," she explains. "There's something really special about that."
Kate Carter's Wildflower Photography Workshop is Wednes-day, June 12, 9 a.m. – 3 p.m. Meet at the Green Mountain Club, Waterbury Center; bring $35 and a 35mm camera, preferably with a macro lens and a tripod. Registration, 244-7037.