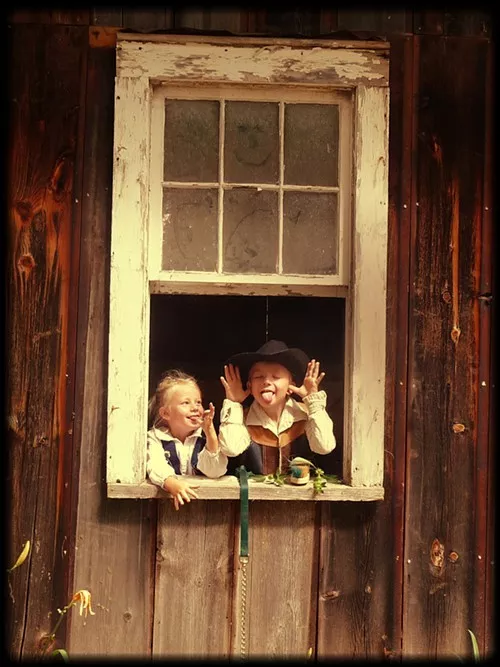 courtesy of Emily Ferro
An outtake from 'Pasghetti Western'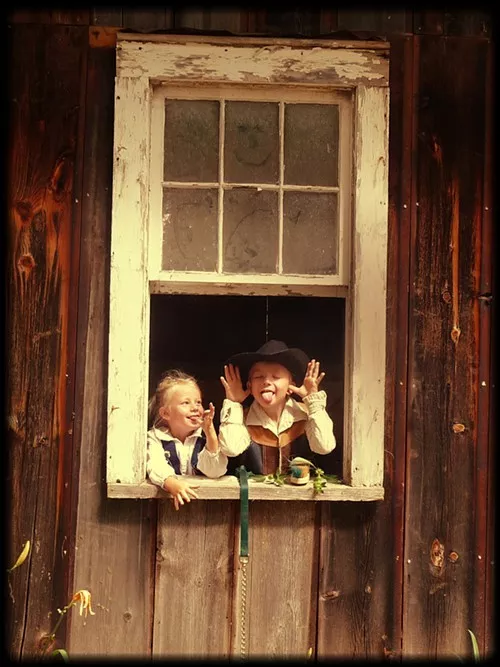 courtesy of Emily Ferro
An outtake from 'Pasghetti Western'
Gold diggers. Bandits. A ranch on the brink of despair. The debut feature film from Myra and Jim Hudson has all the trappings of your classic period Western, but the Royalton couple prefers to categorize it as a comedy. That's because the stars of their
Pasghetti Western
are all children.
The couple has dabbled in filmmaking before — they used to shoot short, family-friendly cooking shows for fun. But Jim, a farrier, was inspired to make a full-length "kiddie Western" as he watched his youngest children — Oliver, 3, and Gideon, 1 — spend time around the family's ponies. The miniature proportions seemed to beg for a kid-sized interpretation of the American Old West.
Indeed, scenes from the completed film's trailer reveal that the footage was shot at a child's height, making the actors appear comically tall and adult. Scaled-down sets and props further the illusion.
And the plot? It's your classic "Pa goes West, headed for gold" story, says Jim. That leaves an overburdened "Ma" at home, struggling to feed her many children and care for the homestead. Scenes depict Ma sporting a massive pompadour wig, hanging laundry on the clothes line and carrying around bonneted babies nearly half her size.
"The footage was adorable and the kids were really into it, so we just kept letting it grow," says Myra, a stay-at-home mom and former teacher. Filmed over the course of the last year, Pasghetti Western features the onscreen talents of 28 community youngsters alongside an equally abundant animal cast of ponies, lambs and calves.
While Vermont is a far cry from the dry, dusty American frontier, the Hudsons summon up the right scenery by filming in front of ramshackle barns and cabins, and capturing the natural landscape whenever possible.
"We live in such a beautiful place, so we wanted to showcase rural Vermont," says Jim. "— and our own cute kids," adds Myra. Elaborately outfitted in cowboy hats, fringed chaps, bustles or mutton sleeves, the kids in handmade costumes complete the 1800s look.
Costumes and scenery nailed down, the actual filmmaking process proved to be the real challenge.
Myra and Jim would suggest lines for their young cast members — ranging in age from 10 months to 12 years — to recite. "Sometimes they would and sometimes they wouldn't say it well enough for the shot," says Myra, who notes that the film has minimal dialogue but relies on some well-placed voiceover narration and music.
Each shoot would require a large spread of food, too; Myra jokingly observes that child actors "can't function without a big catering budget." Even with plenty of snack breaks, keeping the kids on task was difficult; the couple often had to go with their first take, as attention spans tended to wander.
But that first "magical shot," as Myra calls it, is the charm of Pasghetti Western. The kids on cast behave unapologetically like kids, even as they work the land and scuffle like adults. (One scene from the trailer even catches a kid picking his nose and eating it.)
The filming has wrapped, but the movie has no release date yet. The Hudsons are hoping to premiere it at a local theater this year. When that happens, you can count on a large child audience.
"The kids have been crazy about it," says Jim. "A lot of them would've been happy to [film] every day all year long."
Check the Pasghetti Western Facebook page for updates.
This post was written by Kids VT managing editor Carolyn Fox.