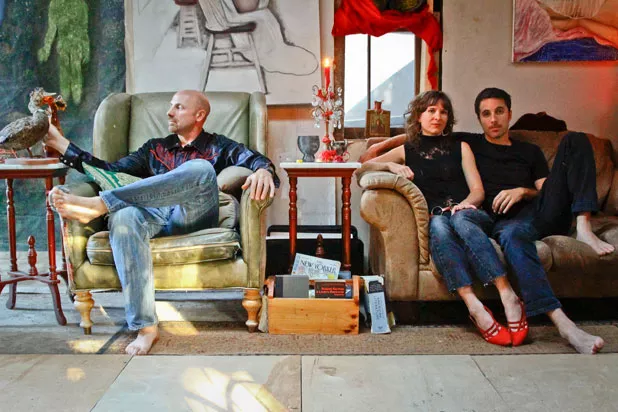 When we asked local scenesters for their takes on the best music of 2012, we received far too many responses to include in the feature leading this week's music section. Answers to the open-ended "wild card" question tended to be especially long, and, in the interest of including a wide variety of responses, many ended up on the cutting-room floor.
But several of those answers were really good, touching upon the best qualities of our cozy music scene. A selection of them follows.
One hot topic: Paddy Reagan stepping down after six years as the booking honcho at the Monkey House. Swale's Eric Olsen dubbed him the "Man of the Year" — we're still waiting for Time magazine's take on that. Anders Parker writes that Reagan "has been a joy to work with and brought some really interesting things to the Monkey House." Agreed.
Grace Potter and the Nocturnals' drummer Matt Burr suggested a local supergroup featuring Heloise Williams and Bob Wagner on lead vocals, Josh Loring on guitar, John Rogone on bass, Waylon Speed's Justin Crowther and Swale's Jeremy Frederick on drums, Lee Anderson on harmonica, and Ryan Power as the band's chief songwriter. I dig it.
But Burr's vision doesn't stop there. He imagines Higher Ground's Alex Crothers managing the supergroup, Reagan and Angioplasty Media's Nick Mavodones handling booking, veteran soundman Sergei Ushakov tweaking the knobs and faders, and Jason "Liggy" Liggett on lights. All that's missing is a name. May we suggest Burr-lington's Finest?
Vedora's Matt Hastings expressed appreciation for Signal Kitchen's consummate radness. He writes that the venue "has stepped in to fill an underserved niche in the Burlington scene that has been left vacant, for whatever reason, for too long. They've created a downtown performance space that bridges the gap between the Monkey House and Higher Ground." He commends the club's "breadth of taste" and ability to "read what this town wants to hear." Couldn't agree more.
Hastings' bandmate Caroline O'Connor echoed another oft-voiced sentiment: The premiere of the Death documentary, A Band Called Death, during the Vermont Film Festival was perhaps the highlight of the year. The flick, she writes, had people "laughing, crying, hooting and cheering, over and over."
So many people mentioned the Death doc that I almost regret going to Weird Al at the Flynn that night instead. But I don't think Lendway's Matt Hagen does. That show, he writes, highlighted "just how important Weird Al has been for pop culture."
Matt Hagen's beard, however, weighed in on Metal Monday, the weekly heavy-metal showcase Hagen has curated at Nectar's over the last year. The beard writes that the residency has been a "game changer" for an "increasingly prominent metal community," and that it's becoming "a destination for regional and national heavy metal acts." It also credited Alex Budney's weekly Family Night Open Jam around the corner at Halflounge for providing an outlet for musicians who might not otherwise have a place to play.
Budney, the talent buyer at Nectar's, acknowledged the community spirit in Burlington that has led to more folks working together for common causes —Nectar's and Higher Ground teaming up on certain shows, for example — and the increasing symmetry between venues and indie promoters.
"Our little city of Burlington thrives on community and working together," writes Budney. "It's a beautiful thing and here's to more of it!"
In the words of Smokey Robinson, I second that emotion.
BiteTorrent
The Brett Hughes Holiday Ho Ho Hodown is among my favorite annual holiday traditions. The Honky Tonk Tuesday honcho will present a cavalcade of local stars offering renditions of Christmas classics this Thursday, December 20, at Club Metronome. No word yet on who might be in said cavalcade, but it's a safe bet Hughes will have some Honky Tonk Tuesday elves on hand and a number of special guests. I don't know about you, but it's just not Christmas for me until I hear Mark Ransom's version of "Blue Christmas." That reminds me…
…of my other favorite annual holiday tradition, Blues Christmas at Nectar's on Christmas night, Tuesday, December 25. Once you've unwrapped the presents, picked clean the Christmas goose and had enough of pretending to enjoy the close company of your relatives, wind down at this annual blues bash led by Vermont expat and blues-harp monster Greg Izor. Sadly, I'll be out of town this year, so I'll miss Izor, whom I've known since college. So if you're looking for a last-minute gift for your local music scribe, just swing by Nectar's on Christmas and send him my best.
One last holiday show to note before we start making New Year's Eve plans: Local rockers Sneezeguard will present "A Very Sneezy Xmas" at Levity in Burlington this Sunday, December 23. No idea what they've got planned, but given that the show is happening at a comedy club, hilarity may ensue.
Since he started writing and recording solo material, Japhy Ryder guitarist Zack duPont has become one of Vermont's most highly regarded songwriters. His latest album, Somewhere in Between, was named the best local album of 2012 by many respondents to the aforementioned poll of Vermont musicians, and with good reason: It was excellent and revealed duPont to be fully harnessing his impressive abilities. DuPont's little brother, Sam duPont, is also a singer and songwriter. Or, as Zack duPont writes in an email, "the apple doesn't fall far from the bro-tree." In an attempt to "cash in on the brothers market," the duPont boys will team up for an early show at Nectar's this Friday, December 21, and likely become part of the long tradition of great sibling acts, including the Stanley Brothers, the Felice Brothers, the Jonas Brothers, Hanson and Nelson. Maybe not so much those last three.
Congrats to the Smittens, whose latest record, Believe Me, was chosen as one of the top-10 indie-pop albums of 2012 by popmatters.com. The record took number three, just behind records by Allo Darlin' and Advance Base, and just ahead of Young and Old by Tennis. That's some good company.
Last but not least, local jam rockers Greyspoke are reuniting at Nectar's this Friday, December 21, in remembrance of their late bassist, Rudy Kiburis. Kiburis, who was 24, drowned this summer while swimming at Huntington Gorge. They'll be joined by whiskey-grass originators Gold Town and banjo-metal act Black Holly.
Listening In
Once again, this week's totally self-indulgent column segment in which I share a sampling of what was on my iPod, turntable, eight-track player, etc., this week.
Sufjan Stevens, Chopped and Scrooged
Various Artists, Festivus!
Various Artists, The Time-Life Treasury of Christmas
Various Artists, Soul Christmas
Manowar, "Silent Night"