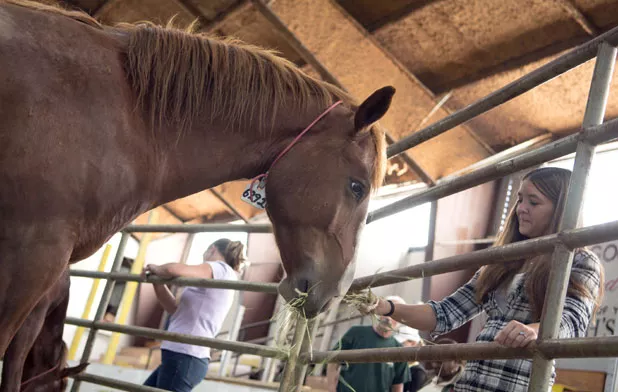 Amber Stocker of Mount Holly gets acquainted with one of the 40 or so wild horses and burros that were up for adoption at the Vermont State Fairgrounds in Rutland on June 15 and 16. The animals were brought to Vermont by the Bureau of Land Management as part of its efforts to manage the overpopulation of wild horses on ranges in the American West.
"The benefit of the program is that we are giving potential adopters an opportunity to adopt a piece of history," explains Martha Malik, public affairs representative with the BLM. "These horses are descendents of animals that were either captured or let go by the U.S. Cavalry, Native Americans, Spanish explorers, miners or ranchers."
Considering their history, wild horses are a steal: $125 for animals younger than 3 years old; $25 for those 3 and older. In addition, adopters could take home a second "buddy animal" for just $25 if they paid full price for the first.
Fred Hellmuth of Pittsford had eight horses when he lost one last year to cancer. He adopted a strawberry roan on the second day of the BLM event.
"I wish there were more people out there adopting these horses," says Hellmuth, "especially when people are out there spending 10 grand on a horse."
Photos and additional reporting by Caleb Kenna.