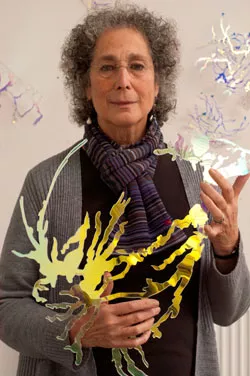 Matthew Thorsen
Barbara Zucker
Barbara Zucker can't help herself. When, through the windshield of her car, she spots an animal swooping down above her or darting through the trees, the 71-year-old sculptor shouts a giddy, "Hi!"
Zucker, who assures a small audience at the University of Vermont's Special Collections that she is, despite her impulsive animal salutations, a mature person, began documenting those fleeting encounters in 1996. For the next three years, on long drives between New York City, Philadelphia and her home in Burlington, she had a simple mission: Record all the animals she saw. Guidelines kept things interesting: "No roadkill, no crows, no sparrows," Zucker explains. Some days she'd get lucky — such as the time she drove through a cloud of monarch butterflies — others, she'd see nothing.
It was a kind of car game, largely motivated by the monotony of the highway. Zucker took notes while she drove. "I know I was a danger to the road," she admits. But it was worth it. Twenty years later, the result is her new artist book, Animal Sightings.
Over the past few decades, Zucker has exhibited at the Whitney Museum of American Art in New York, the Brooklyn Museum and the Philadelphia Museum of Art, among many other national and international venues. She's lived in Burlington since she began teaching art at UVM in 1979, hence all that time on the road.
Only 10 copies of the limited-edition book have been printed. Each of their 55 pages features carefully composed markings representing different animals. A green-and-brown dot represents a mallard, for example. A tan mark severed by a single red line represents a deer Zucker witnessed navigating traffic on the Pennsylvania Turnpike. "I knew it was going to die," she says.
She made some of the markings fuzzy to the touch with flocking, "a kind of joyously vulgar material," she says, pointing out that it's often found on the bottoms of trophies or in steakhouse décor. "I've always loved the stuff." It was warm and tactile enough to serve as a metaphor for feathers or fur and to remind people of Dorothy Kunhardt's classic children's book Pat the Bunny.
A single orange marking graces the cover of each book, situated so that, when all 10 are lined up, the dots create the meandering path of animal tracks. As soon as Zucker sold a book, she knew, the path would be broken forever — just as tracks in nature are ephemeral. "Once it rains or once the snow goes away, you never see them anymore," she says.
Throughout the process, Zucker says, "I was trying to capture what couldn't be captured."
A walk through her Burlington studio offers a mini-retrospective, including the first piece Zucker made for "Time Signatures," a series of sculptures analogous to the wrinkles on women's faces. She has gone on to re-create the crow's feet and laugh lines of friends and famous women — among them Rosa Parks, Georgia O'Keeffe, Isak Dinesen, Lucy Lippard and Linda Nochlin. But, to begin the project in 1998, she modeled in spidery steel the topography of her own neck. "I thought I would start with myself, since that's where the trouble began," she says dryly.
Taken out of context, Zucker found, the wrinkles could be as beautiful as the "meandering paths rivers cut through the land, ice cracking on a frozen lake or the surface of the earth in times of drought."
Scattered throughout her studio are pieces from another series, "For Beauty's Sake," which she began in 1989. Abstract forms represent body parts before and after plastic surgery: A wide steel "W" shape placed above a similar "W" with its ends severed so all that's left is a crack is called "Liposuction: Buttocks."
A lot of Zucker's friends were getting plastic surgery back in the late '80s. "I was shocked at how rapidly it was becoming currency," she says.
Zucker, who grew up on the outskirts of Philadelphia, has always been an artist. Her first drawing, at age 6, was inspired by her childhood idol, the Norwegian figure skater Sonja Henie, whom Zucker saw perform at the Ice Capades.
As she got older, Zucker continued to draw, but she was also interested in dance and theater. So, rather than go to art school, she got her undergraduate degree from the University of Michigan. That's where she took her first sculpture class and where her instructor, abstract expressionist sculptor Joseph Goto, told her, through clenched teeth, "You have to learn to fight."
She admits she's not sure if she ever did. But sculpture appealed to her. "You got your hands in it," she says. "It was palpable. It was real. You could confront it and move it."
Before the plastic surgery series, Zucker's work was not linked, as it has been since, to cultural issues. In the case of her book, that issue is "the loss of our environment." She stresses, however, that the book isn't dark. "I wanted it to be about hope," she says.
"If I'm driving and I see a swan on some body of water, to me, that's a gift," Zucker explains. "I've communed with nature, even though it's through a windshield."
Zucker sees her flocked marks as a kind of hieroglyphics. They may be abstract, but they're definitely not random. For each mark that made it into the book, she threw out many. There are good blobs and bad blobs, she notes, just as, in drawing, "there are lines that speak; they're alive, and then there are lines that have nothing going on."
Animal Sightings represents a departure for Zucker, not just because it's her first artist book, but because it draws directly from the natural world for inspiration. "When I was a young person starting out as an artist, I wanted to see as much [art] as possible, to feed my head," she says. "As I get older, the way I want to be fed has changed." These days, nature nourishes her as much as a trip to the Met might have in the past.
Still, she values her place in the art world. "Sometimes going to galleries is like taking my vitamins," she says. "I don't have the same excitement as in the car, waving at a hawk."
"Animal Sightings" by Barbara Zucker. $1000. For more info, call 598-5342 or email info@lkpeal.com.