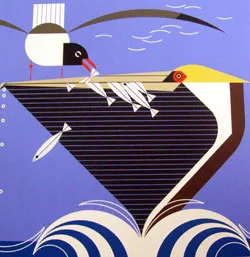 Charley Harper was brilliant, his artistic merit measured in clever design, bold color and whimsical charm. He also had a writer's talent for witty wordplay. Harper (1922-2007) was a prolific illustrator and graphic designer who became best known for his serigraph prints featuring modernist, stylized images of animals. His work enlivened innumerable posters, magazine articles and books — notably 1962's The Golden Book of Biology. Though Harper's accessible images were suitable for children's illustrations, the unique style he called "minimal realism" was in fact highly sophisticated. As he liked to say: "I try to leave everything out."
That sophistication is apparent in a 23-piece exhibit titled "Beguiled by the Wild: The Art of Charley Harper," currently at the Montshire Museum of Science in Norwich. The Virginia Living Museum curated the touring exhibit from works in a private collection. At the Montshire, there's a local bonus: a companion show from first-year students at the Center for Cartoon Studies in White River Junction. In a class last fall, their assignment was to create a one-page cartoon about an aspect of the natural world using Harper's visual techniques.
Harper was especially fond of birds — a quote of his affixed to the wall says, "I'd much rather draw birds. There are more possibilities." Perhaps because the man could do a lot with circles. He handily depicts an owl, for example, in the piece titled "Phwoooooooooo!" Unlike Harper's more colorful pieces, this one sets the brown and gray creature against a black background. It is, after all, nighttime when owls stalk their prey. In this case, it's a skunk, which inspired one of the artist's pun- and rhyme-filled captions: "How do you like your skunk steak? Rarely? Not the Great Horned Owl — it may be smelly, but it fills your belly…" As for the minimally represented stinker, Harper concludes: "He was planning to eat in when the owl dropped by — it's only once in a lifetime he gets taken out for dinner."
In a work titled "Pelican Pantry," a gull is stealing a "mullet for his gullet" straight from the craw of a brown Pelican. In a particularly funny print called "Big Rac Attack," six raccoons peek over a fence, eyes glowing in the dusk and fixed on the orange-red semicircle on a tripod in the foreground: a backyard grill.
Harper's texts sound cheery, but he doesn't shy away from the realities of the food chain. His animals act like animals. It's clear that Harper observed his subjects with the unsentimental eye of a naturalist before rendering them with, as he put it, "straight lines and curves."
If Harper's ingenious arrangements of iconic, geometric shapes could serve as a graphic-design primer, his skill as a printmaker is nothing short of inspirational. The serigraph is an exhaustingly difficult medium involving multiple steps and layers of color. One misstep botches the whole deal. For an artist who relies on crisp, sharp edges, the process is unforgiving. It's important to keep this process in mind when viewing Harper's works; these days, we're more accustomed to looking at digitally produced artwork that, however inventive and well designed, does not require such a steady hand.
Harper had the conscience of a conservationist and lent his talents to many a wildlife organization; this exhibit includes, for example, a large-scale poster he created for the Michigan National Park Service, layered with creatures and leaves. And there's his print titled "Backhoesaurus," in which a backhoe is digging up animal habitat, displacing a number of birds, flowers, worms and bugs. The artist likens what is presumably commercial development to "a mindless dinosaur terrorizing the landscape." Not so funny, that.
Harper spent most of his adult life in Cincinnati where he attended, and later taught at, the Art Academy. He also worked with his wife and fellow artist at Harper Studios; their only child, Brett, eventually joined them.
In 2006, the mayor of Cincinnati proclaimed December 8 Charley Harper Day, in conjunction with an exhibit at the Contemporary Arts Center of "midcentury pioneers and contemporary peers." The exhibit was inspired by Harper's mentorship of graphic and fashion designer Todd Oldham, who said that the elder artist's work possessed a "lyrically joyous style." Indeed, only a hardened cynic could resist feeling just a bit happier after viewing Harper's prints. In 2007, Oldham published a book of Harper's work titled Charley Harper: An Illustrated Life.
As suits a family-friendly science museum, the aural backdrop for these dual exhibits is a pleasantly zany assortment of dings, bongs, rattles and other noises — courtesy of children exploring the surrounding hands-on gizmos. Still, the Harper and CCS works occupying a spacious second-floor area represent the Montshire's conscious effort to enhance its reputation as a kids' science museum that isn't just for kids and science lovers. Offering a joyful, all-ages art exhibit is a good step in that direction.
Besides, as exhibits director Bob Raiselis says, "I'm convinced that there's a connection in how scientists and artists do their stuff. It's all creativity."