When I moved to Winooski last year, one of the first things my new neighbors warned me about was parking against the flow of traffic. It's illegal in Winooski, they said, and you may get ticketed for it.
I had never given much thought to parking "left to curb," as the cops call it, but, like most things parking-ticket related, this seemed, well, unfair. After all, people park that way in Burlington all the time. The cars along my daily commute to the South End are often parked nose to nose and rear to rear. So why does parking left to curb warrant a ticket in the Onion City?
Seven Days publisher Paula Routly was once stopped by a police officer for crossing the center line on North Street to drop off a fellow Seven Dayzer at her home. (She didn't get a ticket, just a stern warning.) Could the city really be so strict about left to curb?
This column gave me an excuse to find out just how easy it is to get a ticket in this town. Turns out, harder than you'd think. With apologies to the Winooski Police Department, I spent a good deal of time last week parking against the flow of traffic — to no avail.
I left my car facing backward outside the Woolen Mill on West Canal Street while I hit the elliptical machine and sweated it out in the sauna. I parked the wrong way on Maple Street across from my house for a day, then moved the car onto nearby Weaver Street, left wheels to the curb. I left it there overnight — still no ticket.
One thing became clear immediately: Parking against the flow of traffic is kind of a bad idea. It's hard to see if there are cars coming at you when you pull in and out, and maneuvering a parallel-parking job on the opposite side is disorienting. Plus, crossing that center line just feels wrong.
It's nice to know Winooski denizens look out for one another, though. On several occasions, people shouted to me from across the street, "They'll ticket you for that here!" But they never did.
Technically, parking left to curb is illegal throughout Vermont. The state law reads, "Except as otherwise provided by local ordinance, every vehicle stopped or parked upon a two-way roadway shall be stopped or parked with the right-hand wheels parallel to and within 12 inches of the right-hand curb or, if there is no curb, within 12 inches of the edge of the roadway."
The Vermont Department of Motor Vehicles' license manual has a simpler way of putting it: "Don't cross the center line to park."
Enforcement of that rule is nothing new in Winooski. Police Chief Steve McQueen has been with the city for 28 years and says he has always enforced left to curb. The reason is simple: "It is dangerous to drive on the wrong side of the road to park against the flow of traffic," he says.
Winooski City Councilor Sarah Robinson adds, "If you are parked in the wrong direction, it can be harder for approaching vehicles to see a parked car at night, since the rear reflectors aren't visible."
Burlington doesn't have a local ordinance permitting left to curb, any more than Winooski does. So why doesn't the larger sister city ticket for the offense?
In a summary of a survey on the issue she conducted earlier this year, former city councilor Emma Mulvaney-Stanak wrote, "While this practice is technically not allowed under Vermont law, the Burlington Police Department clearly has larger issues to prioritize in terms of other public safety issues."
That's not to say enforcement is unheard of in Burlington. "I know people who have gotten tickets in Burlington for left side to curb," says Winooski City Manager Katherine Decarreau, or "Deac," as most people know her. But, she notes, Burlington tends to enforce the issue by complaint.
Deac, who has managed the city since 2009, isn't sure when or why that parking-code enforcement became a higher priority for Winooski. She suspects that downtown redevelopment made it imperative for the city to keep parking spaces open for restaurant and shop patrons.
But Deac, who admits she has paid a ticket for left to curb herself, notes a simpler motive for enforcing the law — and her reasoning makes me feel guiltier about my parking experiment than a ticket ever could.
"Kids play in the streets in Winooski a lot," she says. "So when you have people just sort of driving around and pulling into the other side of the street, which you're not expecting, it can be really unsafe."
Outraged, or merely curious, about something? Send your burning question to wtf@sevendaysvt.com.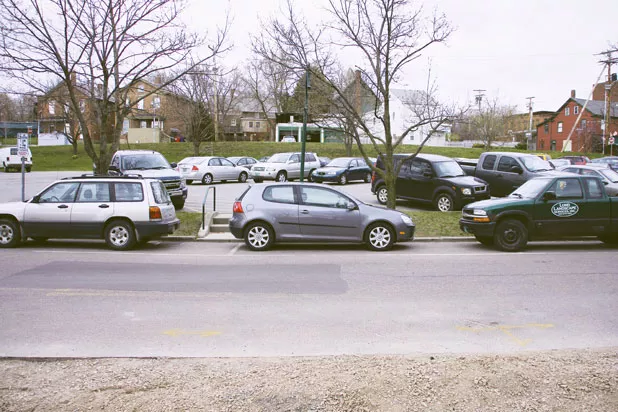 A car parked "left to curb" in Winooski