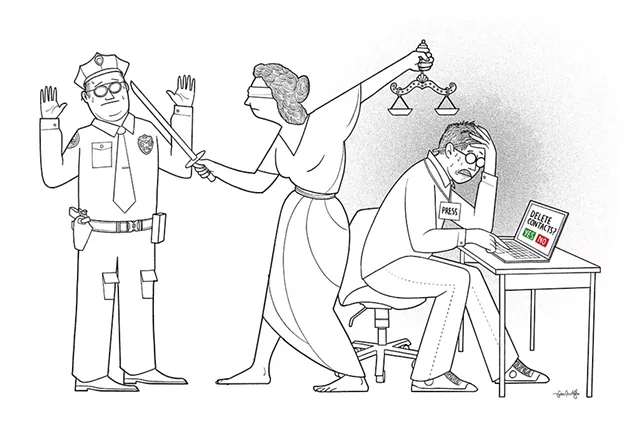 Ordinarily, when Rutland Herald reporter Susan Smallheer goes to court, she brings the tools of her trade: a pen, a notebook, and perhaps a camera or tape recorder. But on August 4, 1992, the veteran journalist was warned to arrive at Vermont District Court in White River Junction with nothing more than a toothbrush — the only personal item she'd be allowed to take with her to jail.
Smallheer said she didn't know it at the time, but the Department of Corrections had already set aside a cell for her. Held in contempt of court for defying a judge's order to testify in a criminal case, she faced not just potential jail time but a fine of $2,000 a day.
Prosecutors and the defense attorney wanted Smallheer to disclose what she had learned in a jailhouse interview with Charles Gundlah, a recently recaptured prison escapee suspected of having a role in the murder of a Newfane music teacher.
"It was a fishing expedition," recalled Smallheer, who said she was "absolutely" prepared to go to jail rather than divulge off-the-record information from a source. Why?
"Because my life as a reporter would have been over if I had to testify for the prosecution," she explained. "No one would trust me ... But to say I wasn't nervous [about going to jail] would be a lie. I was."
Ultimately, Smallheer avoided the jail cell. The prosecutor dropped her as a witness, and the Vermont Supreme Court later vacated her contempt citation and fines — although not before the Rutland Herald had spent more than $30,000 in legal fees defending her. The justices didn't rule on the broader question of whether it was constitutional for courts to compel a reporter to breach the confidentiality of a source.
Smallheer is not the only Vermont journalist to have faced that harrowing choice. Over the years, some reporters have acquiesced to subpoenas in criminal and civil cases. Others have fought them vigorously — even as Vermont Supreme Court decisions have narrowed the protections that reporters believe the U.S. Constitution affords them.
Last week, the Vermont Senate took the first step toward restoring some of that media privilege, unanimously passing a "shield law" at the urging of journalists and the Vermont Press Association. If the bill, S.96, becomes a law, it would protect news gatherers from having to reveal confidential sources or to turn over their work product — notebooks, recordings, unpublished photos and videotapes — to police, prosecutors or defense attorneys.
Journalists contend that when the legal system coerces them into testifying, it makes them appear to be acting as an investigative arm of law enforcement. As a consequence, they lose the independence they need to carry out their constitutionally protected role of holding government accountable.
The shield law privilege, which is similar to the privacy protections afforded to lawyers, priests, doctors and mental health professionals, is never absolute. In states that have such a law — Vermont is among the handful that don't — judges still have authority to override the privilege when they find a critical and compelling justification for doing so. That generally happens when the information sought can prove the guilt or innocence of the accused.
Why is the Vermont Press Association advocating for a shield law now? Earlier this month, Seven Days reporter Mark Davis offered lawmakers a chilling example of what can happen when the protection doesn't exist.
As Davis explained in an interview, in August 2016 U.S. Attorney Eric Miller announced an aggressive initiative to pursue so-called drug "facilitators" — Vermonters, primarily women, who open up their homes to out-of-state drug dealers. After covering the campaign in a blog post, Davis recalled, he found himself thinking the story deserved deeper exploration.
His theory was that the facilitators, whom the campaign portrayed as public enemies and profiteers, were actually drug addicts who were being exploited by the interstate drug trade. Subsequent interviews with individual facilitators supported that thesis.
But even as Davis reported that story, he found himself hesitant to pursue it because of the consequences he faced from a past one. He was one of three Seven Days journalists who, along with a Vermont Public Radio reporter, had been called to testify under subpoena in a sexual assault case against Norm McAllister. Davis had interviewed the then-state senator from Franklin County on his Highgate farm as he awaited trial.
In the end, Davis didn't have to choose whether to testify; the charges against McAllister were dropped on the very day Davis was scheduled to take the stand. As he put it, "I'm very grateful that I didn't have to make that decision."
But Davis said that experience had a chilling effect on his willingness to take on a second controversial story that could lead to another subpoena. When it dawned on him that "I can get these people into a lot of trouble," Davis said, he shut down his reporting on the so-called drug facilitators.
"I think that's a really important story to tell, and the public would really benefit from a fuller understanding of who those [facilitators] are," he added. "But I felt that I could not responsibly report it, because of my experience with McAllister and the lack of legal protections for journalists."
Both Davis and Smallheer were represented by Bob Hemley, an attorney with the Burlington law firm Gravel & Shea. In the past 40 years, Hemley has defended virtually every print publication in Vermont that's been slapped with a subpoena — roughly two dozen cases, he estimates. In that time, he said, he's seen the courts steadily erode journalists' legal protections.
Hemley, 70, began practicing law in Vermont in 1976, just two years after the Vermont Supreme Court issued its first ruling on the question of journalistic privilege. In 1974's State v. St. Peter, the court was asked to decide whether a WCAX-TV reporter, John Gladding, could be compelled to testify about his foreknowledge of a police drug raid that took place in Rutland. As the court noted at the time, the case was unusual in that it was the defendant's attorney who was seeking Gladding's testimony, while the prosecution defended Gladding's right to protect his source.
In its decision, the high court cited a landmark U.S. Supreme Court decision from two years earlier. In Branzburg v. Hayes (1972), the federal justices ruled that the First Amendment does not grant unlimited protection to journalists who've witnessed criminal activity.
In St. Peter, Hemley explained, the Vermont Supreme Court essentially agreed with Branzburg: News gatherers, the court wrote, have a "qualified privilege" that can be overcome only by demonstrating that three conditions have been met. First, the information being sought must be relevant and material to the party's case; second, there must be a "compelling and overriding interest" — that is, the guilt or innocence of the defendant; and third, the information must not be available from another source.
"For years after St. Peter," Hemley explained, "we successfully challenged subpoenas issued to reporters primarily on the grounds that there was always an alternative source or that the alternative sources haven't been fully exhausted."
But two cases in recent years dramatically altered the legal landscape, Hemley said. The first case originated in the early morning hours of October 21, 2004, when University of Vermont students celebrating the Boston Red Sox's historic victory over the New York Yankees in the American League Championship Series turned violent. Rioters knocked down signs and lampposts, overturned vehicles, broke windows, and set fires, causing about $30,000 in damage.
After WCAX broadcast several minutes of riot footage, then-Chittenden County State's Attorney Robert Simpson subpoenaed all 44 minutes of videotape with the goal of identifying potential suspects. The station refused to comply, and the case was appealed to the Vermont Supreme Court.
Hemley, who didn't represent WCAX in that case, said that while the Supreme Court paid "lip service" to St. Peter in its decision, it essentially weakened the ability of reporters to claim journalistic privilege. The fact that the WCAX reporters had witnessed criminal activity while performing their jobs didn't, as he put it, "immunize them" from the responsibilities all citizens have to testify.
As Vermont's justices wrote, "We cannot seriously entertain the notion that the First Amendment protects a newsman's agreement to conceal the criminal conduct of his source, or evidence thereof, on the theory that it is better to write about crime than to do something about it."
While the WCAX case dealt a serious blow to journalistic privilege, Hemley said, that decision applied specifically to a criminal investigation. Reporters' attorneys could still argue that in civil matters, with less at stake, the rights of the journalist should prevail. That argument wasn't challenged until the 2007 case Spooner v. Town of Topsham.
In Spooner, Hemley explained, reporter Hank Buermeyer attended a public meeting in Topsham, where the town selectboard was looking to hire a new road foreman. Selectboard members emerged from an executive session and stated publicly that they hadn't selected James Spooner because they thought he was too old for the job.
A week later, the Journal Opinion, a weekly newspaper in Bradford, published Buermeyer's story. Like others in the room, he had heard the board members' remarks and reported them verbatim. When Spooner read the story, he sued the town for age discrimination, and his attorney subpoenaed Buermeyer.
Hemley, who handled that case for the Journal Opinion, moved to quash the subpoena and won the case at the trial court level. But when the case was appealed to the Vermont Supreme Court, the justices ruled that the reporter had to testify, even though he was not the sole witness. Why?
"Because he took notes," Hemley said. "He was considered very credible, and the plaintiff was entitled to have the most credible witness of his choosing."
Hemley called that decision "problematic if you're a believer in the strength of a strong First Amendment and the importance of news gathering." In effect, forcing reporters to testify can deter them from publishing certain kinds of news — or, in the case of Davis' drug facilitator story, from reporting it at all.
Fortunately for Davis and Smallheer, their respective employers had the financial resources to defend them in court. The same was true of longtime Burlington Free Press reporter Mike Donoghue, who said he's been subpoenaed 18 times and compelled to testify in court at least twice.
In all of those cases, Donoghue said, the Free Press funded his defense. But he pointed out that most of Vermont's four dozen non-daily news outlets, many of which operate as nonprofits, lack the financial wherewithal to mount a vigorous defense.
"I've always said that I would never give up a source, but I never got to the point where I was threatened with jail or a fine," Donoghue added. "I worry about small weekly or even daily newspapers where somebody is told that they have to testify or go to jail or be fined $1,000 a day."
Thus far, opposition to the Vermont shield law bill has been limited. Neither the Vermont Bar Association nor the Vermont Association of Criminal Defense Lawyers has taken a position. Defender General Matt Valerio, who oversees Vermont's public defenders, hasn't formally weighed in on the bill either, though he said he personally believes in the value of shield laws.
"There are times when the constitutional rights of defendants to prepare a defense are going to override the statutory right of the press to maintain confidentiality," Valerio said. "But that's something the court would weigh on a case-by-case basis. In general, I don't think [journalists'] sources should just be open to anybody's demands."
For his part, John Campbell, executive director of the Department of State's Attorneys and Sheriffs, said he supports the concept of a shield law.
"Neither I nor the other state's attorneys I've spoken with want or expect the media to act as our deputies or investigators," Campbell said. However, he expressed concern that, in an age when "everyone with access to a computer can create a blog in a matter of minutes," criminals may try to hide behind reporters' shield law protections.
If shield laws have had a detrimental effect on the ability of prosecutors to do their jobs, there's little evidence of it, suggested Gregg Leslie, legal defense director for the Reporters Committee for Freedom of the Press, a Washington, D.C.-based nonprofit group.
Leslie said he knows of no data or study showing that shield laws make prosecutions more difficult. As he put it, "We're not seeing great miscarriages of justice by any means because reporters aren't testifying."
That certainly held true in Smallheer's case. Two years after her own brush with jail time, her source, Gundlah, was convicted for his role in the music teacher's murder. As she noted, the prosecution built its case against him without her testimony.
Looking back, Smallheer is still heartened by the support she got from strangers. She vividly recalled pumping gas one day when a mechanic at the station recognized her face from the news coverage.
Smallheer expected the mechanic to give her grief for not cooperating with the prosecution. "Instead," she recalled, "he said to me, 'Don't give in. Don't become part of the prosecution.' That was so gratifying."
Editor's note: Just days before this story was filed, Ken Picard got an email from a Burlington lawyer seeking unpublished photos from a 2010 story he wrote about a firing range in Charlotte. The lawyer, who is involved in a civil case over the range, threatened a subpoena if Picard didn't comply. Attorney Hemley responded to the lawyer that should Seven Days receive a subpoena in that civil case, the paper intends to fight it.
Disclosure: Seven Days political editor Paul Heintz serves on the board of the Vermont Press Association, which is advocating for passage of a Vermont shield law. Heintz had no involvement in this story.