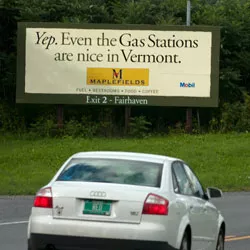 New York looks different than Vermont, and it's not just because of the industrial wind farms. The Empire State still embraces "outdoor advertising" — think Times Square — while its Green Mountain neighbor banned billboards back in 1968. A few Vermont businesses take advantage of New York's regs to advertise themselves in a way they can't on their home turf.
Ski areas, in particular, favor the al-fresco approach. Bromley, which advertises itself as the Vermont ski resort closest to Albany, rents billboard space along Interstate 787 as well as on Route 9 in the Albany area. Okemo advertises during ski season on a billboard on the stretch of Route 4 between Whitehall, N.Y., and Fair Haven.
Mount Snow is considering an investment in outdoor advertising near Albany, says Greg Fisher, the resort's marketing director. The West Dover mountain, which calls itself the "Gateway to Vermont," already spends heavily on billboards in the New York City area. Mount Snow advertises on Long Island Rail Road station platforms as well as inside the carriages of the commuter train. It also rents digital billboards along the Brooklyn-Queens Expressway and at the New Jersey entrance of the Holland Tunnel to Manhattan.
Stratton Mountain has been advertising in New York City's subway system for the past five or six years, says marketing chief Myra Foster. "The city's an important market for us," she explains.
Calculations about where their potential customers are driving determine where — and whether — Vermont companies buy billboard space.
Okemo's marketers figure it will reach a bigger share of its target audience on Interstate 91 in Connecticut and Massachusetts than it would on Route 4 in New York. So the resort spends its advertising dollars more readily on billboards to the south of Vermont than to the west, explains Chris Doyle, Okemo's marketing manager. Stowe also does outdoor advertising in states other than New York, although spokesman Jeff Wise won't specify where. "That's proprietary information," he says.
For the Birdseye Diner in Castleton, a billboard on Route 4 east of Whitehall is the perfect spot to advertise. "That's such an important road for us," says Robert Staudter, an employee of the local company that owns the diner. "There aren't many chances for us to get to folks coming to Vermont for tourism."
The billboard on which Birdseye has advertised for the past month was previously rented to the Holiday Inn in Rutland. The change of sponsors may reflect Staudter's view that "tourists have probably decided in advance where they're going to be staying, but they probably haven't decided where they're going to eat." In hopes of influencing them, Birdseye invests in a very big sign.
Birdseye's billboard is a model of straightforward advertising: "Good Food Served Right," the sign reads, accompanied by a picture of the diner's exterior. "Every American can relate to a diner," Staudter suggests.
A few Vermont businesses have given up on billboard advertising — not just in New York, but everywhere.
"We've found better ways to spend our advertising dollars," says Killington communications manager Tom Horrocks. "Billboards can be very expensive," he notes, "and in our experience, radio, the Internet and print have all proven more cost effective." Billboard advertising in New York runs between $2000 and $5000 a month.
Lana Hauben, vice president for advertising at Manchester Designer Outlets, says the southern Vermont shopping complex also stopped using billboards a number of years ago because "it wasn't worth the money." The intrinsic problem with outdoor advertising, Hauben and other Vermont marketing pros say, is that it's virtually impossible to measure return on investment.
With online ads, it's easy to compute the views-per-dollar ratio, but billboards are far more scattershot in their reach. "We're certainly capturing a lot of looks from people with no interest at all in downhill skiing," Okemo's Doyle says of his resort's ads on I-91.
Fisher at Mount Snow argues that it is possible to measure billboards' cost-effectiveness. He says those digital signs on the BQE and at the Holland Tunnel include unique Internet addresses and phone numbers through which potential customers can learn more about the resort. Mount Snow can then track how many responses those billboards are producing, Fisher says, insisting that New York City drivers do take note of phone numbers and URLs. "They're stuck in traffic all the time," he points out.
Fisher further argues in favor of his company's digital billboards on the grounds that they can be changed at any time. A 15-second video can show drivers in Brooklyn and Jersey City what an 18-inch overnight dump on Mount Snow looks like, he notes.
Peter Dee, marketing head for Bromley, suggests that it may not matter much to his resort whether its billboards target a narrow audience. Bromley's outdoor ads in New York "give us good visibility," he says. "We're not one of the biggest ski areas, so the billboards at least tell people we're here."
Vermont companies will probably be able to continue advertising on billboards in New York for years to come, since the Empire State isn't likely to join Vermont, the fourth state in the nation to ban outdoor commercial signs — following Maine, Hawaii and Alaska. But even New York is moving to regulate billboards. A 2001 law required companies to apply for a permit to build a billboard within 200 feet of a highway or park. And New York City toughened that restriction in 2005, banning ads within 900 feet of a highway.
To weekend skiers stuck in suburban traffic, though, an 18-inch snowfall is bound to look pretty good.