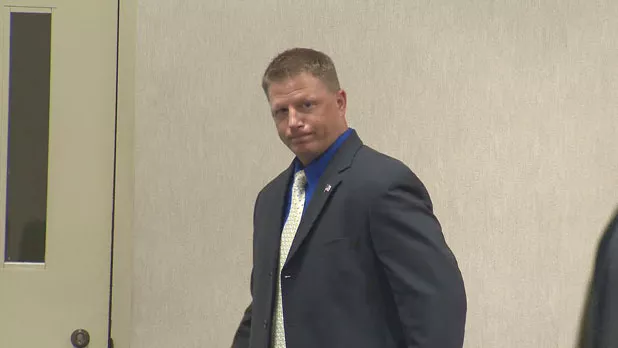 The decision to use a grand jury to bring criminal charges against Winooski Police Corporal Jason Nokes last week wasn't just an unusual legal move — it may be smart politics for the prosecutors.
Nokes is under fire for shooting a mentally ill man, Isaac Sage, in the leg on April 25 during a scuffle in downtown Winooski. Nokes suffered a broken nose and concussion in a confrontation caught on video, and another police officer sustained cuts and bruises. Assault charges against Sage were later dismissed because a psychiatrist deemed him insane. The focus then turned to Nokes.
Prosecutors could have decided themselves whether Nokes' shooting constituted a crime and brought evidence of probable cause before a judge. Instead, Chittenden County State's Attorney T.J. Donovan and Attorney General William Sorrell, who are investigating the case jointly, took the rare step of putting the matter before a grand jury, a secretive, time-consuming proceeding in which prosecutors present evidence to jurors who decide whether charges are warranted.
After two days of closed-door testimony, a grand jury sitting in Chittenden County returned a three-count indictment last Wednesday charging Nokes with aggravated assault with a deadly weapon, reckless endangerment and providing false information to police investigators. If convicted, Nokes faces up to 17 years in prison.
Defense attorneys say the decision to use a grand jury is unusual in state courts and may help insulate the prosecutors from critics on both sides: those outraged that police are so often cleared in shootings; and pro-law enforcement constituents who feel Nokes is being scapegoated.
"Obviously in this case, T.J. didn't want to be the one making the decision," says Chittenden County public defender Peggy Jansch. "So he's off the hook. The grand jury indicted."
Civil libertarians have criticized Sorrell in recent years for consistently clearing police officers in shootings. Recently, the attorney general ruled that a state police trooper was justified in firing a Taser at an unarmed Thetford man who died as a result of the shock. Sorrell has vigorously defended his record as one motivated by rule of law rather than political expediency, while at the same time noting the numerous cops he's prosecuted criminally.
Donovan confirms this is only the second time a Chittenden County grand jury has returned an indictment since he became state's attorney in 2006. The first was the accidental shooting death of retired St. Michael's College professor John Reiss, who was killed in 2008 in his home by an errant bullet from a nearby shooting range. That grand jury indicted two men for involuntary manslaughter. One struck a plea deal; the other was convicted and sentenced. Other grand juries may have been convened, but Donovan says the law prohibits him from discussing them.
Donovan says he uses grand juries sparingly for "cases that are controversial and where there's some question about the state of evidence." Donovan says he and Sorrell, who duked it out in last year's primary for attorney general, jointly decided to use a grand jury for Nokes due to the sensitive nature of prosecuting a cop and to make sure they "get it right."
Donovan dismissed the notion that the elected prosecutors used the process for political cover, noting that, starting next week, he'll be the one prosecuting the case.
"At the end of the day, all a grand jury does is charge," Donovan says. "You've still got to prosecute it. There's nowhere to hide then. There's no cover whatsoever. Now you have to prove the case, which is the hard part."
Assistant Attorney General John Treadwell echoed that. The "real reason" to use a grand jury, he says, is for cases where "the community's view of whether this is a matter that should proceed with a prosecutor is significant."
That may be, says St. Johnsbury criminal defense attorney David Sleigh, but the grand jury indictment affords prosecutors some distance from the charges and allows them to face critics with a simple response: "The people have spoken," as Sleigh puts it.
This isn't the first time Donovan has prosecuted Nokes in his courtroom. The 19-year police veteran pleaded guilty to driving under the influence in 2011 after police found him slumped over his steering wheel in the median of Interstate 89 with a blood-alcohol content that was five times the legal limit.
Nokes' lawyer, Brooks McArthur, notes the grand jury process by its nature allows the state to "cherry pick" the evidence jurors hear, and the defense has no role. "Once all the evidence comes out and he has the opportunity to defend himself," McArthur assures, "he'll be exonerated."