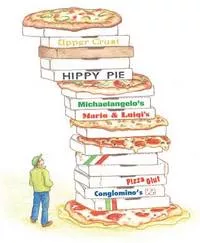 Jay Vogler of Charlotte's Pizza on Earth retrieves a "China Blue" from the depths of his wood-fired oven, its top roiling from the 700-degree heat, edges erupting into dark-brown blisters. The unusual name refers to the pizza's featured ingredients: garlic oil, sautéed onions, bok choy, blue cheese and mozzarella. The aromas are such that you've gotta steal a wedge en route to an outdoor picnic table. Luckily, walking and eating pizza at the same time is a piece of cake.
No matter how you slice it, dough slathered with hot, cheesy toppings is the ultimate convenience food — no forks or dishes required. Vermonters in particular can't get enough of the stuff. According to the trade journal Pizza Today, which does an annual state-by-state analysis, Vermont ranks eighth in the U.S. in number of pizzerias per capita, up from 11th place in 1998.
What accounts for the proliferation of pie pushers? Burlington's college market isn't too hard to figure out. On weekend nights, semi-sloshed downtown crowds gather at Big Daddy's, Manhattan Pizza and Mr. Mike's to snag their speedy slices. Papa John's recently landed in the Burlington spot formerly occupied by the 135 Pearl nightclub.
But the pizza mania extends way beyond the Queen City. In Colchester, Junior's is just putting the finishing touches on a massive new building that will allow the restaurant to churn out more authentic New York pies. The city of Montpelier has a healthy number of eateries devoted to pizza production — see accompanying story page 06B. And that's not including Sarducci's.
Increasingly, too, Vermont's pizza obsession encompasses much more than standard variations on the basic pie — most often credited to Raffaele Esposito of Naples who cooked up the first thin-crust "pizza alla Margherita" for a hungry queen in 1889. At its flagship restaurant in Waitsfield, American Flatbread revolutionized the pizza experience by featuring combinations of unique local ingredients. Middlebury and Burlington duplicated the concept. You see the same approach at a place like Pizza on Earth, where the blank crust is viewed as an opportunity for culinary invention. Pizza has morphed many times over the years, from "pita pizzas" and "English muffin pizzas" to cardboard-textured frozen pizzas and ooey-gooey "stuffed crusts." The hottest trend today? Gourmet.
It's a slippery term. At many pizzerias, "gourmet" connotes "fusion food" topping combos that would make a Naples native shudder. Take, for example, the "Hawaiian pizza," with its chunks of canned pineapple and carnation-pink strips of processed ham. Or Domino's artery-clogging "bacon cheeseburger feast." The local outpost of mega-chain Pizza Hut currently proffers such "gourmet" add-ons as banana peppers, green olives and jalapeños, all of which are undeniably preferable to the worrisomely vague "pork topping" and "beef topping." Soylent Green comes to mind.
What defines real high-end pizza? Phil George of Leonardo's Pizza has offered his interpretation since 1990. The local Burlington-area chain, which bills its product as "Creative Quality Pizza," boasts a slew of toppings unlikely to be found at mom 'n' pop places or national chains: black beans, eggplant, sun-dried tomatoes, artichoke hearts and gorgonzola cheese. For the extra-health-conscious and vegan crowds, Leo's offers whole-wheat crusts and "herbal soy cheese." Signor Da Vinci, who was a vegetarian, might have willingly lent his name to the place.
By the time Leonardo's launched, George Schenk was five years into American Flatbread Company. Long before the "localvore" movement, he pioneered the idea of topping pizzas with farm-fresh ingredients harvested from Vermont, especially the Mad River Valley. A sumptuous-sounding recent special, for example, featured a savory mix of roasted lamb, chard, fingerling potatoes, spring garlic and feta, all from nearby farms.
The concept caught on. After opening a second location at the Marble Works in Middlebury, Schenk began licensing the concept to like-minded flatbread entrepreneurs, such as Paul Sayler and Rob Downey, who co-own the Burlington operation. Eight more flatbread restaurants have since opened all over the country — the newest one is in Northern Virginia. Schenk describes franchising as "an opportunity for a local interpretation of the core ideas." Thus, the Burlington biz gets the goods from the Intervale and other Chittenden county locales, while the Addison and Washington locations stick mainly to farms in their own backyards.
Schenk also had the foresight to get into the gourmet frozen pizza market. His pies, which retail for around $12 (large), are available in all 50 states. Last October, Flatbread was number 28 on a list of the nation's 100 highest-grossing indie pizza companies. When you consider that independents accounted for nearly 65 percent of the U.S. pizza places last year, a spot at the top is a big deal.
Vogler's Pizza on Earth can't compete with American Flatbread on volume, but on freshness, his operation is unbeatable. Many of the veggies that end up augmenting Vogler's flavorful wheat and rye dough are grown on the property — a working farm — using sustainable practices. A flock of laying hens wanders around outside the building that houses Vogler's wood-fired oven. For eight years, Vogler has paired the use of innovative gourmet toppings with a traditional ethos: Take the freshest vegetables and put them on a crust for easy, healthy eating. Add some tasty cheese, and you've got a quick and delicious dinner.
The Voglers used to grow the produce and sling the pies. But the pizzeria has gotten so popular, the Voglers let someone else do the "ground work." A former employee now leases the land and manages it under the name Stony Loam Farm. That has freed up Vogler and his wife, Marcia, to turn out European-style loaves and vend homemade bagels, pastries, marshmallows and gelato.
Unlike Leonardo's, which offers the convenience of delivery for those late-night quality carb cravings, Pizza on Earth is a dining destination. In summer, the Voglers peddle their $13 pies on Tuesday, Thursday and Friday from 4 to 7:30 p.m. to coincide with the arrival of customers picking up their veggie shares from Stony Loam Farm. Plenty of others pull up just for the pizza, though. Some call in advance for take-out; others eat al fresco on the premises.
Premium pizza such as Vogler's and Schenk's doesn't come as cheap as the chain pie on the corner, but if the lines are any indication, their customers don't seem to mind. "The average person who comes in spends on the order of $20, but you get an organic salad and a flatbread that is thoughtfully made, plus drinks," Schenk explains. He doesn't think fresh, organic local foods should be compared with supermarket product in terms of price, saying, "Excellence in virtually every field costs more. It's an unrealistic expectation that it shouldn't cost more."
An article in the June issue of Pizza Today suggests the rest of the country may be coming around. In "Fresh-tastic!" author Katie Ayoub asks, "Is menuing fresh produce worth it?" and concludes that it is, despite the extra cost and hassle — in part because such fresh sourcing gives restaurateurs "the use of powerful, evocative words such as 'seasonal' . . . and 'fresh-cut.'" The article quoted one North Carolina merchant noting, "Customers have always said they care about fresh, but it's only been recently that customers are really ready to act on eating fresh."
Not surprisingly, chains are trying to capitalize on the gourmet cachet, with mixed results. Papa John's augments its traditional offerings with "olives grown in the rich soils of Spain," fresh-sliced onions and tomatoes. The fare's pretty pedestrian, though. A recent order included an unwelcome "garlic dipping sauce," which smells and tastes like the stuff sprayed on movie theater popcorn.
A case for a pizza police force? There is one: Keepers of the "true pizza of Naples" since 1984, the Associazione Verace Pizza Napoletana only recognizes two varieties of pizza pie: the classic Margherita with tomato sauce, basil and mozzarella; and the "pizza marinara," with tomato sauce, herbs, garlic and olive oil. Such pizza purists would certainly scoff at a bacon-cheeseburger pie. But they might turn up their noses at George's "Gorgonzola Gourmet," Schenk's "Punctuated Equilibrium" or Vogler's blue cheese and bok choy pizza. That is, until they get a whiff.
Vermont pizza fans aren't complaining. Whether you like your slices dripping with grease at 2 a.m. or sustainable and sanctified, you'll find 'em here. We may not have the highest number of pie places per capita, but we're way ahead of the pizza curve.