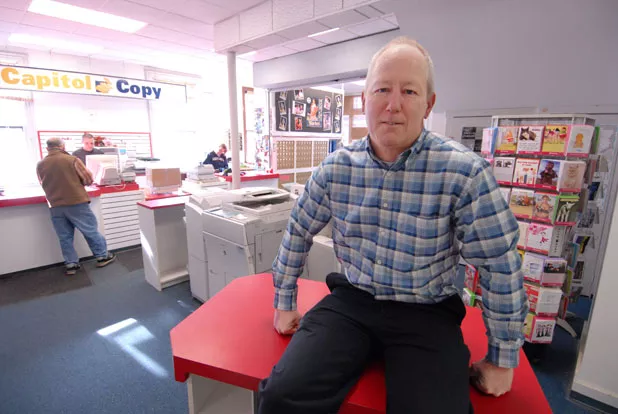 A Montpelier copy-shop owner may finally get his day in court this week, six years after suing United Parcel Service for the damage he claims it inflicted on his small business. The suit filed by Capitol Copy owner Glenn Sturgis and 130 other office-services store operators around the country seeks hundreds of millions of dollars in compensation for what "Brown" has allegedly done to them.
Their legal action gets in the public face of a company defined by ubiquitous brown trucks piloted by smiling drivers in sexy uniforms. "The drivers are their PR guys, and I think they do a great job," Sturgis says. "Corporate UPS is arrogant, though. They don't seem to care how many bodies get buried."
Sturgis says that in recent years his State Street store has been significantly less profitable now than it was from 1995, the year he opened it as a Mail Boxes Etc. franchise, until 2003, when he had to rebrand it as an independent operation. He attributes the drop-off in revenues to UPS' 2001 takeover of Mail Boxes Etc.'s 3475 franchises throughout the United States. Sturgis and 400 other Mail Boxes store operators refused to go along with the switch to UPS on the grounds that control by Brown would limit the shipping options they can offer as well as the prices they can charge.
FedEx was among the shippers available to customers of Mail Boxes Etc. But because it views UPS as a direct competitor, FedEx will not handle parcels sent through UPS-branded stores.
For his part, Sturgis continues to offer UPS as a shipping option at Capitol Copy despite his disgruntlement with Brown. "It's not my customers' problem," he explains. "I'm going to continue helping them find the best deal possible."
A total of 131 aggrieved small businesses, grouped into what they call the Platinum Shield Association, continue to demand compensation from UPS in the suit filed in 2003. A separate but similar legal action is being pursued by some 200 franchisees who went along with the transfer of ownership from Mail Boxes to UPS but have since felt unfairly treated under the rules laid down by Brown. A trial on the Platinum Shield suit is scheduled to get underway in Los Angeles later this week, says Manhattan shipping store operator Joe Wightman, one of the group's leaders.
The long wait results from delaying tactics employed by UPS, Sturgis charges. "It seems to me that if you're confident in your case you don't try for six years to keep it from coming to trial," he comments.
UPS looks forward to the start of the trial, says Rich Hallabrin, a San Diego-based spokesman for Mail Boxes Etc. "We're confident our position will prevail," he says.
Sturgis' family members and his satisfied customers in central Vermont are campaigning on the Internet to have the court proceedings televised. They want California Superior Court Judge William Highberger to reverse a recent ruling in which he sided with UPS attorneys' objections to TV coverage.
Even though Sturgis says its sales have slumped, Capitol Copy clearly enjoys considerable customer loyalty. Three years ago, for example, about 100 supporters staged a rally in the shop on a Friday afternoon after UPS had threatened to send agents at that time to seize Sturgis' store keys. Montpelier Mayor Mary Hooper and then-gubernatorial candidate Scudder Parker, a Democrat, took part in the show of resistance. UPS never acted on the threat to enforce its interpretation of the terms of a contract Sturgis had signed with Mail Boxes.
Les Blomberg, an organizer of the 2006 in-store rally, frames Sturgis' fight with UPS as a David versus Goliath smackdown. "Montpelier is still a cohesive community," says Blomberg, who was also active in the effort to prevent McDonald's from opening a franchise in Vermont's capital. "We still have small businesses here and people who value small businesses." He says UPS' strategy for defeating Sturgis and the 130 other Platinum Shielders can be paraphrased as: "We're going to wait you out, intimidate you and drive you into the ground with legal fees."
That's wrong, contends Earl Wertheim, owner of two former Mail Boxes franchises in the Burlington area that made the transition to UPS. Wertheim, who also provides support services to 60 other UPS stores in Vermont, New Hampshire and upstate New York, says his experiences with Brown have been "more than satisfactory."
Blomberg acknowledges that UPS may be no more inherently objectionable a corporation than Mail Boxes Etc., under whose logo Sturgis long operated. And Sturgis himself laments that as an independent he now lacks the national advertising exposure provided by Mail Boxes and potentially available through UPS. He says Capitol Copy doesn't attract tourists seeking office services "because they can't find us by Googling."
UPS is actually a responsive retailer and not the villain caricatured in the Platinum Shield suit, Wertheim says. He notes that UPS sets only maximum retail prices its franchisees can charge, adding that its "size, clout and level of support" ensure that most shop operators who made the switch have done better with Brown than they did with the Mail Boxes logo.
"My shipping business has increased 25 percent a year" at the UPS stores in Essex Junction and South Burlington's Blue Mall since the UPS takeover, Wertheim says. He suggests that Sturgis would likely have seen his shipping orders soar similarly had he signed on with Brown.
Wertheim says a UPS store could compete successfully with Capitol Copy if he were to open one in Montpelier. (Currently, the closest UPS retail outlet is in Stowe.) But that's not a move Wertheim plans to make. "It just wouldn't be the right thing to do," he says.