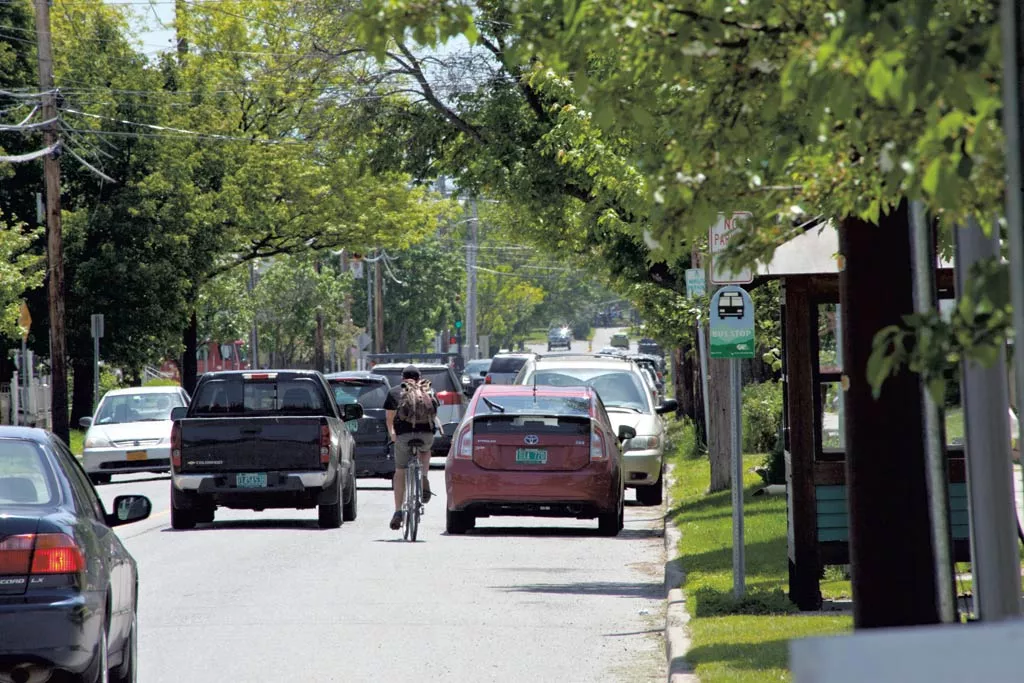 Matthew Thorsen
A bicyclist heading south on North Avenue
North Avenue, one of Burlington's busiest north-south thoroughfares, presents a challenge for the law-abiding bicyclist. A cyclist pedaling north from downtown to, say, Burlington College has a well-marked bike lane that provides safety and guidance. However, a cyclist headed south through the same neighborhood will find a bike path that, around the intersection with Washington Street, abruptly vanishes. In place of that path, there's typically a line of parked cars. Cyclists are obliged to find their own paths through the downtown business district, as a southbound bike lane does not reappear until Pine Street.
In a city that prides itself on supporting alternative transportation, WTF is up with this "broken" bike lane in such a heavily traveled artery?
The intermittence of the North Avenue bike lane is just one node in a network of interrelated transportation dilemmas that are informed by Burlington's history, geography and economic development. The leadership of Burlington's Department of Public Works is fully aware of these issues and has both commissioned a study of and solicited public input on the North Avenue corridor. No simple solution has yet presented itself.
It's easy enough to have both north- and southbound bike lanes on the mile-long section of North Avenue between Washington Street and Institute Road, says Nicole Losch, transportation planner at the DPW. "There's very little development [in that area]," she says. "You've got [Lakeview] Cemetery on one side, you've got a handful of houses on the east side, and then the high school and Arms Park. Because there is very little parking demand through there, it was a little bit easier to continue the bike lane on both sides."
South of that point, though, Losch admits, the problem becomes significantly more vexing. Starting at the intersection of North Avenue and Washington Street, the development is "much more compact," as she puts it. All of a sudden there are more houses — some of them multifamily dwellings, most of them located close to the street and many of them with driveways that do not accommodate all the vehicles at that address.
Compounding the difficulties for cyclists is Burlington's dumbbell-like shape, with a bulge of streets at either end of the slender connecting "bar" that is North Avenue. The Intervale — the large, reclaimed, treasured green space bounded by the Winooski River, Route 127 and a railway line — prevents roadway expansion.
Characteristically narrow New England streets don't help. They were laid out many years before the term "bike lane" was coined. The city has addressed similar traffic dilemmas in the past by physically widening the streets, but this is a noisy, costly process to which Losch, for one, seems disinclined.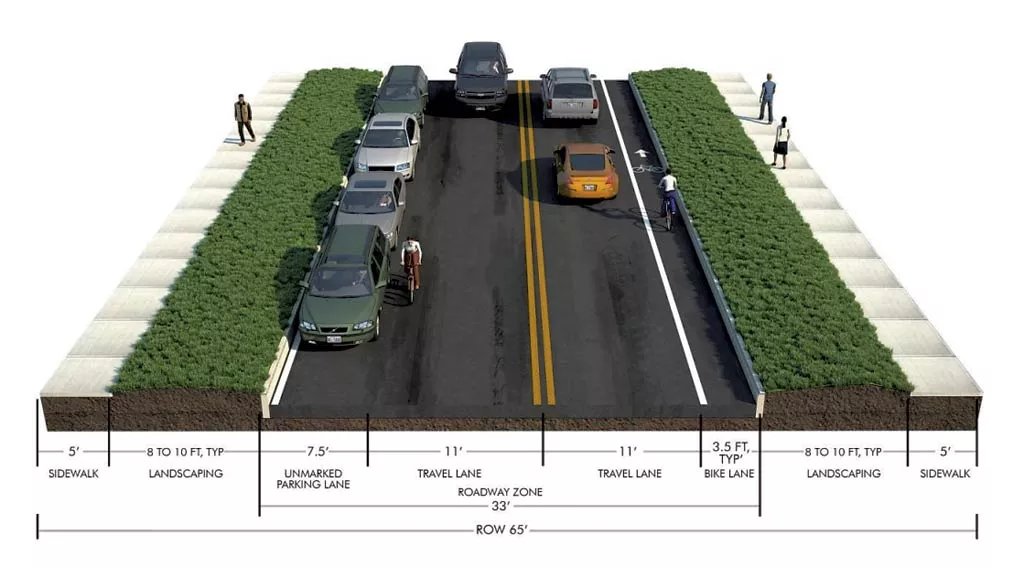 Courtesy of Burlington Department of Public Works
Typical cross section of North Ave. between Washington St. and North St.
At present, a cyclist has two options when confronted with the disappearance of the bike lane at Washington Street: Share the road with cars or ride on the sidewalk. (Depot Street, a steep, downhill, no-cars-allowed road that empties into Waterfront Park, is an exhilarating alternative, but its northern entrance is about five heavily trafficked blocks south of Washington.) Riding alongside moving (and parked) cars can be dicey for cyclists. And, while riding on the sidewalk is not technically illegal on this stretch of road, owing precisely to the absence of a bike lane, it can result in angry or injured pedestrians. None of the options is ideal, a fact well known at Public Works.
The ongoing North Avenue Corridor Study was designed, in part, to remediate the problem of the area's inconsistent bike lanes. DPW is considering a wide range of solutions, including remarking roads for maximum clarity. But the challenges are numerous.
"It depends on the situation, but sometimes we do need some extra funding" for such projects, e.g., when a curb would be physically moved, says Losch. "Other times, you have to figure out where you want to have those hard conversations: Do we need parking here?"
For the moment, judging by the responses to an online survey DPW conducted, the answer is yes: This section of North Avenue is sufficiently densely developed to require street parking.
"We could hold off on striping bike lanes until we could have a continuous network everywhere," says Losch, "or we can chip away at it, and try to piece it all together. Our strategy has been 'Let's get what we can and try to fill in the blanks, but where we have the ability to put the bike lane in — though it's not ideal by any means — let's try to get something in and keep working to try to improve it.'"
She adds, "We've done all the easy projects so far. Now we're into the more difficult ones. We don't want to come in and just overhaul a street if it's not what's really right for that part of town."
DPW continues to solicit input on the project at burlingtonvt.gov/public-input. For the time being, cyclists will have to trust that the city is working on the problem, strap on their helmets and pedal with caution.