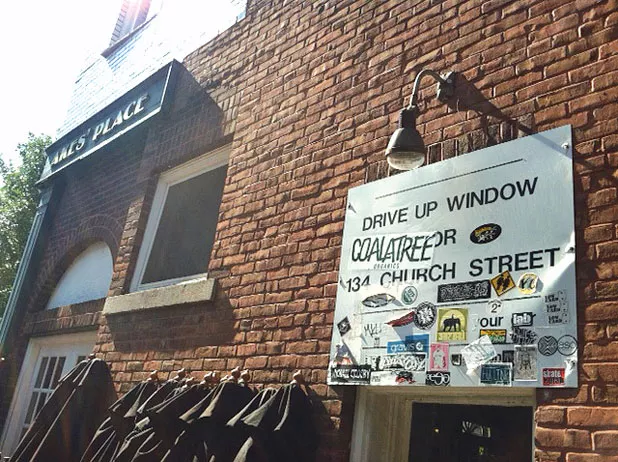 This time of year, Burlington's Church Street Marketplace is swarming with people walking, talking, shopping, eating and generally getting in the way. Especially with the summer construction of Church Street's "Lights On" project, there's barely room to walk around, let alone drive a car, on the pedestrian thoroughfare. And yet, just off Church Street, in the Red Square alley on the south side of Akes' Place, a sign hangs, covered in graffiti and stickers, that advertises a drive-up window. WTF?
When I asked the bartender at Akes', she replied with a shrug. "It's really old, I guess."
Red Square employees didn't know anything about the oddity, either. I'd hoped to uncover a rumor, or some kind of weird history behind the window. "Sometimes the light above it goes on," one waitress reported, "but I've never seen it opened."
Unable to reach an owner at Akes' Place, I took the bartender's tip to heart and turned to the Chittenden County Historical Society and Preservation Burlington for an answer.
According to Mary O'Neil, of Preservation Burlington and the city's department of planning and zoning, the Red Square alley used to host a tannery, a meat market, livery stables and an inn called the Champlain Hotel. And it's not actually an alley but a public thoroughfare. Called Mechanics Lane, the street combines what Burlingtonians might think of as two alleys — the one that hosts Red Square's outdoor live music in the summer, and the one that cuts between Finnigan's Pub and Stone Soup on College Street.
The Akes' Place property, at 132-134 Church Street, was built in 1901, and until the 1960s it housed a meat market on the first floor. O'Neil speculates that the window could originally have been used as "a place for the meat cutter to toss carcass scraps into an alley receptacle," or maybe to "facilitate uses between these associated businesses," or even as "a convenient 'take-out' window for the neighboring Champlain Hotel."
But the building's current owner, Robert Senix, remembers that 134 Church Street was once the site of Solomon's Inc., a tailor and dry-cleaning business that occupied the building from 1952 to 1966. Senix guesses that the window might have been a place for customers to drop off and pick up their clothing. "It's popular in other states," he says, "so I can imagine Burlington might have had a drive-through dry-cleaning service."
In more recent history, the building was the site of a real estate agency, Century 21: The Martin Agency. In a 1990 photo from the Planning and Zoning office, the sign reads, "Drive Up Window for Martin Real Estate." Again, WTF?
Glenn Martin, who has since retired from the real estate business, says the drive-up window was already in place when his agency moved in, and they never used it. "We had other realtors who would come in and laugh about it, but, no, we never opened it."
The agency kept the drive-up window, though, because the building's then-owner, Mary Arthur, had obtained zoning approval for it back when the building was an Italian restaurant in the early 1980s.
"Golly! She was a character," Martin reminisces of Arthur. "Quite a fixture of Burlington. Back when we were in that office [from 1988 to 1990], she always used a walker. She'd come in to make sure we were taking care of the place, and next thing I knew, she'd be up on a stepladder, dusting off the light fixtures."
The window remained — perhaps in case the building ever housed a restaurant again. But there hasn't been a full-service eatery at 134 Church Street in 25 years, since the departure of Italian restaurant La Bottega — which snagged a mention in a 1983 New York Times travel piece on Burlington. Senix suspects that the window "probably will never be used. It's bar country down there," he adds. "I don't think they can serve through a window."
Could they? The point may be moot. According to a zoning clerk at Burlington City Hall, Mary Arthur's careful preservation of La Bottega's drive-up window may have been for naught. "In order to retain zoning rights on that window, it would have to be in continuous use," the clerk says. "If the window wasn't used for a year or more, anyone attempting to reinstate its drive-through use would need to reapply for a zoning permit, as Mechanics Lane is a public street."
Though it hasn't been used since 1986, and Church Street has long since been paved over for pedestrian-only access, the window's bell still works (I tried it). Maybe someday the drive-through will return to active use. Church Street creemees? Casual-lunch food-truck fare from a brick-and-mortar dinner restaurant? Walk-up banking? Or, maybe, a New Orleans-style window-service bar? Stay tuned, Burlington, but don't hold your breath.