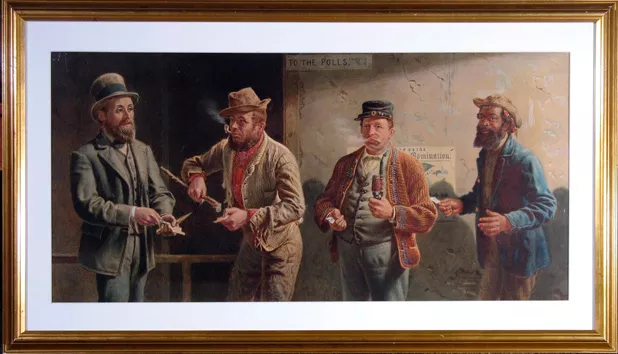 One of Vermont's most significant art collections is languishing in a kind of limbo. Its 800-plus works, some of them by prominent American painters, have all been out of public view for nearly a year, with no clear indication of when any of them might be placed back on display. The situation has local art experts worried about the conditions in which many of the pieces are being stored. Thomas Waterman Wood (1823-1903), an accomplished American genre painter, would surely not be pleased to see what's become of the collection he vouchsafed to his hometown of Montpelier.
The 117-year-old T.W. Wood Gallery has limped along for much of its history on a budget that barely allowed it to survive. Once Vermont's preeminent art institution, the Wood was operating on an annual budget of less than $100,000 when it moved out of its home on the campus of the Vermont College of Fine Arts last December. The gallery relocated down the hill to a former Catholic school on Barre Street, where much of its collection is now stored in boxes.
David Schutz, curator of the art collection in the Vermont Statehouse, is among several contemporary connoisseurs unhappy about the status of the Wood.
"I've been quite concerned about their direction, or lack of direction, for quite a few years," Schutz says. "I frankly don't know how they came to be where they are. All of us on the outside are definitely worried about what's happening with the Wood."
Vermont Arts Council executive director Alex Aldrich adds that the collection is of "great historical importance and in desperate need of a home that will treat it the way it deserves to be treated."
The gallery's holdings include more than 300 paintings, drawings and etchings that Wood made during a career spent in Montpelier, New York and European cities. His staged vignettes of life in old Vermont can look corny to a modern eye, but Wood's technical skills are of a high order, and the political attitudes he conveys in some of his works qualify as decidedly progressive for his time.
The T.W. Wood Gallery opened on State Street in Montpelier in 1895. In addition to the artist's own work, the original collection included gifts from a few of Wood's well-known contemporaries, such as Frederic Church and Asher Durand. Following World War II, the gallery was designated as the official Vermont repository of scores of works produced during the Depression as part of a federal art-commissioning initiative.
The gallery moved up the hill in 1985 at the invitation of what was then the campus of Vermont College at Norwich University. There it remained until late last year, when the gallery's directors told officials at what's now the VCFA that they would no longer be renting space there.
"They were really struggling," comments vice president of external affairs Lyn Chamberlin. Aldrich agrees, saying the Wood had been losing money for a long time and "hadn't made a concerted effort to raise funds."
Lacking resources for marketing, the gallery only attracted about 5000 visitors a year, according to former director Joyce Mandeville. That's less than 5 percent of the annual visitors to the Shelburne Museum, which is open only five months a year, many Montpelier residents were not even aware of the Wood's treasures, its overseers acknowledge.
Even fewer know about it now. The Wood may someday have a higher degree of visibility in its new Barre Street location, which its leadership and that of the building's other tenants — the Monteverdi Music School and River Rock School, a private K-8 facility — are hoping to transform into an arts center. For now, however, the gallery has no public presence.
The move down the hill in December was followed a few months later by the firing of Mandeville, who had been the gallery's director for 12 years. Reached by phone at her home in East Hardwick, Mandeville declines to discuss the circumstances of her termination beyond saying she was given no notice. "I've moved on," she says. "I don't want to talk about the Wood."
John Landy, the Wood's board treasurer, says he is reluctant to discuss personnel matters. But he does offer, "The board felt we needed somebody with a higher level of entrepreneurial spirit who would bring new excitement to the gallery."
Right now, the Wood collection occupies five cinder-block former classrooms, each of which has a blackboard on one wall and a row of windows on another. The space looks nothing like an art gallery. And, in Schutz's view, "It's difficult to imagine that facility as a gallery" in the future.
But that's exactly what the board has planned. It will be at least a year before renovations can get under way, says Bill Pelton, the Wood's acting director. The three other institutions sharing the building must first complete a purchase deal sometime in 2013, while simultaneously raising funds for extensive renovations. Neither Pelton nor Wood board president Liz Reardon can say how much money needs to be collected specifically for a new T.W Wood Gallery to open its doors.
Most of the collection is wrapped up and stacked in those classrooms. About three dozen other works — copies that Wood made of Old Master paintings in European museums — have been loaned to Burlington College. There they are also being kept in storage, awaiting renovation of the former Catholic diocese building on North Avenue. About 40 paintings judged to be among the most important in the Wood's holdings have been sent to the Vermont Historical Society in Barre for safekeeping. A few works are hanging, or in storage, in Montpelier City Hall. And several paintings from the Wood collection have long been on display in the Statehouse — including the painter's most famous piece, "The Quack Doctor." Appraisers have valued that work at more than $1 million.
Schutz says he isn't worried about what's been parceled out to the historical society. Its curator, Jackie Calder, confirms that the pieces from the Wood are being well cared for, although she notes that the society has no plans to put any of them on display.
Schutz is less sanguine about the security and preservation arrangements for the other works that used to be stored at VCFA. Conditions there were also "not ideal," acting director Pelton says. "The storage facility was kind of difficult to negotiate," he recalls. "It was easy to ding the pieces or the frames." Works had to be "bundled up and put in the vault" two or three times a year to accommodate student art shows that the college hung in the gallery's two-room space, Pelton adds.
Following a "deaccessioning" move a few months ago, the Wood now has four fewer pieces in need of temporary homes. The board sold them through a New York dealer for a total of about $400,000, Landy reports. Included in the sale was a painting by Jacob Lawrence, an African American widely considered one of the most important U.S. artists of the 20th century.
Schutz is critical of that sell-off, even though gallery board members say they decided to part only with works of uncertain provenance that were deemed not integral to the collection. "We do not believe they were observing the correct way a museum ought to go about that process," Schutz says in regard to Wood officials. "I don't know why they didn't give us [the state art collection] the opportunity to purchase those pieces."
Landy, however, insists the sale was handled properly. He adds that Schutz was on hand for a presentation where the deaccessioning was discussed prior to its completion.
Reardon, who says she will soon step down as board president, urges the board to focus on where the Wood wants to go, not where it's been.
The group is "entertaining bids from professional storage systems" that will ensure the works are kept safe and properly conserved, Reardon says. "We're very aware that issues such as security, fire, and temperature and humidity have to be properly addressed."
Reardon notes that the Wood sponsors a "highly successful" summer camp, and adds that the directors plan to make the forthcoming venue a year-round educational institution. As it did at VCFA, the gallery will continue to display work by contemporary Vermont artists, as well, and will offer some of those pieces for sale, she says.
The set of classrooms on Barre Street can certainly be made into a pleasant place for viewing art, Reardon asserts. Calder agrees that such an outcome could be achieved "with enough thinking and imagination." She notes that her historical society is housed in a former school that was renovated into an attractive exhibition space.
The future is bright for the T.W. Wood Gallery, Reardon promises, adding, "We're going to be absolutely fine."
Although it currently lacks a physical presence, the T.W. Wood Gallery maintains a website at twwoodgallery.org. When it reopens, the gallery will be at 46 Barre Street in Montpelier. Info, 249-5352, info@twwoodgallery.org.